Warren Bader, March 27, 2014
We are buzzing after finishing in the Top Ten out of 5,000 entrants into the BBC's prestigious Food and Farming Awards 2014.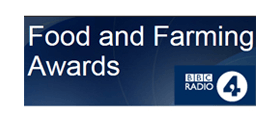 Our sustainability business Plan Bee Ltd is a hive of activity as they take up a host of new orders from companies desperate to play a proactive role in protecting Scotland's natural environment and ensuring the humble honey bee continues to thrive, playing its vital part in the survival of our delicate ecology.
Warren Bader, company CEO and chief beekeeper said:
"We're delighted to have been recognised by the renowned judges in this prestigious competition. For a company in its infancy this is a stunning result. There is a real buzz around what we're trying to achieve. It's amazing that so many individuals, so many businesses and so many communities are so interested in taking a proactive stance, not just to give something back to the planet, but to put something into its survival in the first place."
The BBC Food and Farming Awards were first launched 14 years ago to mark the 20th anniversary of Radio 4's The Food Programme. The awards now comprise 10 categories ranging from Best Street Food or Takeaway to Outstanding Farmer of the Year.

Plan Bee is already being recognised for its pioneering environmental work and has scooped a number of prestigious awards including the Start Up Awards 2013 and Glasgow Chamber of Commerce 'Green Champion' Award ; and was a finalist in the Growing Business Awards, Herald Society Awards and Lanarkshire Business Excellence Awards. It is a Legacy 2014 Commonwealth Games accredited project and has EU Commission recognition. Plan Bee's clients include civil engineering giants Balfour Beatty and Bam Nuttall; Highland Spring, Glasgow City Council, North Lanarkshire Council and the acclaimed Stobo and Royal Troon Hotels.
Warren Bader concluded:
"It's been an amazing year so far but we're not ones to rest on our laurels, we're busy bees with our next project being a massive crowd-funding scheme to inject fresh investment into the company. The launch of this shares scheme is truly innovative. Movie makers are more and more using crowd-funding to launch independent film productions. But, we want to use it to generate vital funding to play an essential part in protecting the planet and promoting the benefits of bees."
Warren Bader, March 26, 2014
We'd like you to join us as we prepare to launch the next phase of Plan Bee Ltd's evolution.
Join CEO Warren Bader as he updates you on the latest developments with the business and looks forward to Plan Bee's vision for the future. Warren will explain the latest opportunities being pursued through the pioneering crowdfunding initiative Crowdcube, the world's leading equity crowdfunding site.
In order to make it easier for you to drop by, we're running two sessions at Scotland Street School on Tuesday 1st April:
6pm to 7:30pm and,
7:30 through to 9pm
Warren will be joined by fellow presenter Ian McDougall of McDougall Johnstone Chartered Certified Accountants and Business Advisers, who will present an overview of the tax benefits to investors on the Enterprise Investment Scheme (EIS).
Please book your ticket(s) at www.eventbrite.co.uk/planbeeltd
Light refreshments will also be provided.
Should you require more information, please don't hesitate to email: warren@planbeeltd.com or phone: 01698 580 572
Warren Bader, March 17, 2014
Last Friday at 8pm, Warren had the opportunity to appear as a guest on "Thank Folk It's Friday" Show with Ross Celtic MacFadyen on Celtic Music Radio 1530 AM (www.celticmusicradio.net). It was a fantastic chance for us to raise awareness on the importance of the bees and talk about our projects.
You can listen to the broadcast here:
PART 1

PART 2