Admin, May 29, 2014
Did you know that the total deficit of honeybee colonies across Europe amounts to around 13.4 million colonies? That adds up to about 7 billion honeybees! This deficit affects us directly as bees and other insect pollinators are the underpinnings of a successful agricultural economy. Without their free pollination services our supermarkets would have no strawberries, apples, pears or lemons to name but a few.
The good news is that here at Plan Bee, we're doing all we can to help reduce the shortage of honeybee populations and the best thing is you can help! By investing as little as £10 in your future and Plan Bee via our crowdfunding platform Crowdcube, you too can own a slice of this planet-saving, bee-boosting business! Have a look at our e-catalogue below to see all the great incentives that come with an investment in Plan Bee.
We've raised so far £81,120 of £60,000 target! Funding closes on the 6th of June, so don't hang about!
Admin, May 27, 2014
One of the incentives you get if you invest £5,000 or more on Crowdcube.com is a 70cl bottle of the award winning Glengoyne 10 year old Highland Single Malt Scotch Whisky, complete with a bespoke Plan Bee label commemorating your investment!
Today, we received an example of the bespoke Plan Bee label and we're so proud to get the opportunity to have our logo displayed on these prestigious bottles of Highland Single Malt Scotch Whisky. Thank you @Glengoyne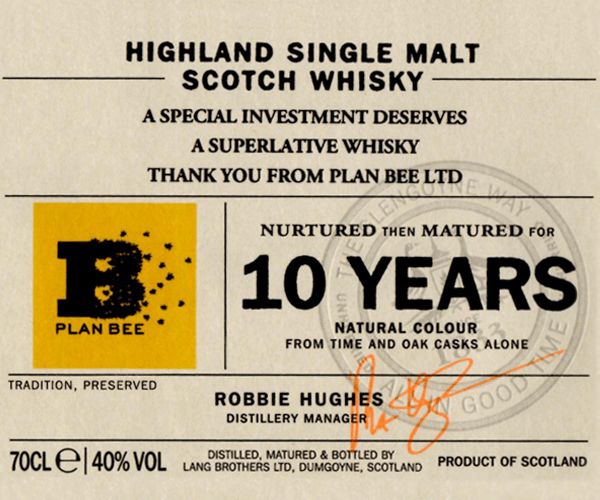 Admin, May 22, 2014

See original picture here
Picture and Quote of the Week 19/05/2014!
"Bees underline the reality that we are more, not less, dependent on nature's services in a world of close to seven billion people."
Achim Steiner, UN Under-Secretary-General and UNEP Executive Director.
Admin, May 21, 2014
We have now achieved 119 per cent of our original Crowdfunding target, almost three weeks ahead of schedule.
"It's amazing, we were always very focussed on achieving our target but didn't expect to reach it quite so quickly. We decided on a more ethical approach to funding our business, selling shares through pioneering crowdfunding site Crowdcube, and it's certainly paid off. Now we can move forward with our plans to push the business to the next level, fund around a hundred more hives and look to take on more employees."
"Our philosophy is planet, people, profit. Our main business aim is to help protect the planet we all share, while as a business supporting our employees; and our clients and at the end of the day as a business it is important that we make a profit. Our clients share our philosophy of putting something into the environment up front, rather than simply trying to put something back after you have made an environmental impact."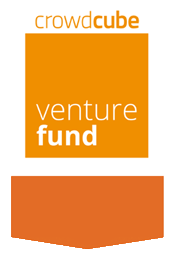 Shares in the burgeoning business are still up for grabs, with potential investors able to grab their slice of Plan Bee for as little as £10 per share. The Crowdcube funding page will remain open for a further 17 days (closing 7th June 2014), with numerous options and benefits available for those investing at a variety of different levels.
Plan Bee continues to take the sustainability industry and business start up sector by storm, scooping a number of prestigious awards and gaining nominations in related ceremonies. The company will battle it out with the likes of Virgin Atlantic at the renowned 2degrees environment awards at Wembley later in the summer. This is on top of a top ten finish in the BBC's Food and Farming awards and success at the Glasgow Business Awards.
Admin, May 19, 2014
Most people have heard that honeybee colonies are in decline, sometimes through a condition called Colony Collapse Disorder (or CCD). Few people understand the concept and even fewer realise that CCD is but one of the challenges facing apiarists and that it has multiple causes.
A highly specialised parasitic fungus, otherwise known as a microsporidial pathogen, exists as spores that honeybees can pick up. Once digested the spore grows a filamentous tube into the gut wall of honeybees, causing dysentery, weakness and flight inability, with subsequent reduction in life expectance, ultimately leading to colony depletion.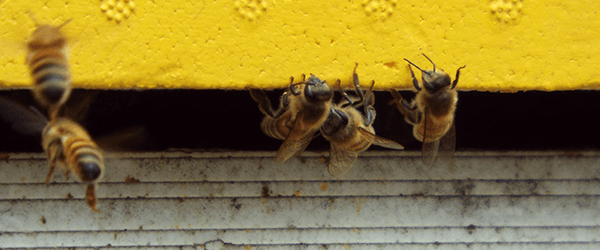 Two species of Nosema are known to affect honeybees: Nosema apis originally the only microsporidial pathogen in western honeybee colonies and Nosema ceranae a recent introduction to western honeybee colonies from Asia. These tiny micro-organisms cause a condition known as Colony Dwindling Syndrome (CDS).
This is not a new phenomenon, but it results in a gradual but progressive loss of honeybee workers from the colony leading to a decline in colony productivity. Weakening of the colony leads to other issues, such as brood loss and further disease. Too few bees will finally lead to colony collapse.
So the question is raised, is CDS at the root of CCD? The answer is that probably not on it's own, as scientists have grown to realise that CCD is a complex array of issues, resulting in the demise of hive colonies. Invertebrate Iridescent Virus, or IIV6, is also found in hives that have suffered CCD and it would appear that neither Nosema alone nor IIV6 alone result in CCD, but together, they sometimes do (although the ability of IIV6 to infect honeybees is also debated). Even so, this co-infection is unlikely to be the only cause of CCD.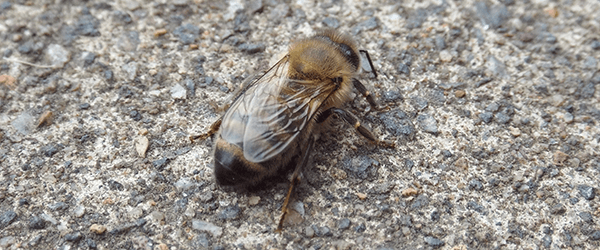 Dealing with Nosema alone is an important issue, so how do we control Nosema infection? Well, first and foremost must come good husbandry – healthy bee colonies, well fed and lacking other disease elements are far less likely to succumb to Nosema infection. Effective systems of comb renewal are also important in maintaining strong colonies. Doses of the antibiotic fumagillin (sold as Fumidil B) is prescribed in the autumn feed for affected hives.
Admin, May 16, 2014
We are flying high after being shortlisted for the prestigious 2degrees Champions Award ceremony at Wembley this July, but know that we face some worthy adversaries in the shape of Virgin Atlantic and Yorkshire Ambulance Service to name but two. Among our fellow nominees at the event is Matt Damon.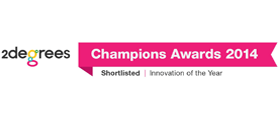 "We're delighted to even be shortlisted for these most prestigious of sustainability awards. More than 7,000 people have voted on each of these categories and to be rubbing shoulders with the likes of Richard Branson is outstanding. For a Scottish business, and there are a few of us nominated, to be taking on some global big hitters, particularly this year is a bonus. We won't be too disappointed if we don't win this time round but we're going to give it a good crack."
The 2degrees network comprises 39,000 professionals working across the burgeoning sustainability sector. The ethos is to drive efficiency and growth through more sustainable practices. That is why Plan Bee epitomises everything that they stand for.
While we have only been in operation for a couple of years, we are already growing a reputation for sustainable business management and not only boasts some major brands as clients but also has a cabinet full of awards and similar nominations. This year alone we made the top ten of the BBC's Food and Farming awards from a list of thousands of similar organisations. We have a Legacy 2014 accolade for the Commonwealth Games, are a Glasgow Business Awards winner and numerous prizes for start-up and entrepreneurship, and have been recognised by the European Commission.
"It is important for a fledgling business such as ours to be recognised by our peers in this way. We are a small company with big ambitions, so rubbing shoulder with the likes of Virgin Atlantic is indeed breath-taking. Such ceremonies help us to raise the profile of the business, but more importantly raise the profile of declining bee populations and the efforts that every business can make to save these tiny creatures which are responsible for a third of all the food we eat."
Admin, May 15, 2014
See original picture here
Picture and Quote of the Week 12/05/2014!
'We abuse land because we regard it as a commodity belonging to us. When we see land as a community to which we belong, we may begin to use it with love and respect.' – Aldo Leopold
Admin, May 14, 2014
Some children from Calside Primary School (Dumfries & Galloway) drew these beautiful bees to thank us for coming to talk to them about the importance of bees in our planetary food system. We love these happy bees, do you?!
If you are part of a Scottish primary school and would like us to come and talk about the plight of bees, please don't hesitate to contact us at buzz@planbeeltd.com
Admin, May 13, 2014
We are delighted to announce that we have been shortlisted at the prestigious Business Green Leaders Awards! We are going to rub shoulders with some of the burgeoning environmental sector's big names and some of the biggest brands in the UK.
Plan Bee are rightfully buzzing at the prospect of the London awards ceremony:
"We're delighted to be considered in the same category as some of the biggest names in not only our industry, but some real global big brands. We're in a strong category but having gained experience from the recent BBC Food and Farming Awards and a host of others, we're confident we can come back with something or at least give the big boys a run for their money.
"It would be great in this summer of Homecoming and the Commonwealth Games if a Lanarkshire business could come back home with some silverware from London. While its nice to pick up awards, its about the extra publicity that it gets for the business and for our cause of protecting the honey bee and ensuring we all play a part in protecting the planet we all share."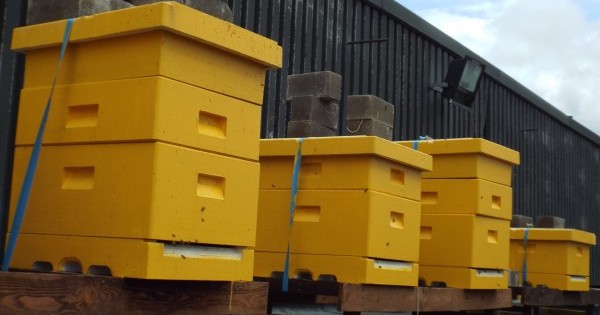 Last year's winners included Marks and Spencer, Coca Cola and First Minister Alex Salmond as Politician of the Year.
"We're doing well, but we're encouraging Angel investors and entrepreneurs across Scotland to check out what we're doing on Crowdcube. We've decided to seek a more ethical approach to raising the funds necessary to build our business and recruit more disadvantaged young people to our team, rather than going to a bank. We're making some waves and it's taking people a while to get their head around what it is that we're trying to do, but once they understand it they are largely supportive."
The awards ceremony will take place on Wednesday 2nd July at The Brewery in London's Chiswell Street. For more information contact us on 01698 580 572 or buzz@planbeeltd.com
Admin, May 12, 2014
We are delighted to announce that over the weekend our pitch became fully funded on Crowdcube! Better still, we are currently sitting at 102% funding making our campaign overfunded! We couldn't be happier and thrilled to see that so many people are willing to get behind us and become part of our bee-boosting business!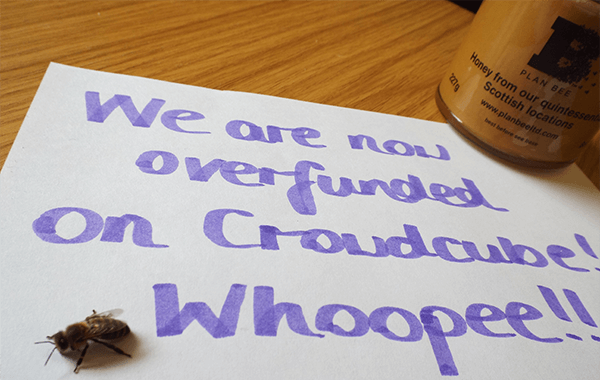 We'd like to extend a massive thank you to all investors, your support means we can continue our good work in addressing the decline of the honeybee. However this is just the beginning of our journey, and with 25days left on our Crowdcube campaign we'd like to encourage more people to get involved and help us smash our funding targets!

You can find our campaign and learn more about it by clicking here.
Admin, May 9, 2014
Dexter our BeeDog manager on his film debut! He presents the company and the Plan Bee Team in a 60-second video! Please watch and share it! #GenerationBee #Crowdfunding #biodiversity #schnauzer
Admin, May 8, 2014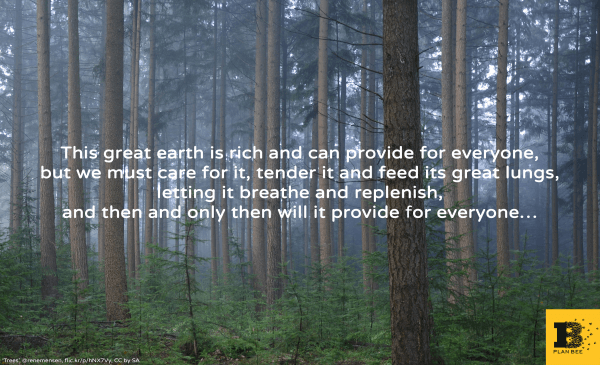 Picture and Quote of the Week 05/05/2014!
This great earth is rich and can provide for everyone, but we must care for it, tender it and feed its great lungs, letting it breathe and replenish, and then and only then will it provide for everyone…
Admin, May 2, 2014

Admin, May 1, 2014
See original picture here
Picture and Quote of the Week 28/04/2014!
'Earth provides enough to satisfy every man's needs, but not every man's greed." – Mahatma Gandhi