Admin, June 13, 2014
Last week we welcomed KiKi into Team Plan Bee. She is joining us as a Marketing Intern from the University of Glasgow where she is currently studying for an undergraduate degree in Music. KiKi will be assisting Philippe in various marketing activities and helping Plan Bee expand into the Chinese market through social media channels.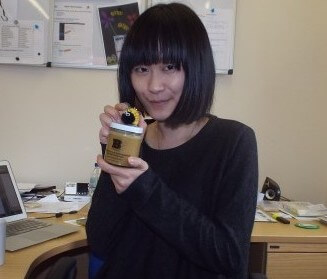 KiKi said she has enjoyed her first few days at Plan Bee and is looking forward helping Dexter become multi-lingual by teaching him Mandarin. Dexter already speaks three languages; English, French and Schnauzer so why not add one more!
Admin, June 8, 2014
We have scooped a prestigious Scottish Private Business award from global commercial enterprise giants PwC and have been voted by the jury committee to go forward to the UK final in September 2014 in London.
"We're delighted to pick up this accolade from one of the world's commercial business powerhouses. If PwC don't know about private business then who does? It would be amazing to take the philosophy of our fledgling Scottish sustainability company to London, particularly in this year of Homecoming, the Commonwealth Games and the Ryder Cup."
Now in their fourth year, the Private Business Awards are sponsored by PwC, in association with HSBC Private Bank and Ford Sinclair Events and are presented to the UK's most successful private companies, entrepreneurs and management teams.
The awards help to highlight and reward strong, successful growth businesses, the lifeblood of the economy, the sector of jobs and the driver of growth. The awards recognise success and achievement within the vast number of private businesses in the UK.
Plan Bee follow in the auspicious footsteps of Brewdog and Spex.
"This has been an extremely challenging, yet rewarding year for Plan Bee Ltd. Last Friday (6th June) also marked the completion of our crowdfunding project and we smashed through the funding ceiling. Successfully achieving this goal is an indicator of the confidence our investors have in the business. We will use this funding to invest in a hundred more hives and employ disadvantaged young people to give them a career they can build on."
Admin, June 6, 2014
We've crossed the £100K mark! We're delighted to announce that we've raised £100,860 of £60,000 target (168% funded). Thank you so much for supporting this great cause! If you haven't invested in Plan Bee yet or want to give an extra to your first investment, you still have a chance to support us on our crowdfunding platform Crowdcube – DEADLINE TODAY 11.59pm UTC +1!
Quick reminder of what your investment will enable Plan Bee to do:
Help us purchase more honeybee colonies in order to establishment and management of honey beehives at various locations around the country.
Allow us to purchase extraction, processing and bottling equipment for our delicious bespoke Scottish honey.
Allow us to fund more free education days for both primary and secondary schools to encourage children to engage with biodiversity and understand the importance of bees.
Allow us to attend more informational exhibitions to educate the population about the importance of honeybees in the environment.
Admin, June 4, 2014
At the end of the week, what's left in your wallet / purse? 
Ten pounds, twenty pounds? What will that get you today? Maybe a couple of coffees? A little bit of lunch? Maybe a couple of drinks at the end of the day with some colleagues?
What about investing that ten or twenty pounds that has survived to the end of the week and will either blend with your weekend cash, or dwindle away? What if that investment gave you a share of one of Scotland's fastest growing sustainability businesses? What if that ten pounds grew into more, and more? And, what if that ten pounds helped you to play a small part in protecting the planet we all share?
It's the very last chance to invest in Plan Bee Ltd's crowdfunding project. The Crowdcube initiative will close at midnight (Friday 6th June, 2014).
"Our crowdfunding project has been a roller coaster. At one point it didn't look like we would ever reach our target, but here we are nearly at the finish line, more than 162% funded. There's still shares to snap up as we look to make the final few thousand pounds that will take us through the £100,000 barrier."
[ujicountdown id="Crowdfunding" expire="2014/06/06 23:59″ hide = "true"]
Admin, June 2, 2014
Watch Plan Bee TV & its lead anchor Dexter #BeeDog presenting the news of last week (26/05/2014)! #awards #biodiversity #generationbee #education #community #bees #schnauzer @BeeSchnauzer
Top stories this week:
Plan Bee have been recognised amongst numerous Scottish businesses in the PwC Private Business Awards 2014.
Pupils at St Ambrose and Buchanan High Schools in Coatbridge launched their beekeeping club.
Artist Alice Dansey-Wright created a design based on Welsh themes to be drawn onto the hive in a "paint-by-numbers" style.