Buzz, December 23, 2015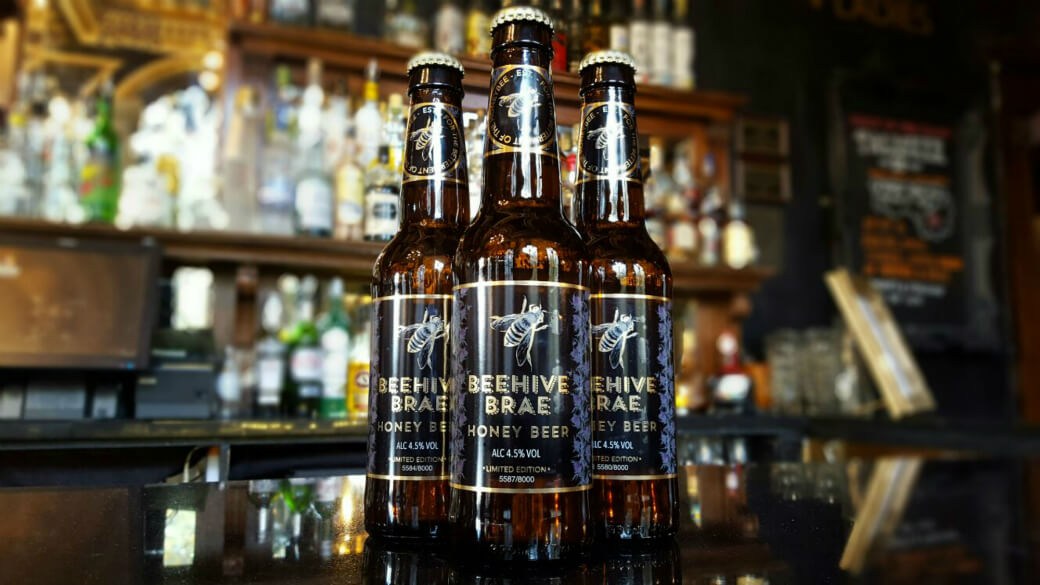 The List magazine has singled out Plan Bee's Beehive Brae Honey Beer as one of its leading products during Scotland's Year of Food and Drink 2015.
The Motherwell-based craft brewer is now producing two varieties of the Honey Beer in original blonde and new RED, both created for the Betterment of Bees. The List also nods towards Beehive Brae's Elderflower and Rose Mead.
Beehive Brae Honey Beer is produced with honey from Plan Bee's sustainably managed hives. The company works in partnership with some of the largest businesses in the UK to give them extra environmental clout. Sales of the beer help to support dwindling honeybee populations which have decreased by more than 50% in the last two decades alone.
The honey beer was only made possible following Plan Bee's initial crowdfunding project in 2014, in which the young company was 175% successful, raising over £100,000 to help bring eco-innovative new products to market.
Buzz, December 10, 2015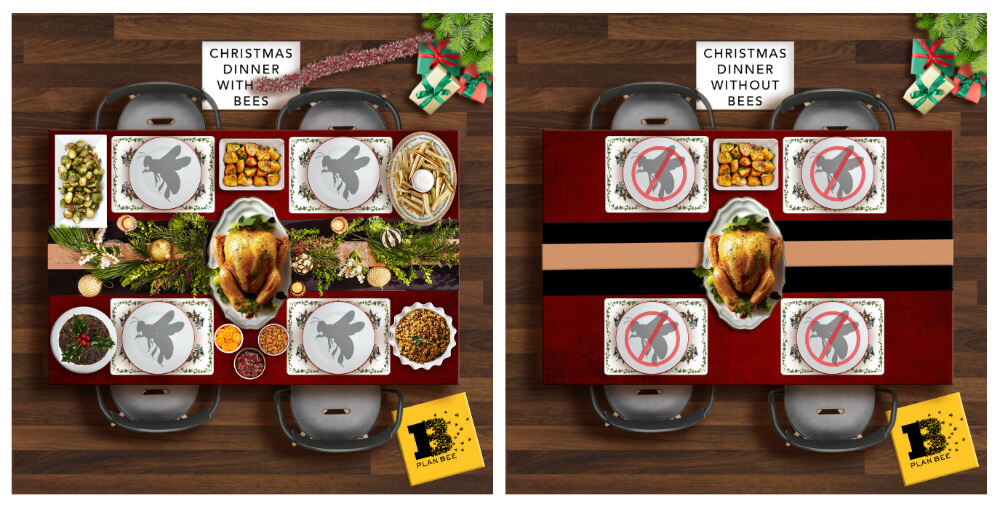 We're all rushing about like busy bees preparing for Christmas. But without those busy bees there wouldn't be a Christmas as we know it, and certainly our Christmas Dinner would be pretty grim.
Many of the yuletide staples and trimmings that we have come to expect as part of the great Christmas feed would cease to exist if it wasn't for the humble little honeybee and its friends. Honeybees are responsible for pollinating a third of the food that we eat. And without them, your big family feast would be greatly depleted.
The team have extensively promoted the extent to which our dinner tables, fridges and supermarket shelves would be effected without this tiny little creature.
University of Reading research found that honeybee populations had declined by around 50% in the last two decades through climate change, poor pesticide management and man's negative impact on the environment. University of Bristol research has also found that honeybees and their pollinator friends are responsible for 80% of all plant species in Europe including both fruits and vegetables.
Plan Bee works with businesses big and small, from family-run companies to global brands to install and manage beehives. Working with dozens of companies, they've helped to preserve and protect more than 10-million honeybees in over 200 hives stretching from Aberdeen to Cornwall.
The eco-innovation business has attracted a number of new 'partnerships' in 2015 including Kellogg's, L'Oreal, Low Carbon and British Gas, as more and more companies realise the importance of protecting honeybees and extending their sustainability reach. With one colony of honeybees capable of pollinating 4000m2 of fruit trees, Plan Bee's partnership colonies could pollinate an area of agricultural land more than 110 times the size of Wembley.
Mark McDavid, Plan Bee Chair and experienced FMCG (Fast Moving Consumer Goods) Managing Director added:
"Plan Bee is about helping people to realise the importance of these tiny creatures in protecting the delicate balance of our ecosystem. They play a huge part in the UK's £96Bn food industry and its time that across the sector we all supported them more. Just looking at our Christmas dining table both with and without bees should be enough to spur us all into action. This is the most precious meal of the year, but it has a much wider reflection that hits home the impact we are having on these tiny creatures and our wider environment."
ENDS
Buzz, December 7, 2015
Leading sustainability business Plan Bee Ltd is going high tech in its mission to save endangered honeybees.
With honeybee populations virtually across Europe having been decimated in the last two decades alone, UK beehive management business Plan Bee Ltd is turning to technology in a bid to gather greater evidence.
The eco-innovator is working together with renewable energy partner Low Carbon to install unique monitoring systems that not only measure hive temperatures and humidity, but also hive acoustics.
As well as the effects of climate change, poor pesticide management and man's impact on the environment, honeybee colonies are also being hit with 'hive rustling', where commercial hives are stolen from farms and sold on for their valuable contents. Monitoring can also help to track any such stolen hives.
The data monitors not only collect information on conditions within the hive, but also map the daily flight information, fanning activity and access the efficiency within the collection and processing of the colony's nectar.
Most importantly, the system studies the major influence played by the external environment on various colonies. The initial instrumentation will be hosted at Low Carbon solar parks across the south of England, from Cornwall and Dorset to Suffolk.
Quentin Scott, Low Carbon's Marketing Director added:
"Our solar parks, as well as providing a source of clean, renewable energy, can also provide a safe, biodiverse home for honeybees. Already they offer a protected habitat to a number of species. We welcome the development of this innovative monitoring technology and we're only too happy to assist Plan Bee in their pioneering efforts, particularly if it helps to safeguard bees now and for the future."
Hive monitoring can provide the greatest reliability and consistency in environmental monitoring. All data collected is time-stamped to the second, and isn't reliant on manual operation. Locating on relatively isolated solar parks, adjacently located to agricultural land provides a unique location to monitor impacts away from man-made influences. It could also provide valuable information for farmers.
Buzz, December 4, 2015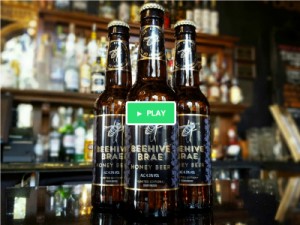 Beehive Brae is a brand new British honey beer produced for the Betterment of Bees.
We use only the finest British honey from our sustainably managed, ethical beehives, in fact, we have already helped to protect and preserve 10 million honeybees.
That's why we've launched a Kickstarter campaign to not only promote the issues around dwindling honeybee numbers, but also to raise vital funding to protect and restore millions more valuable bees to the environment.
Beehive Brae is urging everyone with even an inkling of interest in the environment to support the spirit of Christmas future:
"Can you imagine what Christmas might look like without the valuable little honeybee? They're responsible for pollinating a third of the food that we eat. Around the Christmas dinner table that would mean no cranberry sauce for your turkey, no sage for the stuffing and certainly no parsnips, carrots or Brussel sprouts.
"We're doing everything we can to restore millions of honeybees back into the British environment and ensure that we continue to enjoy all the foods we've become accustomed to, not only at this time but all year round. We know that this is a concern for millions of people and we're urging them to give just a little bit of their time and money to support our Kickstarter campaign."
The campaign has a dual purpose. Not only will supporters help to protect honeybees, but they will also support a great new British beer and mead. The growing craft beer movement is now worth more than £225million annually to the UK economy and Beehive Brae is finding its own, independent niche within that. The Great Taste award-winning Elderflower and Rose mead also helps to support honeybee populations. Popularity of the honey wine has increased markedly over the last few years through shows like Game of Thrones.
Beehive Brae Chair, Mark McDavid who is a veteran of the fast moving consumer goods market and has led companies the likes of Hallmark Cards and Aunt Bessies, added:
"Beehive Brae is truly a pint with purpose. I was delighted to join this ambitious sustainability company earlier this year, and to give them some of my 30 years' experience. This is about not only supporting bees, but small British businesses, British beer and British workers. The team have a real social conscious, as well as a great tasting honey beer. Beehive Brae's smooth taste is matched only by its refreshing environmental credentials and I would encourage anyone who thinks similarly to back them."
If you like your beer fresh, like your beer British, like your beer with strong notes of independence, but most importantly if you like your beer with a full-bodied flavour of doing what is right for the planet, then please donate what you can and join #GenerationBee:
www.kickstarter.com/beehive-brae
Buzz,
Plan Bee is helping to build the buzz around Small Business Saturday (5th December 2015).
The annual event, which takes place on the first Saturday in December, encourages UK shoppers to think about their small, local companies rather than looking to huge supermarkets and the usual High Street retailers.
"Small businesses account for a huge £1.8 TRILLION share of the UK's economy, but they also account for millions of UK jobs. Nearly 16 million people are employed by over five million small businesses across the country. These businesses are helping to increase and diversify the skills that we have here in Britain, and to raise the profile of the country internationally as a country to do business with."
Last year more than £500million was spent on Small Business Saturday, as shoppers flooded out in support, with 64% of UK consumers aware of the now annual event.
National Campaign Director, Michelle Ovens added:
"The Small Business Saturday campaign plays a valuable role in focusing the minds of consumers and business people on what small businesses in any sector or line of business can offer in terms of range of products and services and levels of customer service. Most people in this country own a small business, work for a small business or know somebody who does, so supporting a small business on Small Business Saturday is personal and means you are supporting somebody you know."
Plan Bee has become a leading light in the small business community in Scotland, as one of the fastest growing sustainability businesses in Britain. The company has scooped around 30 accolades in less than five years, working out at around one every eight weeks. The company has worked closely with Glasgow Chamber of Commerce to promote its sustainability brand and high quality honey products not only in Scotland, but across the UK and internationally.
Stuart Patrick, Glasgow Chamber of Commerce chief executive, said:
"Small businesses like Plan Bee are the bedrock of the community, and it should be remembered that every big company started off as a small one. It's important that consumers support local enterprise, and Small Business Saturday highlights that well."
Small businesses account for a huge £1.8 TRILLION share of the UK's economy, but they also account for millions of UK jobs. Nearly 16 million people are employed by over five million small businesses across the country. These businesses are helping to increase and diversify the skills that we have here in Britain, and to raise the profile of the country internationally as a country to do business with.
Buzz, November 27, 2015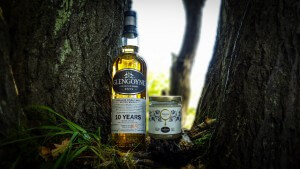 Here at Plan Bee, as eco-innovators we're always tracking up and coming trends. Already this has helped us to identify a number of new products such as our exclusive Keralan Cinnamon Infusion variety. This strong south Indian spice permeates through our award-winning honey to leave a spicy after note, which tastes like Christmas in a jar.
One area where such flavour trends are more marked is the alcohol industry. Already numerous bourbons and whiskies are turning to a cinnamon infusion.
But we wouldn't be earning our 'eco-innovator' tag if we weren't pushing the boundaries and turning these trade reports on their head. At the very end of last year renowned Swiss flavouring and fragrance manufacturer, Firmenich came out with its proclamation for Flavour of the Year 2015, and that flavour was (drum roll)… Honey. Tick.
Jack Daniels and Jim Beam had blended it with their bourbon, and Irish whiskey maker Bushmills produced their Irish Honey whiskey. But what could we do as an elite producer of award-winning honey? Turn it upside down, work with one of Scotland's most sustainable distilleries and come up with Great Taste award-winning Blossom Honey blended with Glengoyne 10-year old malt whisky.
Over the last few months the product has proven extremely successful, with visitors to the BBC's Good Food Show and other recent events snapping up the product. Most notably our whisky infusion is now being sold in Japan and in Switzerland's exclusive Globus department store.
To find out what all the fuss is about visit our Origin Honey website: www.originhoney.com
Buzz, November 17, 2015
The snow might not be falling just yet, but there's been a flurry of award nominations at Plan Bee Ltd this week.
Plan Bee has been nominated for the prestigious 'Excellence in Enterprise Mentoring Awards' by the Mentorsme network, which is an online gateway for small and medium sized companies looking for guidance through the choppy waters of the first few years of trading. The Motherwell-based company was nominated in the busy Export & Innovation category.
The awards bring together businesses and mentors from across the UK to showcase their achievements and celebrate the power of enterprise. Plan Bee, was mentored by Mike Lees, the former managing Director of Tennents Caledonian Breweries.
The company has received great support and advice from many of its partnership businesses in beehive management. These range from small family run businesses to global household names the likes of Highland Spring, Kellogg's and L'Oreal. Plan Bee has also received great support from Scottish Enterprise and the Scottish Chambers of Commerce (SCC).
Liz Cameron, Chief Executive of SCC said:
"Plan Bee is buzzing with excitement, enthusiasm and energy. Their novel approach to business not only aims to grow a profitable and ethical business, but also works to increase awareness of the importance of bees to the world's ecosystem. I'm proud Business Mentoring was added to Plan Bee's "magic formula," enabling further growth for the business. I know they are paving a strong and successful future in their entrepreneurial journey."
Plan Bee has also received a plethora of award nominations from the Free2Network Business Awards, with nomination in the categories of Corporate Social Responsibility, Green Business of the Year and Businessman of the Year.
"It's great to receive all these nominations, but we're not ones to rest on our laurels here at Plan Bee. Most importantly these awards help to raise awareness on our work, they help to promote our efforts to protect and preserve dwindling honeybee numbers; and most importantly to talk to other like-minded businesses so that we can develop important sustainability networks. We are honoured to receive these nominations and are crossing our fingers ahead of the awards night."
Admin, November 10, 2015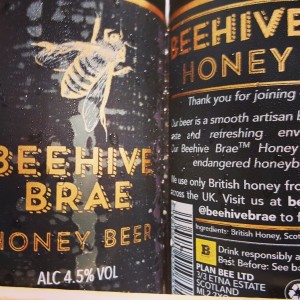 The UK's bars are buzzing with news of the latest British beer and its refreshing environmental credentials.
Beehive Brae™ Honey Beer incorporates one of the hottest trends in the alcohol industry with a staggering sustainability pedigree that makes it one of the most environmentally aware products in the market.
"Beehive Brae Honey Beer  is helping to preserve dwindling honeybee populations across the UK. Bottling the beer is the fruition of a long road, and we're delighted to finally see our unique, artisan blonde adorning fridge shelves across the country."
The creation of Beehive Brae™ Honey Beer and its stablemate mead were only made possible following a crowdfunding project in 2014. Plan Bee was 175% overfunded, and from that investment developed the multi-award-winning Origin Honey™ brand and Beehive Brae™ products.
"Generation Bee is the up and coming age, where socially and environmentally conscious shoppers are voting with their wallets and spending their money ethically. We believe this extends to how they want their beer. Beehive Brae is sustainable from the outset and enthusiasts can drink responsibly in the knowledge that their purchase uses purely British honey, and is playing an important part in protecting the environment".
Latest research also suggests honey is a growing trend, and has in recent years proven strong, with sales of drinks containing 'honey' in the description increasing by 29% and in cocktails by 60%. This artisan, blonde ale is surprisingly smoother than people may at first imagine, with a subtle honey taste coming through.
Plan Bee Chair, Mark McDavid is a 30-year veteran of the Fast Moving Consumer Goods market and was impressed by the honey beer's credentials:
"Beehive Brae makes not only a refreshing change from the myraid of craft beers currently flooding the market, but it is markedly different in flavour, provenance and its environmental credentials. Our honey beer derives from British honey, farmed from our partnered hives across the UK. Never before have I seen a product with such a strong sense of sustainability or ethics. Craft beer enthusiasts can responsibly drink Beehive Brae honey beer in the knowledge that their purchase is doing something positive for the environment."
Admin, October 22, 2015
Following up on our autumn gardening advice from earlier this week, there's more work to be done in the garden than helping out the nation's honeybees. As well as doing your bit for bees, we believes that there is a great deal that can be done to help other pollinators and insects during the season of mists and mellow fruitfulness too:
"When lopping back trees and large shrubs try to keep some of the logs. A lot is made about expensive, ready-made insect hotels these days. Logs with holes of varying sizes drilled into them can be the equivalent of four star accommodation at budget hotel price. Leaving a bit of your garden like this can also provide a safe haven for hedgehogs, who again are among a gardeners best buddies, as they eat slugs and snails. But, please make sure that any such piles of wood you might be building bonfires with are hedgehog free before Guy Fawkes night.
"As these logs and waste branches and twigs break down, they release vital nutrients back into your soil. It can pay dividends to have a wild area set aside, where such decaying matter can help to regenerate the fresh shoots in the spring and summer. It really helps to be planning next year's activity now, so that you're one step ahead come the spring, and that your garden is buzzing from the start."
To get the latest news, advice and tips follow us on Twitter at @planbeeltd.
Admin, October 17, 2015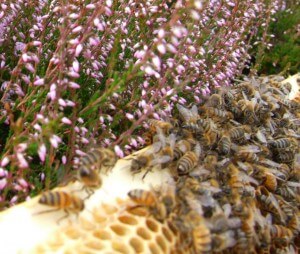 As an experienced gardener and urban beekeeper, has a good idea of what it takes to make a garden truly bee-friendly. But he reckons it's not so much about what to do at this time of year:
"Firstly it's about what not to do at this time of year, don't cut back ivy just yet as this is about to flower and provide the last flow of pollen and nectar into the hive, to sustain the bees over winter.
"There's also a bit that everyone can do, and especially good to get children interested in gardening and that's planting bulbs. Crocus and snowdrop are particularly good for the first bees out of the hive in spring, it's the equivalent of an orchestra prelude ahead of a concerto. Also, Michaelmas Daisies are good for that early store of pollen and nectar in the spring.
"The bees will start to venture out again in March or early April, depending on the weather. They tend not to like temperatures under 12°C. A more traditional indication is when the pussy willow, gorse and broom start to come out again.
"Heritage fruit trees is my passion and I would always advise UK gardeners to buy British. That way you know what you're getting and there's less chance of disease. It's the best time to plant trees and particularly apple, pear and plum are always nice, but don't expect instant results. It will take about three to four years before they are mature enough to truly produce.
"It's good to think about crab apples too. While they may be considered the poor cousin to many fruit trees, you can harvest the fruit to make a truly delicious crab apple jelly that is delicious with roast lamb and pork, or even try it with smoked salmon. The fruit also provide stunning colour and range from purple to yellow. The fruit can be left for nature and is good food for a number of small creatures and birds that might be visiting your garden at this time of year."
Stay tuned for more handy autumn gardening tips. For a more regular update follow @planbeeltd on Twitter.
Admin, September 24, 2015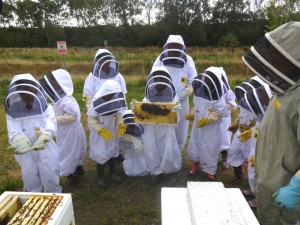 Children from Stepps Primary School have helped one of the UK's 'greenest' buildings to get greener.
The youngsters joined eco-innovation business, Plan Bee to help increase Scottish Water's sustainability credentials. The utility giant is working alongside Plan Bee to introduce an education element to the partnership, with local primary school children involved in the creation of a wildflower meadow around the hives, helping to provide a rich source of available pollen for the honeybees and a colourful view for employees and visitors to the site.
Stepps Primary School's Head Teacher, Paul McKeever added:
"Both our students and teachers were delighted to get this opportunity from Scottish Water and Plan Bee. The lessons were specifically tailored to meet the needs of the curriculum and to get practical, hands-on opportunity to put the lesson into practice was unique. It will certainly leave a lasting legacy. As these honeybees buzz about our gardens, I'm sure the children and their families will take a renewed interest in their efforts and may even recreate their own wildflower areas to support dwindling honeybee numbers."
Plan Bee has worked with small family-run businesses and global household names to promote sustainability and the importance of bees within our delicate ecosystem to community groups across the UK. In some instances, children have been involved in designing and painting beehives. Plan Bee is a Legacy 2014 business, and worked with a dozen schools to promote lessons around the environment, literature, history and art in the run up to the Commonwealth Games.
"Scottish Water is a great company to work with, and this is a prestigious site. Already we are collaborating with a number of organisations to help them up the ante on their environmental credentials, whether that be large utilities or even renewable energy companies. Scottish Water realises the importance of leaving a lasting sustainability legacy, and what better way to do so than investing in the future of bees, whose existence is threatened by climate change and poor pesticide management, two of the factors also facing our vital water resources. They are to be applauded in taking this long-term sustainability step and we look forward to work with them in the years to come."
Admin,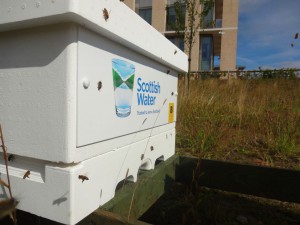 One of the UK's 'greenest' buildings is about to get even greener with Scottish Water adopting two beehives at their Glasgow offices, 'The Bridge' in partnership with multi-award-winning sustainability business, Plan Bee Ltd.
The eco-innovation business has supported numerous utilities, renewable energy companies and global household brands to increase and promote their sustainability credentials. Scottish Water is working alongside Plan Bee to introduce an education element to the partnership, with local primary school children involved in the creation of a wildflower meadow around the hives, helping to provide a rich source of available pollen for the honeybees and a colourful view for employees and visitors to the site.
Alan Thomson, Scottish Water's Head of Corporate Relations said:
"The Bridge is one of the most sustainable buildings in the country; it was carefully planned to have minimal environmental impact and is of the utmost energy efficiency. We want to increase that sustainability portfolio even further and working with local Lanarkshire business, Plan Bee Ltd will allow us to adopt a proactive sustainability approach. It's about us playing a part in the future of the environment and supporting these endangered pollinators to ensure our plants and trees, and the food we eat are all protected as the children we see here today grow to become adults."
Admin, September 14, 2015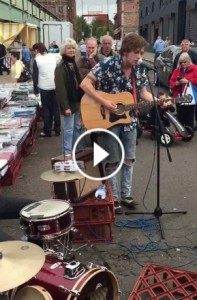 Plan Bee Warehouse Operative, Jamie Keenan is used to life in the local spotlight as a member of leading Wishaw band, The LaFontaines.
But even Jamie couldn't predict the events of the last 24 hours following an impromptu busking session to promote the bands forthcoming gig at the Barrowlands.
Jamie is more used to sitting behind a drum kit, but popped up as frontman with his guitar and a mic to sing a version of 'Granny Aff The Drugs' at the Barras Market yesterday afternoon (2pm, Sun 13th Sept, 2015).
The video has since gone viral, with more than 600,000 views… and rising.
Interest has already been shown from a number of national newspapers and TV stations, but Jamie modestly admits he's been a little surprised by all the attention:
"We only did the busking to help promote the bands autumn gigs. We're playing the Barrowland on the 7th of November and we were hoping to promote that. The reaction has been amazing and I'm hoping that the video will attract a lot more people to our music. And, if they also want to buy some honey then even better."
Admin, September 9, 2015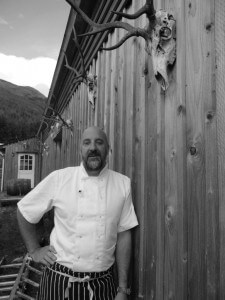 The Milan expo theme aims to highlight one of the most pressing challenges of our time – how to feed and sustain an expected rise in the world's population to 9 billion by 2050. Plan Bee Ltd has been exclusively selected to represent Scotland as a unique niche producer within the fine food sector.
Plan Bee will collaborate with renowned chef, Tom Lewis (Monachyle Mhor) on a number of Scottish dishes for demonstration during the course of the event.
Together they will promote the rich offerings of Scotland's natural produce, which are renowned around the world.
Speaking ahead of the event, Tom Lewis added:
"High quality seasonal produce is the key to Scotland's growing food reputation; with provenance an essential component of that offering. We have become a much sought after global food destination, while Scots are also falling back in love with their food. We're taking some really interesting products to this prestigious event, and that will be accompanied by a real sense of fun. To be able to showcase the best natural produce that Scotland has to offer on this world stage is truly prestigious and something that I am looking forward to."
The event coincides with Scotland's Year of Food and Drink 2015, celebrating the country's outstanding natural larder and produce.
James Withers, Chief Executive, Scotland Food & Drink commented:
"Scotland at the Expo is a fantastic platform for us to showcase the country's world-class food and drink offering. I am delighted that Plan Bee will be amongst those representing Scotland at the event, helping to further raise Scotland's profile and conveying the expertise we have in food and drink production including in crucial areas like sustainability. With food and drink growth at a record high and 2015 being Scotland's Year of Food and Drink, what better opportunity for us to showcase our Land of Food and Drink to the world."
In his final speech, the Plan Bee founder is working with writer Tom Bruce-Gardyne to deliver the 'Beer and the Bees' talk about the innovation and guile behind the craft brewing sector in Scotland, and the part played by the company's Beehive Brae brand in delivering an innovative new product to market.
Admin,
Eco-innovation business Plan Bee Ltd is heading inter Milan for the World Expo, the largest universal exhibition on the planet.
The Lanarkshire sustainability company has been invited to represent the UK at the 6-month long global showcase by UKTI, the Westminster government's trade
and industry division. Plan Bee will deliver three speeches based on the central theme of the expo – Feeding the Planet, Energy for Life.
Plan Bee outlines some of the themes of his discussions ahead of representing Scotland at this prestigious event:
"The World Expo only happens every five years, and with more than 140 countries represented it will certainly provide a significant stage on which to promote Scotland's sustainability efforts in the leading food and drink field. More than 20million visitors are expected to pass through the expo during the course of the event, with 20,000 people visiting the UK pavilion every day.
"Bees play a central part in the showcase, with the pavilion designed around a hive. I'll be looking at the lessons businesses can learn from bees, and the importance of bees to the world's economy. I'll also be taking a more whimsical look at bees and beer. This is an amazing stage on which to be promoting not only Plan Bee, but also Scotland and all that we have to offer in our larder."
Admin, September 7, 2015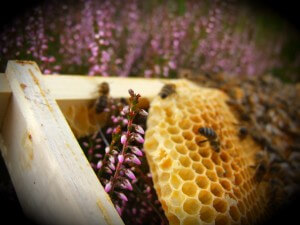 Plan Bee Ltd's premium honey brand has just missed out in the final of Aldi's Next Top Product awards.
The Lanarkshire sustainability business presented their products Scottish Runny Heather Honey, Scottish Set Blossom Honey and Whisky Honey to the Aldi Scottish Buying team, but despite reaching the last stage of the competition was narrowly beaten to the winners post.
Richard Holloway, Managing Director of Aldi in Scotland, said:
"Our business model in Scotland has always been about working with the best local producers to bring top quality products to our customers at everyday low prices. "
The event was launched to coincide with the Year of Food and Drink Scotland 2015, celebrating the country's outstanding natural larder and produce. The Scottish Government initiative is led by VisitScotland and supported by Scotland Food & Drink and Think Local. It is designed to capitalise on the momentum created by the previous Year of Food and Drink in 2010 and Homecoming Scotland. 
Scotland Food & Drink Chief Executive James Withers commented:
"Aldi is placing a strong focus on sourcing locally and the resultant relationships with Scottish suppliers are great to see. This approach is invaluable for the continued growth of our sector. The Scottish food and drink industry has been enjoying sales growth year on year and there is good reason for us to be recognised as a Land of Food and Drink as we offer quality products with a strong identity."
Building on Scottish Food & Drink Fortnight, September's Year of Food and Drink theme is Celebration with a focus on events and products that celebrate provenance and the produce on our doorstep.
"Provenance is our middle name here at Plan Bee, and it is something that we take particular pride in. This premium Scottish product has sustainability and the protection of dwindling honeybee numbers at its core, and it is great to see a big name supermarket like Aldi supporting this ethos through this prestigious competition. While we are disappointed not to have won the competition it is an honour to have been recognised in this way."
Admin, September 5, 2015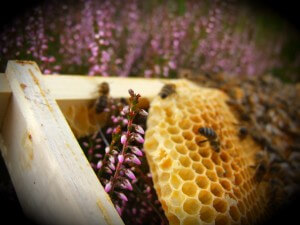 Plan Bee Ltd's premium honey brand has sashayed into the final of Aldi's Next Top Product awards.
The Lanarkshire sustainability business has been asked to present their products Scottish Runny Heather Honey, Scottish Set Blossom Honey and Whisky Honey products to Aldi's Scottish Buying team who will support the winner through the process of getting their product on the shelf.
Richard Holloway, Managing Director of Aldi in Scotland, said:
"Our business model in Scotland has always been about working with the best local producers to bring top quality products to our customers at everyday low prices. We want to help give a local business their big break by offering them access to our knowledge and expertise to help get their product off the ground."
The event has been launched to coincide with the Year of Food and Drink Scotland 2015, celebrating the country's outstanding natural larder and produce. The Scottish Government initiative is led by VisitScotland and supported by Scotland Food & Drink and Think Local. It is designed to capitalise on the momentum created by the previous Year of Food and Drink in 2010 and Homecoming Scotland.
Scotland Food & Drink Chief Executive James Withers commented:
"Aldi is placing a strong focus on sourcing locally and the resultant relationships with Scottish suppliers are great to see. This approach is invaluable for the continued growth of our sector. The Scottish food and drink industry has been enjoying sales growth year on year and there is good reason for us to be recognised as a Land of Food and Drink as we offer quality products with a strong identity. This hunt for the next best product will be good exposure to new or as yet undiscovered products in the market."
Building on Scottish Food & Drink Fortnight, September's Year of Food and Drink theme is Celebration with a focus on events and products that celebrate provenance and the produce on our doorstep.
Admin, September 4, 2015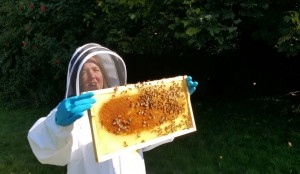 Before we begin beehive installations with our clients we like to carry out health and safety checks.
Health and Safety officers, particularly those working for large organisations are extremely cautious people by profession and often by nature.
That's why when we received this lovely blog from Kellogg's safety advisor Heather Gaskell, we thought it would be appropriate to share it:
I've been safety advisor at the Kellogg Manchester Plant for nearly 3 years.
So instinctively you would think I would have been slightly twitchy about the thought of bees on site. It would almost be so easy to say no, were not having them its not worth the risk!
Possibly a part of me did think that, however when the opportunity arose to go and look at them closely and inside the hives I jumped at the chance. Surprising as even the thought of a money spider within ten feet of me would usually be enough to make me sweat!
I've always been very passionate about gardening and flowers and bees being a big part of this means I've always had a vague interest in them. I wasn't really sure what to expect when I got geared up in the bee suit to go and look inside the hives.
It wasn't what I thought anyway! The bees didn't care about me being around. They just busily carried on doing what they do. The gentle hum of the bees was actually very calming and put me at ease.
I think my view now is that the fear of bees is fairly irrational. It surprised me how much I enjoyed the experience.
I would urge others to get involved in any way they can with bees, they are beautiful creatures that do nothing but good! I think businesses can be put off by the health and safety aspect of keeping bees but really there is not a lot to it! A simple risk assessment, PPE and basic training is all you need. Keeping them also has the added reward of a pot of honey. It's a win win situation! I'm definitely a true bee convert!
Heather Gaskell
Admin, August 26, 2015
Leading renewable energy investment company Low Carbon has launched an initiative to promote greater biodiversity in Cornwall, Dorset and Suffolk. Low Carbon has partnered with sustainability company
Plan Bee to install and manage 25 bee hives across five of its solar farms.
Honeybee populations have halved in the UK over the last two decades, according to research by the University of Reading, with climate change, mites, pesticides and disorders, contributing to this. Plan Bee partners with businesses like Low Carbon to support and increase populations of this valuable insect, which is an essential component in the balance of our
delicate ecosystem.
Quentin Scott, Low Carbon's Marketing Director said:
"We are committed to protecting local habitats and ecosystems on our solar farms. Encouraging biodiversity should not be a bolt on for renewable energy companies, but rather a core responsibility. Protecting bees, insects and other species is a crucial part in the fight against climate change and we look forward to continuing our work with Plan Bee in the future."
Low Carbon works across the solar, concentrated solar power, wind and anaerobic digestion sectors. It currently operates over 270MW of operational solar energy assets in the UK.
The renewable energy investor is making every effort to play a central part in the farming communities surrounding its sites. By locating on fallow land that is unusable for agriculture, Low Carbon is delivering a long-term investment in these areas.
Quentin added:
"By taking measurable steps to install beehives on our solar farms, we hope to show that investing in solar PV on their land needn't be at the cost of local wildlife. Through our community outreach, we want to help champion biodiversity"
Each of the five sites will host more than 300,000 bees to help cultivate local crops and encourage biodiversity. A remote monitoring system is planned, which will allow Plan Bee to keep tabs on each bee colony by monitoring parameters such as brood temperature, humidity, hive weight and weather conditions.
Admin, August 24, 2015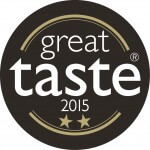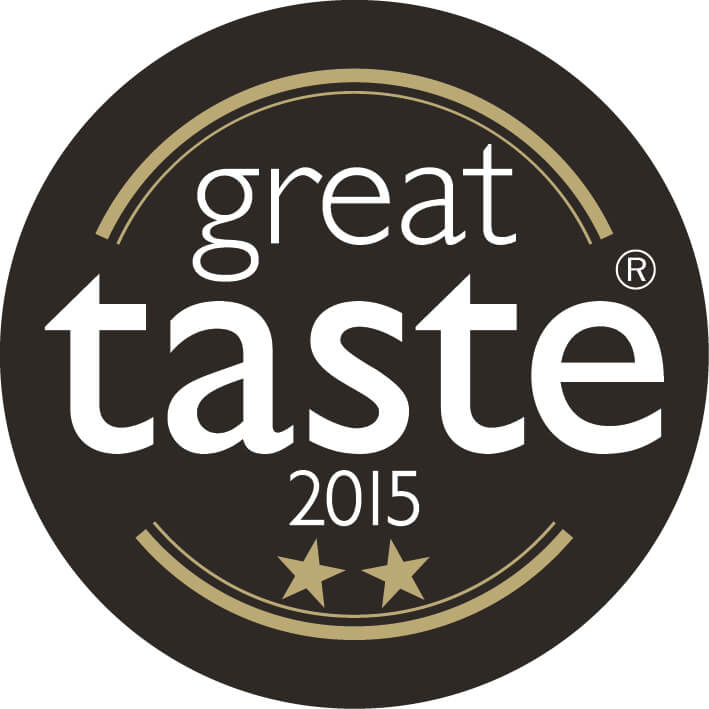 The snapping up of Plan Bee's Origin Honey by exclusive Swiss department store Globus is the first large export of the prestigious brand since it lifted gold stars from the Guild of Fine Food.
Origin Honey gained two stars for its Heather Honey and an individual star for its Blossom Honey at the organisation's Great Taste Awards, the eminent food industry Oscars. This was among a total of FOUR stars achieved by the company.
John Farrand, managing director and organiser of Great Taste said:
"Plan Bee has done exceptionally well in its first year of entering Great Taste. To receive three awards overall, one of which is a 2-star rating is testament to the quality of this honey. The judging process is rigorous, with a minimum of 10 palates, at least, tasting each product and Plan Bee should credit themselves among the UK's elite food producers."
Plan Bee works with the Glengoyne distillery to produce a whisky blended rich honey product, which was a key part of the Globus order. The robust tasting heather honey and runny Scottish blossom honey also comprised the remainder of this inaugural export for the retailer which is considered in the same vein as Harrods and Selfridges on the continent.
"Globus is among the most exclusive stores in Europe, and has a clientele of discerning shoppers who expect the highest quality produce in their shopping baskets. The Swiss are renowned as among the most health aware nations in the world and will be not only well versed on the unique taste of Scottish honey, but also on its many health benefits. We are delighted to be working with Globus, who have not only shown their need for the highest quality products on their shelves, but also the importance of offering customers ethical products with a strong sustainability ethos. We look forward to working with them further and offering more Origin Honey products for sale on their select shelves."
Admin, August 21, 2015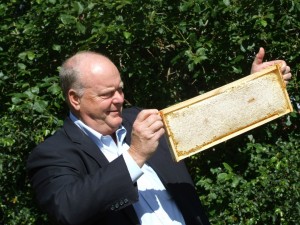 Multi-award winning sustainability and eco-innovation business Plan Bee Ltd is buzzing as a new chairman flies in to their hive of activity.
Mark McDavid, has more than 30 years experience in the consumer goods industry, having been Managing Director at Aunt Bessie's Ltd, Hallmark Greeting Cards PLC, Marine Harvest Salmon and Northern Foods. He is also currently Chairman of Yorkshire based top tier food producer HECK! and a non-Executive Director of National Services Scotland.
In taking up the role, Mr McDavid said:
"Plan Bee Ltd is a truly modern business that is environmentally, socially and economically sustainable. I defy anyone not to be impressed by the passion of the team; and their positivity for planet, people and profit is infectious. I am delighted to be joining the team at Plan Bee and to be involved in a business which does good for the environment and positively enriches peoples' lives."
Mr McDavid replaces outgoing Chairman, Mike Lees. The former Tennents Caledonian Breweries chief is standing down due to personal reasons. Mr Lees successfully ushered in a new phase of industry for the fledgling business and initiated the development of Plan Bee's Origin Honey and Beehive Brae brands.
Plan Bee provides beehive management services for a number of leading household brands including Kelloggs, Highland Spring, Balfour Beatty and Low Carbon. They also work with local authorities such as Glasgow City Council, Inverclyde Council and North Lanarkshire Council, for whom they also deliver Curriculum of Excellence sustainability education packages. The company has recently started exporting its Origin Honey brand overseas and is preparing its largest crowdfunding project to date.
Admin,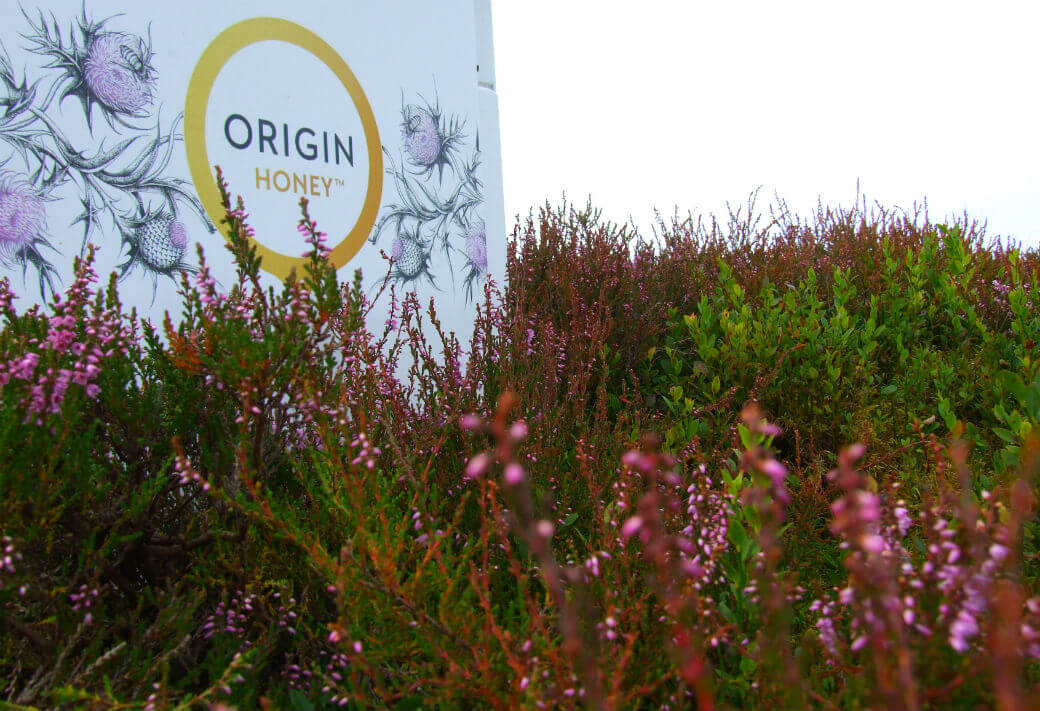 Scotland's leading food industry body is welcoming Plan Bee's Swiss export success.
Plan Bee worked closely with Scotland Food & Drink to prepare their international offering, with the organisation providing invaluable advice and support. It is an important year for Scotland, with businesses across the country looking to gain a foothold in overseas markets
during this Year of Food and Drink.
James Withers, Chief Executive of Scotland Food & Drink added:
"Plan Bee's Globus listing is great news. Scotland is rife with innovative companies like Plan Bee who are making great contribution to Scotland's growing reputation as  a Land of Food and Drink.  Premium products produced to high standards with a great provenance story are central to the sector's efforts and whilst our iconic products like Scottish salmon, Scotch whisky and Scotch beef are well known, we are blessed with an amazing diversity of products too. Honey is also now making its mark in international markets and as our industry continues its efforts to drive up export trade, it is great to see Plan Bee making its own significant contribution."
The company's sustainable honey products have already received acclaim from high-profile customers with the product used at the 2014 Ryder Cup at Gleneagles and by leading television chef Jamie Oliver. With the help of Scotland Food & Drink, Plan Bee is already looking at a number of other overseas markets in which to export its Origin Honey branded products and Beehive Brae Mead.
For further information please contact: buzz@planbeeltd.com
Admin, August 19, 2015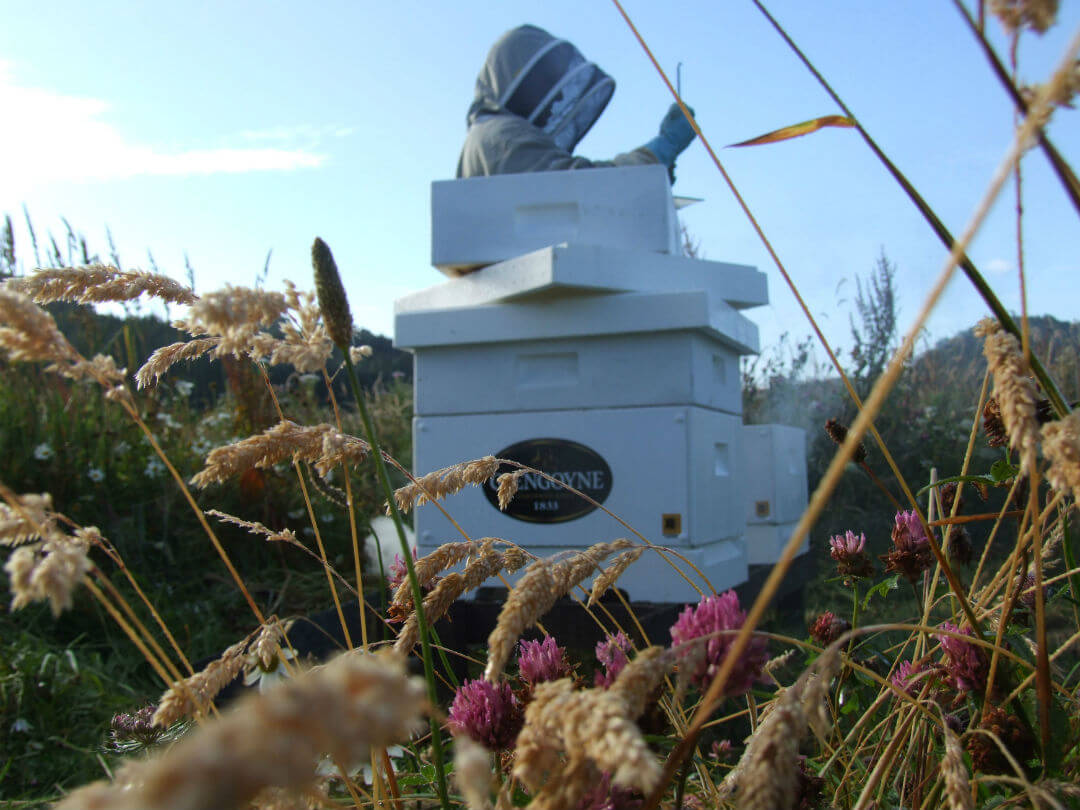 Exclusive Swiss department store Globus has swooped to snap up the first large overseas export of award-winning Origin Honey, Scotland's leading sustainable honey brand.
Origin is produced from Plan Bee Ltd's ethically managed beehives which support dwindling honeybee populations in Europe. The multi-award winning company
is a unique eco-innovator,
producing the highest quality
Scottish honey.
Nirmala Alterher, Globus' Head of Corporate Communications said:
"Our customers expect unique brands of the finest quality, and that's certainly what Origin Honey has to offer. The blend of Scottish heather honey and Glengoyne single malt whisky is certain to become a favourite with our clientele, and fully embodies our 'savoir vivre' ethos."
For further information please contact: buzz@planbeeltd.com
Admin, August 12, 2015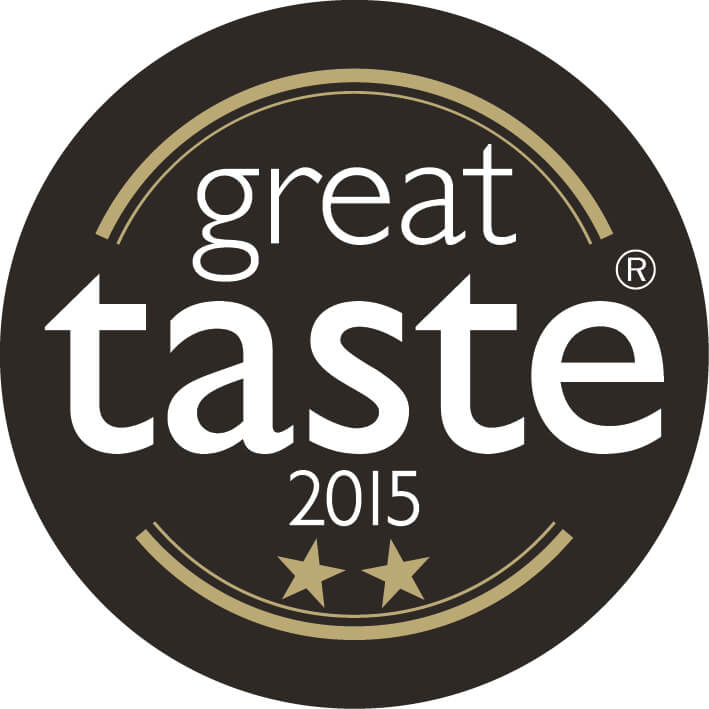 Leading sustainability business, Plan Bee Ltd has just scooped a total of FOUR stars in the Guild of Fine Foods, Great Taste Awards.
The company's Origin Honey brand lifted a prestigious two stars for its Heather Honey and an individual star for its Blossom Honey. The company's Beehive Brae Elderflower and Rose Mead also bagged an individual star in the eminent food industry Oscars.
John Farrand, managing director and organiser of Great Taste said:
"Plan Bee has done exceptionally well in its first year of entering Great Taste. To receive three awards overall, one of which is a 2-star rating is testament to the quality of this honey. The judging process is rigorous, with a minimum of 10 palates, at least, tasting each product and Plan Bee should credit themselves among the UK's elite food producers."
The Great Taste awards are recognised as a stamp of excellence among both consumers and retailers alike. All products are judged by over 400 professionals, ranging from chefs, restaurateurs and producers to food critics and journalists in the world's most coveted blind-tasted food awards.
More than 10,000 products were judged, with Plan Bee's produce being among the leading entrants across the UK. Food buyers from leading stores Harrods and Selfridges were also joined by counterparts from Marks and Spencer and Waitrose on the judging panel.
Mark McDavid, Plan Bee's Chair added:
"Our Origin Honey and Beehive Brae Meads are rubbing shoulders with among the finest foods in the UK. For two fledgling brands to be considered among such an exceptional field of products at this stage in their development is truly outstanding. Plan Bee offers one of the most exciting brand ranges I've ever seen in over 30 years in the industry. It's sustainability and traceability are also unrivalled. We are delighted to be recognised by such an esteemed industry body and look forward to entering more of our products in future."
Admin, July 24, 2015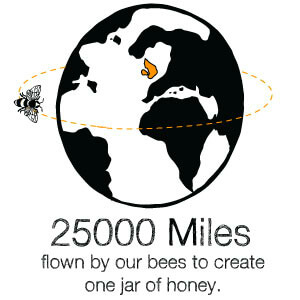 Britain's roads, rails and airways are set to be a hive of activity this weekend as airports and operators prepare for the busiest weekend of the year. An estimated two million travellers are expected to head abroad as the UK holiday season hits top gear.Heathrow alone is expecting half-a-million people to pass through its gates, while 310,000 will leave from Stansted, 342,000 from Manchester and 100,000 in Scotland. There's also expected to be delays on our roads as millions decide on a 'stay-cation' or as we say at our Motherwell HQ,
'Hameldaeme'.
The more ethically minded traveller may be thinking about their air miles, or the CO2 equivalent as they sit in traffic jams. We're always thinking about air miles here at Plan Bee, not the weighty kerosene ones, but the miles flown by our bees, which is the equivalent of flying around the world just to make one jar of honey. And as for jams, well that's not really what we do.
For those feeling even slightly guilty, and looking to offset their carbon use from that package holiday flight to sunnier climes then Plan Bee may well have a solution. By adopting a bee you could be helping to offset tonnes of carbon, as our little pollinators jump from tree to tree and plant to plant ensuring new life can thrive. It is widely accepted that young trees absorb more carbon from the atmosphere and that CO2 intake increases among seed and fruit producing plants after pollination. And, that plants also consume more CO2 when they are producing nectar. With bees covering a potential area of 28-square-miles then that's a potentially large carbon offset.
For companies also looking to make an impact on their carbon offset there's also the opportunity to adopt a hive from Plan Bee. We already meet the sustainability needs of many household names, supporting their environmental programmes. With each business taking a minimum of 120,000 bees that racks up to a huge carbon offset for just a small investment.
Many organisations will look to offset their carbon use after the event, such as a large constructions but by adopting our beehives your business is taking a proactive stance, meeting the needs of the environment before any impact has been made. Plan Bee can even offer school talks and community engagement. Hives can be decorated by primary school and nursery children, or they can carry corporate branding.
So as you prepare to jet off to the sun this weekend, spare a thought for our busy bees, and think about offsetting that holiday flight by adopting a bee.
Admin, July 9, 2015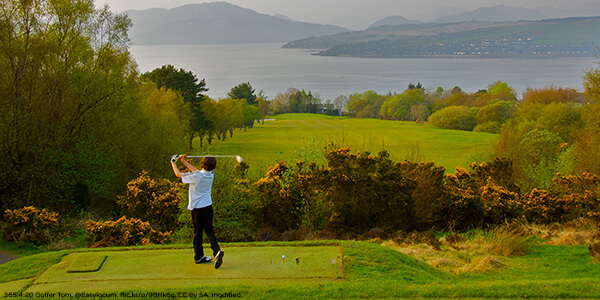 We're starting to feel the buzz around The Open Championship, which is always one of our favourite times of year here at Plan Bee, and even more so when it is at the home of golf in 
St Andrews. But it also got me thinking. Are golf courses still maintaining their standing as lush, green rolling fields, an area for quiet, solitude and contemplation? Or, are they a waste of land that rather than enhance the environment, they potentially harm it? Are they a green oasis or a green desert?
Around the world it is estimated that there are 35,000 golf courses, with just over half in the USA, while in the UK we have 2,600 clubs. Scotland has the highest per capita number of golf courses in the world, with the Scottish Golf Union reporting around 600 courses. The industry employs more than 29,000 people in Scotland alone, supporting 1 in every 125 jobs. The latest KPMG study for Scottish Golf estimates the industry is worth £1.171Billion to Scotland's economy, while the economic impact of golf tourism is around £220million. That's a lot of golfers potentially voting with their feet and their wallets, and millions of them will be looking for a unique environmental selling point.
In a time when we have a wealth of choices, multiple options for our disposable income and a myriad of businesses competing for our attention; consumers are becoming ever more selective on how they spend their time and money. This is a factor that golf course managers are acknowledging, with reports like Sustainable Golf Development clearly highlighting the importance of consumer choice in the future of the game and its many clubs. This is the game's opportunity to give something back to their communities, to play a vital part in supporting delicate ecosystems and in particular dwindling honeybee populations.
Around the world there is a growing frustration with golf courses. Often seen as purely middle class retreats, they are viewed by some as elitist. They can sap valuable resources particularly water, and potentially use harmful pesticides to maintain those vibrant greens and fairways, while many have replaced once rich farmland and others take up sites that could potentially be used for much needed housing. There should be a return, or at least a focus on redeveloping courses around a vision of social, environmental and economic sustainability – an extension of the games roots, an evolution of golf's age-old values. After all, sustainability was part of golf from the start and it must be part of the game in the future.
Many courses nowadays are situated on the outskirts of towns, they have replaced fertile farmland or take up land that could potentially be used for valuable housing stock. Rather than be seen as islands with a single purpose, beehives could help to make courses a focal point of this semi-rural environment. Bees can cover a radius of more than 6 miles from their hive, and that is a lot of neighbouring crops to pollinate, allowing golf clubs to play an important part as a pollination hub for their neighbouring community. Rather than sapping resources, introducing fescue areas could create something completely unique for courses and supporting delicate ecosystems, providing biodiversity where they may be surrounded by single crop farms, which can be detrimental to the health of local wildlife that requires diversity. Recent studies have also established the great potential for golf courses, with a higher species richness and abundance for bird and insect taxa recorded than on nearby farmland.
Golf courses, and in particular their business elements and committees need to kick back, to answer their critics and come back with sustainable solutions of their own. Rather than be seen as green deserts, golf courses need to improve their image and use outlying areas more responsibly. Transform the rough by sowing rich, biodiverse wildflower meadows and install beehives in areas away from the run of play. In 2008 Fam et al estimated that globally a possible 50% or more of all species could be at risk from urbanisation. At Plan Bee we widely report on declining honeybee populations, with University of Reading research estimating the demise of half of the species over the last 20 years through mites, climate, disorders and poor pesticide management. With most towns having one or more golf courses, there is definitely a part to be played by course managers and these organising committees in supporting threatened honeybee populations and by extension our delicate ecosystem, and taking up a unique role within their community. Golf courses need to 'pay the rent' for their existence, enhancing their natural habitats and ecosystems, improving overall environmental quality and treading lightly on their natural resources. The perimeter of your course can be opened up, allowing the local community to use the area for walking, embracing nature and enjoying leisure activity.
The Royal and Ancient (R&A) is responsible for the game not just in this country, but around the world. They recognise and value the need for improved sustainability in the world game. Speaking in a recent article on the blueprint for a sustainable future, the R&A's Director of Golf Course Management, Steve Isaac said that in 20 years time he'd 'like to see golf being mentioned in a favourable light whenever questions arise about how we use our land, or how we work with the community, basically as a game, we should be making positive contributions to as many different aspects of society as possible. Only then will we truly be on the road to sustainability.'
The eyes of the world have been on Scotland over the last 12 months, with golf going a fair way to enhancing our reputation for outstanding hospitality and beautiful scenery. The Ryder Cup at Gleneagles captivated billions of armchair golfers around the world. Views of the Swilken Bridge and the Royal & Ancient clubhouse coming up the 18th fairway will again inspire millions to play the game. But how can golf clubs ensure that they continue to attract new members?
Clubs need to reach out to communities, to young people and ensure that they shake off the elitist reputation and offer something different. Plan Bee school legacy programmes, as part of a club's beehive management programme can help to carry your message into the classroom, while our community engagement programmes and hive decoration can also bring colour and vibrancy to your course, or simply help them camouflage in to their surroundings. Alternatively, if you have parts of your course bordering busy motorways, roads or thoroughfares then hives can be branded with your club logo and messaging to be used as advertising space.
We need to jointly embrace golf's opportunity to enhance the quality of life and enrich the ecology of landscapes. Support is available in the form of grants and funding, which we can help you to secure. Plan Bee managed beehives can support the sustainability needs of golf courses and help them to attract new members by becoming more involved in the local community through school education programmes and talks. It's now up to Course Managers and Committees to ask themselves, 'What are we doing to ensure our course stands above the crowd and earns its 'green' credentials?'
I hope you enjoy The Open and have time to more widely consider the important part your own club could play in protecting the environment and supporting dwindling honeybee populations.
Admin, June 29, 2015
Plan Bee illustrator Erin Cole is buzzing, having been nominated for the highly prestigious World Illustration of the Year.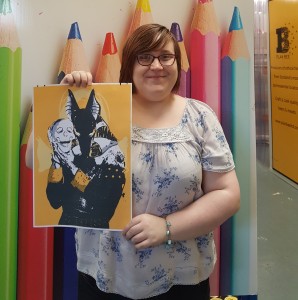 The 20-year old Wishaw artist is on the shortlist of globally renowned designers as put forward by the Association of Illustrators, with her work, Mythical Mayhem having been selected from a field of 2,100 outstanding entrants.
Erin is overjoyed at being nominated, and said:
"It's very humbling to be shortlisted for such a prestigious accolade, and to be recognised among some truly outstanding artists. I was born and raised in Wishaw and it's amazing to think that I'm rubbing shoulders with some of the world's leading illustrators. It's not only a pat on the back for me but a boost for City of Glasgow College, where I recently completed my HND Illustration course, and in particular for the amazing lecturers, who encouraged me to enter the competition."
Erin has recently started work at multi-award winning sustainability business Plan Bee Ltd, based on the Motherwell/Wishaw border. She has been taken on as part of the company's recent expansion, to provide bespoke illustrations, infographics and designs.
"We're all so proud of Erin and what she has achieved. She has only been with Plan Bee for a short time, but this is further evidence of her talent and why we introduced her into our award-winning team. We're a hive of activity down here and Erin is fitting in nicely. Her skills are being put to good use and she's a busy bee. We're all rooting for her here and we would ask all of Scotland to keep their fingers crossed."
The winners announcement isn't expected until the autumn, prior to an exhibition of the works at Somerset House in London, where Erin's Mythical Mayhem will potentially be displayed among her international peers.
Admin, June 26, 2015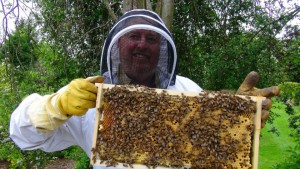 Award winning Wishaw butchers James Chapman are hoping to put the bee in beef and the honey in honey roast ham, by adopting four beehives from Plan Bee Ltd.
While modern retailers are only now jumping on the traceability bandwagon, it has been a central focus of Chapmans for more than
120 years.
Director, Jamie Chapman says that is what attracted the company to working with Plan Bee:
"While it wasn't called sustainability back in 1893 when we first started, being able to trace our products from farm to table has always been our fundamental philosophy. Working with local companies, employing local people and sourcing local produce is central to that.
"Collaborating with Plan Bee, based just a mile down the road, allows us to take our environmental credentials to the next level. With four hives located next to the shop, we will be able to sell more than a hundred jars of the highest quality Wishaw honey directly to our customers. And, the only air miles are those put in by our bees."
Plan Bee works with some of the largest food producers in the country, from Highland Spring to Kelloggs and Glengoyne Distillery to meet their sustainability needs and help them to manufacture their own high quality honey for use in their produce, to sell directly to customers, present to clients or sell in gift shops.
The sustainability business located on the border between Wishaw and Motherwell, leases and manages around 200 hives for clients from Aberdeenshire to Cornwall. Hives are located in idyllic country gardens, iconic Scottish Glens and on busy city centre rooftops. Plan Bee has lifted numerous awards in the last few years, making it one of the most successful start-up businesses in Scotland.
"James Chapman Butchers has been about sustainability, traceability and above all else quality for over 120 years. If we can help to take them forward by adding our own brand of proactive, sustainable thinking then we're delighted. Quality and locality of produce are what Plan Bee is all about and that's why working with Jamie and his team to enhance their offering is the perfect marriage. To continually meet the needs of a community for more than a century and to deliver a quality product through such a changing historical climate is something most businesses would hope for, and Chapman's has managed that while continuing to deliver local produce to the highest quality."
Admin, June 25, 2015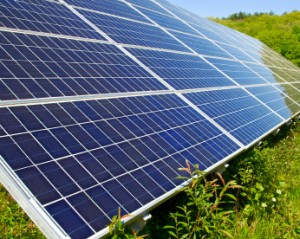 One of the strongest stories of the last decade has been the rise of renewables. While a lot of politics comes to play in the world of renewable energy, and the debate between the believers and the climate deniers rages on, one thing is for certain that renewable energy is very much here, and it's here to stay.
As a biodiversity business, making our own huge effort to proactively protect the planet we all share, that's something that we welcome. In the last year or so, I've wondered though, what more can we do to work with renewable energy companies to make them more individually sustainable. Some of these firms are responsible for offsetting the equivalent carbon footprint of a small country, but what can they do individually as businesses. Many people within the sector that I have spoken to have talked about recycling schemes, more efficient fleet vehicles, increased use of public transport and reduced travelling between offices. But is that not what all businesses are striving to do, and should they as companies who's very core is sustainability, not be taking more of a lead?
There are many sectors within the renewable energy field, from solar to onshore wind energy and hydro to anaerobic digestion. The areas of solar and onshore wind farms could however be criticised for being in effect 'green deserts', a phrase sometimes volleyed at golf courses. These largely open sites could particularly benefit from managed beehives and associated wild flower meadows, such as that we are installing for one of our large corporate partners.
While providing a very valuable environmental service these projects can often be viewed as replacing a rich biodiverse environment or agricultural land. Renewable energy companies are however very careful in meeting the ecological needs of the site. Currently the largest onshore wind farm at Whitelees outside Glasgow has a 25km2 area of habitat management. The UK's currently largest solar farm at Paddock Wood is the size of 35 football pitches. Developers have taken proactive steps to turn the 95% of unused land there into a nature sanctuary, rich in biodiversity.
These are exemplar projects, but surely there are areas of other solar farms and wind farms where the land could be doing more. The areas in between the photovoltaic panels or wind turbines could be transformed into rich biodiverse meadows, providing a wealth of nectar to be turned into abundant supplies of honey. Bees kept on such sites will also help to pollinate surrounding crops, ensuring a wider, long-term community role.
A more active sustainability agenda can also add valuable points through the tendering process for such consultation and construction work. Large companies, particularly those in the construction industry are often working to meet ambitious Government targets or to pass on sustainability points to clients. Bigger companies can also use supplier diversity schemes as 'win themes' in major bids, and therefore working with small, diverse or sustainable businesses can pay dividends in tendering.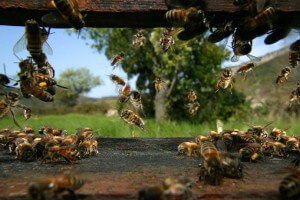 While the very essence of a renewables project has a sustainable core, companies adding additional environmental and bio-diverse elements to their proposals as their unique selling point (USP) can gain extra accreditation through what is often a very close-run tendering contest. Using Plan Bee managed hives as a USP can also become a positive talking point within the community and local media.
Such community engagement is a much used tool within the process, to the point where it is taken as a 'gimme' to borrow again from golf. However, by adding nursery school, primary school and community group beehive and biodiversity lessons onto the mix of stakeholder management services, then we see the development of a long-term, or dare we say 'legacy' offering for the local community. And, there's potential reward for the community with each of our hives producing 24 jars of high quality honey every year, to be gifted to the community or perhaps sold in on-site gift shops.
So while many sustainability companies might ask 'What's in it for me?' the answer would most certainly be that unique selling point, that opportunity to excel beyond the competition and to more directly engage with a potentially hostile local community to create a legacy, and give something back in the longer term over and above the now expected elements of the community fund. This is a diverse opportunity to restore the area to its former glory either as a site of biodiversity, or an area previously used for the production of high-quality, local food.
Admin, June 23, 2015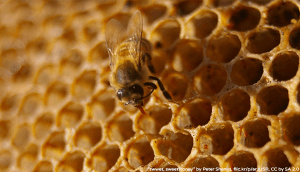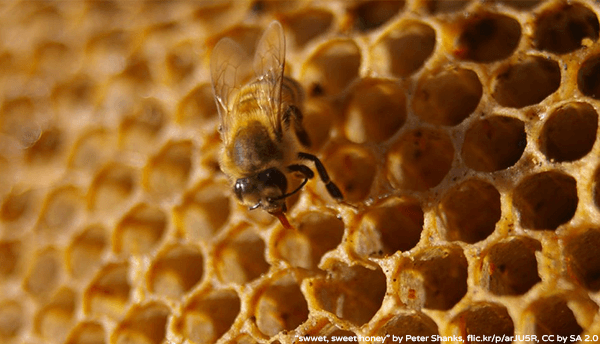 He's played God, Nelson Mandela, the American President and he's even driven Miss Daisy but the latest role being played by Morgan Freeman is that of beekeeper. The 77-year old Oscar Winner revealed on the Jimmy Fallon Show this week that he has recently set up 26 hives at his Mississippi ranch. The bees are currently being relocated and weaned on a diet of sugar water until they become acclimatised with their new surroundings.
Morgan, as we can now call our beekeeping brethren, has a gardener to help him maintaining the apiary. He explained during a recent movie tour that he is concerned for the welfare of bees and is trying to play his part in supporting dwindling colonies, as the 'foundation of the growth of the planet'. Freeman has asked his gardener to figure out what the bees like, and so far that includes acres of clover, lavender and 140 magnolia trees.
Learning about Morgan's new found commitment, made me think about why I got into beekeeping having worked, to a lesser degree, in the crazy world of film and TV. My commitment to bees evolved out of growing rare fruit trees that I used as an escape from the hustle and bustle of a busy working life. That grew into beekeeping and wanting to put something back into the planet. The rest is history.
He's not the first famous person to take to beekeeping, the art of the apiarist goes back thousands of years. The great Greek philosopher Aristotle studied bees and kept some primitive hives. While a giant of philosophy he wasn't so hot on bees. He dropped some clangers like bees find their young on flowers, honey falls magically from the air and bees live for 7 years – closer to 7 weeks. Still it was 2000 years ago and he was one of the greatest ever philosophical thinkers.
As well as helping her brother Robert set up the Girl Guide movement, Agnes Baden-Powell was a beekeeper, winning many prizes for the quality of her honey. Conqueror of Everest, the New Zealander Edmund Hillary was also a renowned beekeeper. Working for his father's beekeeping business allowed Hillary to fund his climbing expeditions. Jointly they had 1200 hives. Deep thinking poet Sylvia Plath was inspired to keep bees by her father Otto ('Daddy') who was a leading figure on bumblebees. Her bee poems are also among her best known works.
More up to date we have screen siren Scarlett Johanssen took up beekeeping after Avengers co-star, Samuel L Jackson gave her beehives for a wedding present. Guess that puts the honey in honeymoon (Irish readers, you will know that is quite accurate). Hollywood legend, Henry Fonda was also a beekeeper, with his bees feeding on the lemon trees of his Bel Air estate.
Best known for the Sound of Music, Maria Von Trapp was a keen beekeeper even though she preferred her Ti (a drink) with jam and bread. And, sticking with singing, Madness frontman Suggs was a celebrity beekeeper, but sadly lost his hives. He remains however, a supporter of urban beekeeping. And, he may be have been twisting our melon for nearly 25 years, but Happy Mondays 'entertainer', Bez has said he finds it a 'great, soothing, calming restful thing to do'. While the name may suggest otherwise, Police frontman Sting isn't a beekeeper, but he is patron of the Bees for Development Trust.
So, it's actually quite a cool thing to do. Well, when was it ever uncool to help protect the planet we all share?
Admin, June 19, 2015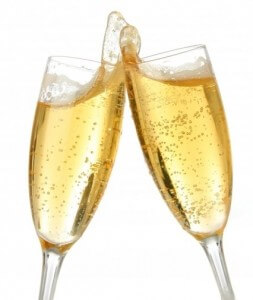 Scottish meadery Beehive Brae is bubbling with excitement having cracked the great Prosecco shortage.
Reports of the sparkling wine's demise have been widespread this week with heavy rains across the traditional Italian vineyards producing the worst grape harvest for 50 years. Combined with increased popularity, particularly here in the UK, stocks of the popular fizz are dwindling fast.
That's where Beehive Brae believe their high quality, 'Celtic Prosecco' can bridge the gap and find a new market for the traditional brew:
"Mead is fast growing in popularity thanks to programmes such as Game of Thrones, Vikings and Outlander. Fans are flocking to grab part of the experience of these shows, while lovers of high quality produce are also keen to pick up a bottle of this high-end 'Celtic Prosecco'. Leading chefs have already recommended our carbonated mead as an ideal aperitif, capable of whetting the appetite for most occasions. As well as being good for the palate, our mead is also good for the soul, with our bottles and labels all made to the highest recycling standards."
Many large stores are already reporting panic buying of the sparkling wine ahead of the release of the Prosecco brokers stock release in August. Regardless of that outcome, prices are expected to increase.
For those more ethical consumers there is also the thought of air miles, and when we don't just mean the environmental impact of importing produce from overseas. Supporting mead as a product also supports bee colonies, which have been threatened by pesticides and factors of global warming in recent decades. Beehive Brae is also supporting the development of such colonies across the UK.
Based in Scotland, Beehive Brae's worker bees have a readily available source of heather to help produce the essential ingredient of our mead – our high quality Scottish honey.
"Prosecco's popularity has grown dramatically in recent years and we're confident that our high quality sparkling Scottish mead can also find a welcoming and loyal following. While our climate may not allow for grapes of the quality of those in Northern Italy, it's ideal for heather, an essential component of our honey which is among the highest quality you will find anywhere in the world. More adventurous and ethical consumers are sampling our mead and voting with their palates. This 'Celtic Prosecco' is here to stay, and we're putting the fizz back into the summer."
Admin,

The prestigious Sundial Group is buzzing with excitement at the moment as it earns its sustainability stripes with the installation of nine bespoke beehives.
The group has been working with leading sustainability business Plan Bee Ltd to install the hives at its three locations; Highgate House in Northamptonshire, Woodside in Warwickshire and Barnett Hill in Surrey. Each venue is independently recognised for delivering excellent hotel and conference facilities and outstanding customer service.
Plan Bee has helped businesses from a variety of sectors to make their organisations as environmentally friendly as possible. The hives allow businesses to display a clear commitment to sustainability and their local community, and provide a unique brand of "Return on Involvement" with increased customers and customer loyalty as a result of the positive exposure. Sundial Group is in good company alongside Plan Bee's other clients which include Highland Spring, Glengoyne Distillery, Balfour Beatty and BAM Nuttall.
As well as supporting dwindling honeybee populations, the hives each produce 24 jars of high quality honey, marketed with the group's own branding for sale or to be given to valued customers. Each hive is also individually branded to the company's own design.
Tim Chudley, Sundial Group's Managing Director, said:
"The hospitality sector is an extremely competitive one, with customers seeking excellence in both service and products. Customers now expect providers to be both ethical and sustainable.  Supporting the declining bee population is our way of putting something into the environment, and making use of our extensive grounds. An added bonus for our customers is that they will benefit from enjoying the highest quality honey, all produced at Sundial.
Admin,

As the Game of Thrones season finale approaches (Monday 15th June) Lanarkshire mead maker Beehive Brae is welcoming the impact the show has had on the industry and potentially in protecting dwindling bee numbers.
The dramatic fantasy phenomenon is pushing sales of mead through the roof, with the American Mead Makers Association (AMMA) reporting a 42% increase in sales last year.
Mike Lees, Beehive Brae Chairman said:
"Already in the UK many of our contemporaries are reporting a surge in sales of 15% and above since the show started. A drink that was once considered the poor relation to beer, wine and spirits is now finding a new audience. Game of Thrones and similar fantasy dramas are helping to introduce mead to a new hipster audience of trendy twenty and thirty-somethings. In America, the same young people attracted to the craft beer market are also sampling mead and that's what we hope to recreate here, with ethical shoppers also attracted to our honey beer."
Mead, which is a combination of honey, water and yeast dates back around 11,000 years in China and nearly 5,000 in Europe. The recipe is fermented until it reaches about 14 per cent proof. In the US, AMMA research conducted across 52 meaderies, reporting an increase in production of 128 per cent. The rising cost of honey forced medieval drinkers to seek alternatives to mead and the drink's popularity wained.
Today, Beehive Brae's mead varieties are infused with elderflower, rose petals and rose hips, making it a completely different offering from what was available to our ancestors. The Motherwell meadery is finding a new popularity with fans of Game of Thrones, Outlander and Vikings, with re-enactment societies and a growing craze in Medieval Fayres, with a number of such events on the horizon over the summer.
Admin,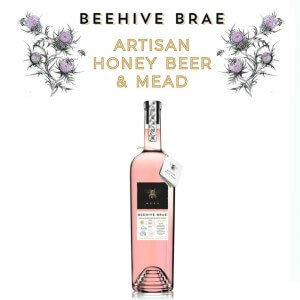 Beehive Brae, the Lanarkshire mead and honey beer producer has smashed its crowdfunding target.
It's the second such alternative funding success for the Plan Bee Ltd stable having secured 175% overfunding with its Crowdcube project in June last year.
The funding will allow the business to start creating its own onsite brewery at its Motherwell headquarters, meeting the growing demand for honey beer and mead, one of the world's oldest fermented
beverages.
"This is a great achievement for Beehive Brae and all the team at Plan Bee. It's a second crowdfunding success for our business. We can now start putting together a meadery and brewery on our own premises, having also been awarded a licence by North Lanarkshire Council, who have been a great supporter of all that we are trying to achieve in bolstering dwindling honeybee numbers. Crowdfunding is an alternative funding mechanism that we have found extremely successful, being an ethical company it's a route we prefer rather than loans from big banks."
The vital funding can now be put towards the development of fermenting tanks, bottling equipment and other related facilities. Mead has made a resurgence in recent years, not only among those seeking an alternative to beer and wine, but also among twenty and thirty something hipsters looking beyond the craft beer phenomenon. The real surge has come from fans of fantasy dramas such as Game of Thrones with the American Mead Makers Association directly attributing a massive rise (42%) in production to the spectacular series.
Admin, June 18, 2015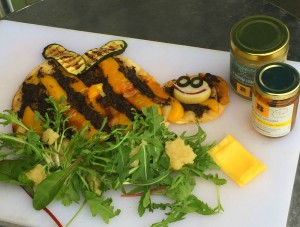 Glasgow's iconic Battlefield Rest restaurant is celebrating 100 years of history by looking to the future.
The bistro will mark the premises' centenary by installing a brace of Plan Bee managed beehives, which will support dwindling honeybee populations and provide an extremely localised supply of sustainable honey for use on the menu.
Marco Giannasi, Battlefield Rest's owner believes that quality and sustainability are key to the future of the hospitality sector:
"Increasingly sustainability is seen as an important factor in hospitality. While the quality of our food is undeniably what sets us apart, our customers are looking for more. They don't recognise sustainability as just a part of a company's marketing any more, it's central to their decision making. Our customers expect high quality produce, they want local produce and they want it to be good for the environment. Working with Plan Bee Ltd will allow us to raise the bar in urban sustainability, while also providing an interesting talking point for our many regulars."
Once described as the 'most exotic tram shelter in Glasgow', the Battlefield Rest is one of best known buildings on the south side. The property, which was B-listed in 1981, was earmarked for demolition before owner Marco Giannasi bought the structure for a pound and extensively restored it.
Admin, June 16, 2015
There's less than 24 hours to go as Beehive Brae counts down to the close of its spring CrowdfunderUK project.
The unique Scottish meadery is looking to meet a target of £2,500 to help fund the expansion of the brewing facilities due to the growing mead demand. For those pledging money to the cause, there's a number of gifts available from bottles of first edition mead to candles, honey and even adopting bees.
The project will close at 11.30am tomorrow (Tues 16th June, 2015).
"The world's largest association of mead makers, the AMMA reported a 42% increase of mead sales in the United States last year and already in the UK sales are up 15%. The AMMA put that down to the Game of Thrones effect but meads resurgence is down to much more than the fantasy drama. Fine food buffs and sustainable shoppers are being drawn to mead because of its quality and the positive impact it has on the environment. We're hoping that our mead production will also lead to an increase in beehives numbers to help support dwindling honeybee populations.
"When we decided to expand the meadery we looked to an ethical funding method. The global financial crisis has turned many people away from big bank loans. Instead the popularity of crowdfunding businesses such as CrowdfunderUK, that we are using, have grown beyond expectation, with the alternative lending industry due to double its revenue in 2015. It's a platform we've used successfully before and one we hope works again this time round, but there's only a few hours remaining for people kind enough to donate."
Donating is easy, just a couple of clicks
Admin, June 15, 2015
Here at Plan Bee we're preparing for tonight's (15th June) big season finale of Game of Thrones, a show we love not only for the fantasy drama, and lets face it the dragons; but also because of the impact its has had on mead sales around the world. That can only be of benefit to dwindling bee colonies, needed to provide that essential ingredient – honey.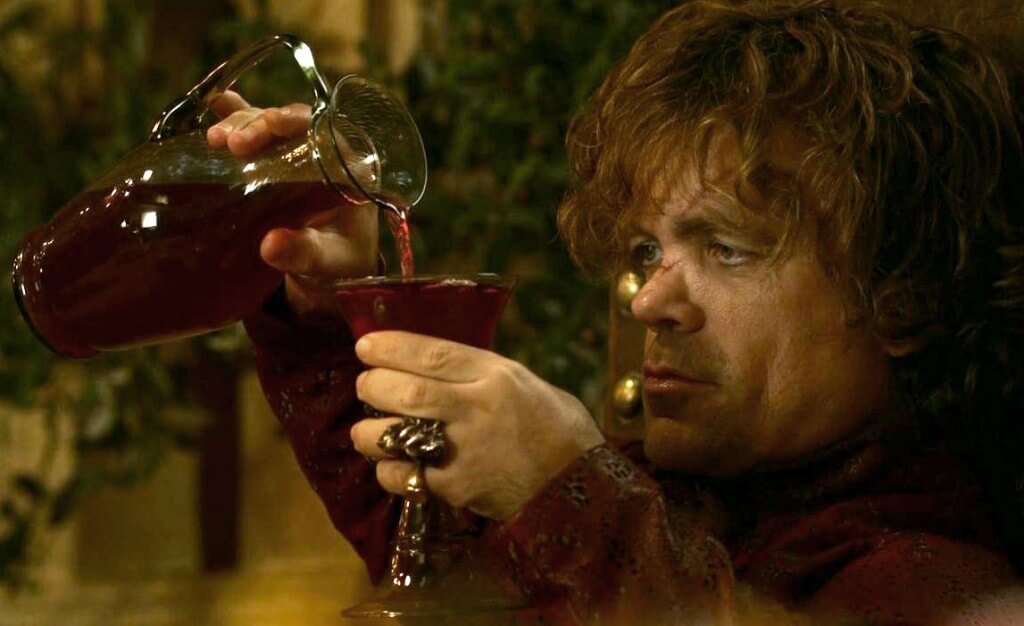 Tyrion Lannister, purveyor of fine mead!
In the US, from the 52 meaderies questioned, the American Mead Makers Association reported an increase in sales of 42% last year. That can only be good news, not only for the mostly small and craft business meaderies, but also for beekeepers across the country. At the moment we're just a little bit behind in the UK, with our contemporaries already reporting an increase in sales of 15%. Supermarket chain Morrisons even reported a 30% increase in sales.
Things are getting busy as our mead and honey beer brand, Beehive Brae looks to complete its crowdfunding project within the next 24 hours. Mead is certainly making a come back if that can indeed be said about the world's oldest fermented beverage. It is a drink much associated with the medieval age, but this in fact was the period when its popularity dwindled, as honey prices soared out with the reach of mere mortals.

Mead has long lagged behind spirits, beer and wine in the popularity stakes, but is it surprising that here in the UK it is making a comeback? In Scotland particularly we don't have the climate to grow the quality and quantity of grapes necessary to have a profitable wine industry, but change that core product to honey and we have an abundance of some of the highest quality ingredient in the world. That's where Beehive Brae comes in, adding elderflower, rose petals or rose hips and maybe a little fizz for a unique high quality product.
One thing that's known from Westeros to Essos is that this isn't just a passing fad created by those bearded twenty and thirty-something hipsters. Fine food connoisseurs are bringing mead to the dinner party set, sharing it with like-minded friends and building a new following that spans the generations. The drive towards authenticity in our food and drink selection is also supporting mead sales – consumers want to know that their food is local, and more traditional methods have been used in its production. Above all else consumers want to know that their produce is sustainable, and our mead is certainly that, supporting local bee colonies.
We'll certainly be raising a glass of delicious Beehive Brae mead to toast the end of another season of Game of Thrones, and long may it continue!
Buzz, April 16, 2015
It's National Gardening Week here in the UK and we thought we'd highlight a number of shrubs and trees that could grow in your garden that are useful for providing pollen and/or nectar for bees and other pollinating insects. In Part One, we look at a shrubs, here defined as a perennial plant not growing normally on a single trunk. The list below includes a wide range of plants suitable for a range of habitats including small and large gardens, some may also be found in the wild.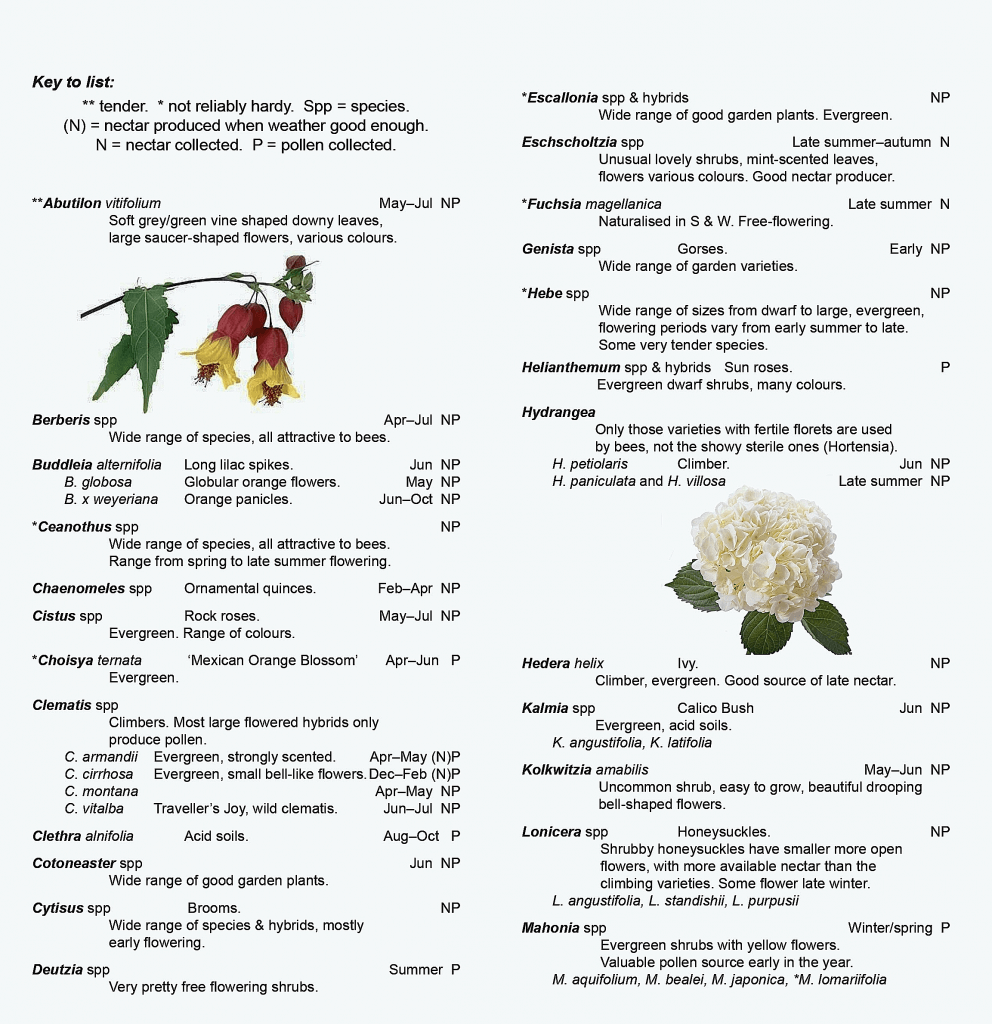 All will naturally flower in the UK although some will need a good summer to flower well. In most cases, pollen production is relatively reliable but nectar production is not; being more affected by the soil and weather. There is a growing number of species now being grown in the UK which originate from hotter countries and thus may be especially variable in flowering and nectar production. Many of these are not reliably hardy in colder parts of the country, but with warmer summers and milder winters, some of the plants can be grown far more widelyand may produce more nectar in good weather.
Buzz, April 11, 2015
…and as part of our commitment to the environment, it's 100% recycled from salvaged materials; all the wood was leftover from a conversion of an industrial unit nearby to Hive HQ, where we also retrieved the glass – which you can see is a double glazed window unit. Pictured here next to his handiwork is our beekeeper Raimondas, who is also a rather handy joiner…
Melting Beeswax
But what is a solar melter? very simply,  it's a mini greenhouse whereby we mainly melt the beeswax we take from our hives. The beeswax sits in a container inside the unit and the glass above concentrates the suns rays to slowly melt it. Usually, this process is done through a specialised electric melter, but we've no need to waste electricity and use up any more carbon than we need to when the sun is out!
Carbon-Free Candles
We use the melted wax to make our 100% natural beeswax candles, a product that is also completely free from carbons that are found in paraffin candles. This means that when beeswax candles burn, they leave no greasy black marks or give off sooty fumes, unlike other candle materials. The flame from beeswax candles is also the closest you can get to the natural light of the sun, which makes sense when you think the sun's rays gave sustenance to the plants the bees extracted the pollen from in the first place. With the melter harnessing the sun in the second part of the process we're carrying this through to it's conclusion as we pour the melted wax into the candle moulds to set. We're also pretty sure that if one was inclined to and was the right size, they could get a pretty mean tan by lying inside! (fickle Scottish sun permitting of course)
Admin, March 25, 2015
Propelled by a real passion for beekeeping, we are actively involved in safeguarding the bees and turning the spotlight on the great work they accomplish. We explore the four corners of the Earth, eager to discover new flavours, mindful of making significant gestures in the fight for the bees' survival and relentlessly acquiring new ways to improve.
Indifference
Despite all the energy expended, each one of us is aware that we cannot make a difference alone. Protecting the bees is a vision of society! As long as important changes in our agricultural models are not implemented, bees will continue to die. Indifference to the plight of the bees is explainable in part, by the fact that not enough is known about this amazing insect by most of us – even though it is responsible for bringing colour to our food plate and feeding us by pollinating more than a third of the food we eat!
Greater Collaboration
The other part comes from a lack of will in changing our eating habits towards eco-responsible choices which, in turn, will put pressure on governments and the agrochemical industry. Political authorities must absolutely get involved to set in motion a movement for the protection of bees, pollinators, and ecosystems. The urgency of reconfiguring agricultural models is required to harmonize the way things are done, to reassert the importance of crop diversity, to rehumanize agricultural work, to reduce the area dedicated to monoculture and to invest in a sustainable development benefitting pollinators. This approach must take form in a greater collaboration between farmers and beekeepers to make sure that realistic solutions are conceivable and applicable. We must urgently intervene and rethink the certification process and the use of pesticides by favouring, in particular, an agricultural approach less dependent on chemical inputs. Beekeepers have the potential of becoming important players, first line informants about how diverse pollution sources, direct and indirect, are affecting the bees.
Bees as Bio-Indicator
The bee is an incredible bio-indicator, a true barometer measuring the quality of our environment. While shuttling back and forth between the beehive and its natural surroundings, the bee takes stock of the health status of ecosystems by performing a biopsy of all it gathers. Plants, water, soil, air particles; everything that surrounds us is, in part, taken as a sample by the bees, which provides us with an imprint of the environment. The last twenty years have seen a decline in bee populations. This imprint is disturbing, symptomatic of the environment's sick state, a diagnosis that reveals the repercussions and consequences this decline will have on human life and biodiversity on a planetary scale.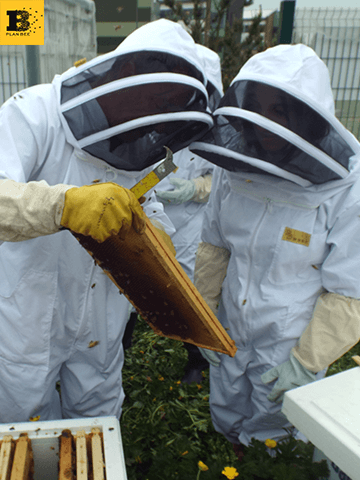 Wisdom
We hope to see the creation of a community that, as a bee colony, will get the job done together. The time has come to breathe life again around us, to make eco-responsible choices about what goes on our food plates, about the plant diversity that colours our fields and on the responsible development of our countryside. It is imperative that the choices we make protect and preserve our planet because we do not inherit the Earth from our ancestors, we borrow it from our children and future generations. All of us should honour and respect this aboriginal wisdom.
Buzz, March 18, 2015
Green Legacy project participants, Kilsyth Academy are taking on the responsibility of a hive, having participated in a series of talks and beekeeping lessons given by Plan Bee Ltd. All schools that take part in this eco-initiative receive a blank beehive that they are encouraged to create a design for and then paint – we wrote earlier about North Lanarkshire schools Kilsyth Academy and Braidhurst High, choosing and developing their themes in earlier articles.
Fitting the Design Brief
In Part One of this article we highlighted the beginning of the design process that Kilsyth Academy pupils from S1 to S3 embarked upon when selecting their theme and using it as an inspiration for their chosen beehive design. S1 classes then selected the designs they thought fit the design brief best and the chose the following: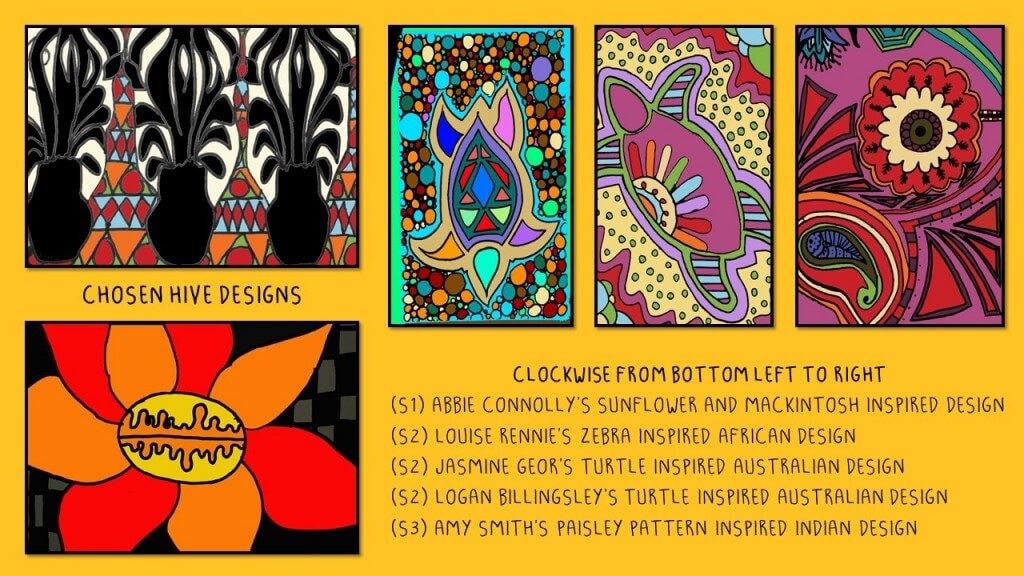 Painting the Hive
Now these fantastic hive designs have been approved – let the painting commence. You can see the whole process illustrated below. We'd like to say thanks to all staff and pupils at Kilsyth Academy involved in this worthwhile project who have taken to it with great enthusiasm to produce some stunning designs!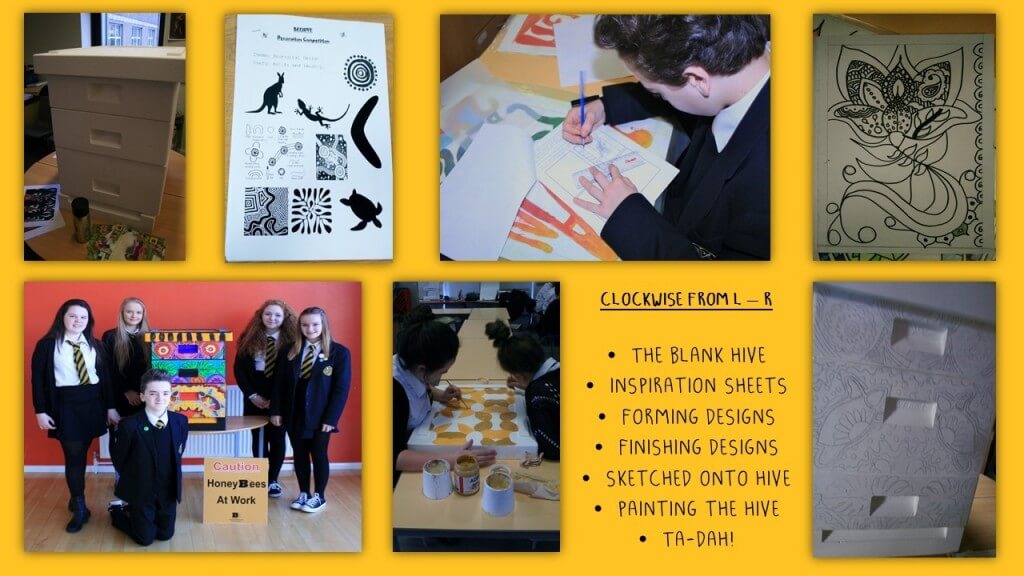 Buzz, March 13, 2015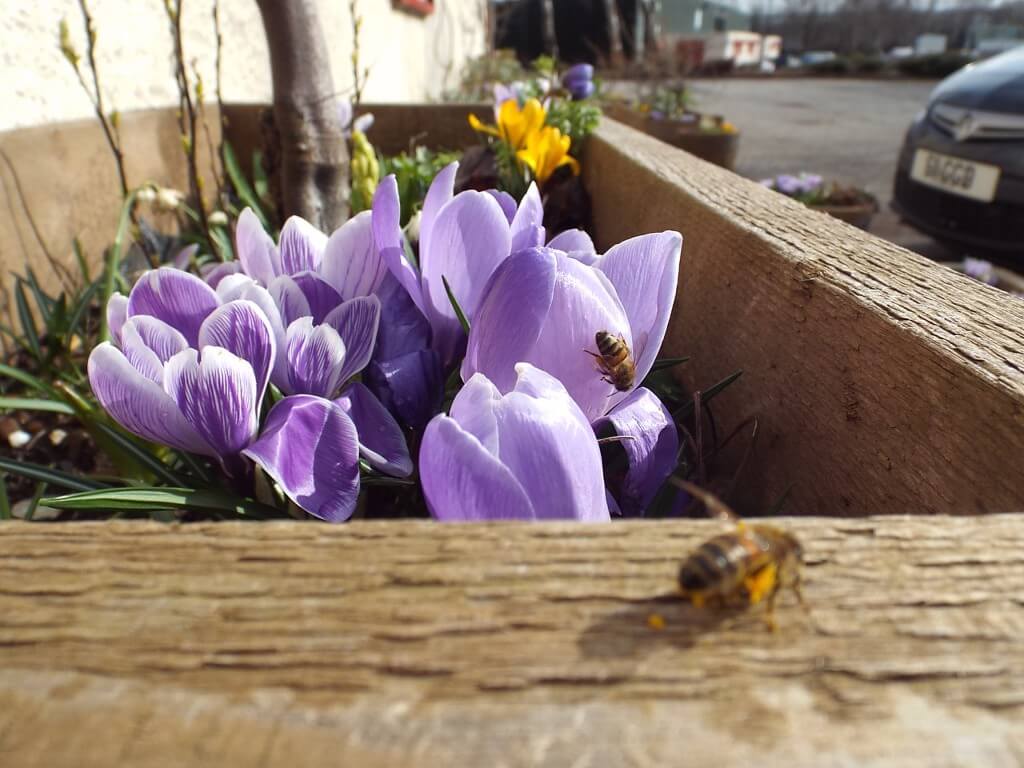 The other day here at Hive HQ marked a momentous occasion in which a window was left open in the office for the first time in months – we're attached to a warehouse so chilly that we would put the milk in the fridge to warm it up! We felt spring was coming and enjoyed a warm blast of sun on the building earlier this morning. It was when we came back from lunch however, that we truly realised that sping had sprung; the bees were out and back to work on the blossom…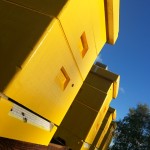 We have four colourful yellow hives on the rooftop here, that over winter, have housed our bees as they cosy-ed up against the cold – a survival technique that we wrote about here. Underneath the hives, we have some boxes containing heritage fruit trees, some vegetables such as artichokes and various other plants. Well, the crocus have bloomed in the last few days and the scent of their blossom has reached into the hive to tempt the worker bees out and the front of the building has now resumed a happy hum…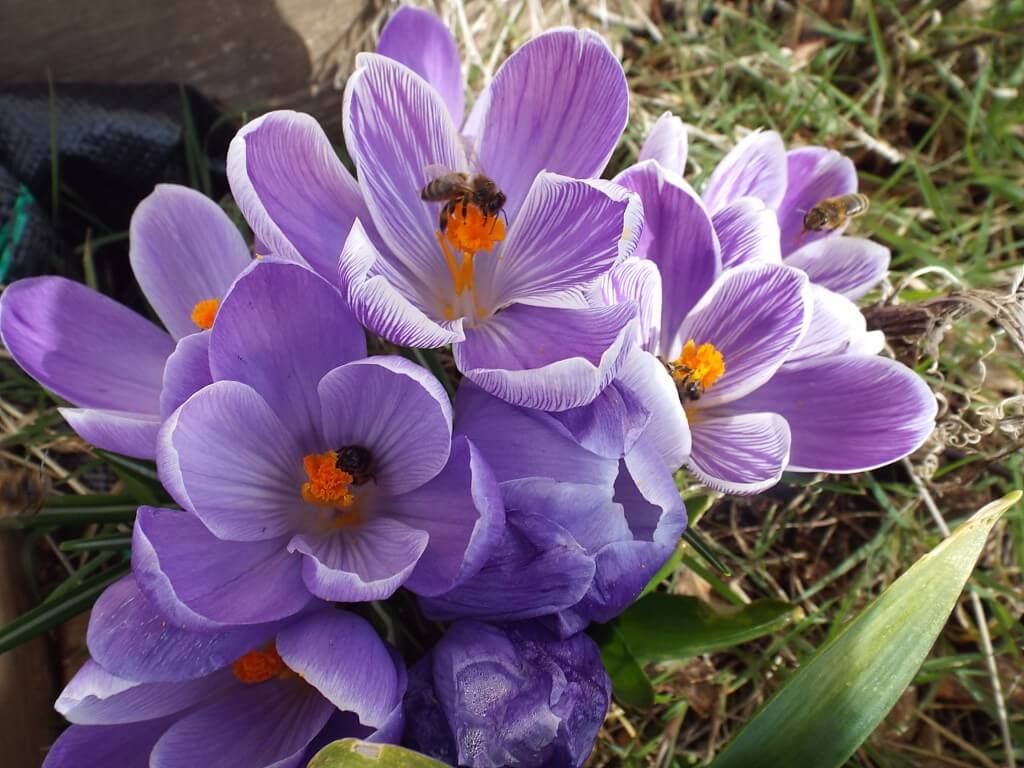 Buzz, March 7, 2015
As an accredited partner of the Green Legacy 2014 Commonwealth Games, we manage a project which aims to encourage children from primary and secondary schools in Scotland to engage with biodiversity and understand the importance of the bees in a creative and engaging manner. Schools participating in this project get an empty beehive to paint according to different themes relevant to the year the project was launched: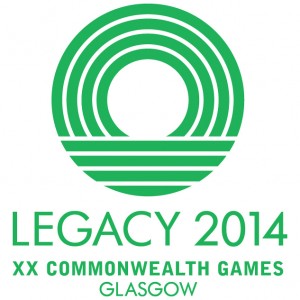 – 700th anniversary of Bannockburn
– 100th anniversary of WW1
– Commonwealth Games sport/country
– Scottish book/author
Braidhurst High Scool
Braidhurst High School in Motherwell are a Green Legacy participant who have really embraced both aspects of the environmental cause we support and their chosen theme. The school ran several events to commemorate the WW1 Centenary theme, including holding the Christmas Truce Memorial Match which we previously covered here 
Designing their Hive
This year, the school will actively run a hive with its own colony of honeybees, but first, students learn the role of pollinating insects in our food chain and why it's important to establish the hive – which will be done once it is painted. Teachers from the Social Subjects and Art and Design departments have been working with the students to encourage and develop designs for the school beehive. Art teachers Duncan Chisholm and Paul Clifford undertook a design unit with S2 and S3 students drawing inspiration from battlefield images from during and after the conflict. The completed artwork went on display and school staff voted for the images they would like to see painted onto the hive.
Five Winners
Five talented winners were chosen to transfer their designs on to the hive: Denisa Bednarova and Zafar Khan of S2 and Nicole Collumb, Emma Ewart and Zoe Oliphant of S3.  Each pupil received an art kit including paints, pencils and a sketch book as an additional reward for their efforts along with a jar of delicious honey, courtesy of Plan Bee Ltd. We'd like to say a big thank you to project co-ordinator Kirsty Logan for driving the project forward, a well done to the winners and also our appreciation for Braidhurst pupils that might not have won, but are really getting involved and understanding the importance of bees and their chosen theme.
Buzz, February 28, 2015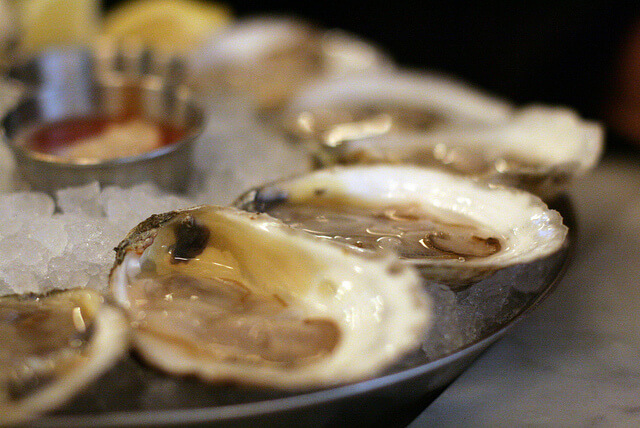 Oysters by Jules Morgan
We all have predilections for one type of food over the other, often saying that we 'love' chocolate or steak for example. These are foods that we consciously enjoy eating and thus doing so is pleasurable to us. But there is a deeper connection between pleasure and the primal need associated with eating; over time and across cultures, some foods have been associated with the sensual via folklore, superstition and mythology – leading them to becoming known as aphrodisiacs. Some merely because of their aroma, shape or colour, but there are also foods that contain a chemical basis for their aphrodisiac reputation – containing properties that can stimulate pleasure zones of the brain. Whether they enhance amorous feelings and can actually cause arousal has oft been debated, but we'd like to present some more of the more commonly touted 'Foods of Love' following on from part one of this article.
Basil
This aromatic herb has a centuries old reputation for boosting fertility and sex drive. The scent reportedly drove Roman men wild, so women would dust their breasts with a dried and powdered mixture! Basil leaves do contain a variety of libido boosting nutrients however as it is a source of beta carotene, vitamins A and C, potassium and magnesium which help to promote circulation and enhance general well-being.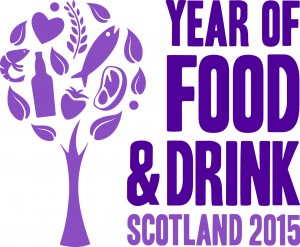 Cardamom
A distinct, aromatic spice deemed an effective aphrodisiac by many eastern cultures who would also use it to treat impotence. It is actually high in the essential oil cineole, which when applied, can increase blood flow to certain areas of the body…
Liquorice
Really does have a 'love it or loath it' Marmite appeal – taken to the extreme in ancient China where they used it to enhance lust and virility. There is something to it though; the Smell & Taste Treatment & Research Foundation in Chicago conducted a recent study where they looked at how different odours stimulated sexual arousal and found that black liquorice increased blood flow to the penis by 13%!
Oysters
Another divisive dish are oysters and again it was the Romans that made the connection in the second century AD to their aphrodisiac qualities, noting that they improved male sexual potency. They do contain high levels of zinc, D-aspartic acid and NMDA (N-methyl-D-aspartate) compounds that can effect sex hormone production in both men and women
Truffles
That brings us to truffles – also found to be high in testosterone and zinc and very beneficial to the male reproductive system. No, not the chocolate kind, but the subterranean funghi type that grow underground in certain areas of the world. Pigs were traditionally used to sniff them out but dogs have almost replaced them as canines don't like the taste of truffles while a pig will quite happily scoff them (in one expensive gulp) The pigs are better natural 'trufflers' however, due to interpreting the distinctive scent that they give off to another pigs pheromones!
Farewell to Food of Love February
We've really discovered a whole lotta' loving on this sensual journey exploring amorous foods, locations and romantic links to honey. All at Team Plan Bee would like to thank Scotland of Food & Drink for a month long date with us for February in 2015 – The Year of Food & Drink.
Buzz, February 21, 2015
In our food of love journey so far, we've dined on some dreamy dishes lit by the atmospheric glow of candles and looked at how honey and mead got their risqué reputation. But setting is also conducive to intimacy and we have our hives in some renowned locations for romance in Scotland – a country with a passionate and romantic reputation across the world.
Cities
We've urban apiaries in both these fantastic cities of contrast and character. Medieval Edinburgh is steeped in history and boasts dramatic architecture and stunning vistas, reached by cobbled streets and winding gables. Featuring a number of fine hotels and highly rated restaurants, it's not hard to see why the city can boast one of the highest all year round room occupancy rates in Europe. Head west to Glasgow to experience a city thrumming with vibrancy and culture, where our hives on the rooftop of the city's grandiose chambers look over the noble buildings of the Merchant City, built in boom times by trade barons of the empire. Follow the architecture and art trail to the leafy Victorian environs of the West End and indulge in the trendy eating & drinking establishments of regenerated Finnieston. For a truly special experience – take the sea plane from the Clyde to land at Cameron House – a refined country house hotel with a renowned restaurant.
Highlands
Cameron House sits on the banks of Loch Lomond, a large stretch of water, jewelled with islands and surrounded by verdant hills – the proverbial 'bonnie banks'. Loch Katrine and the Trossachs, then the tree covered hills of Perthshire lie just beyond, boasting a romantic and rich history in song and tale and many hideaway hotels and cosy cabins. While a car journey round these winding country roads will provide many beautiful views, taking a loved one on a train on the West Highland Line will be an unforgettable way to travel. Renowned as one of the world's most magical train journeys; the route will carry you over Glenfinnan viaduct and through the dramatic peaks and windswept moor of Glencoe, voted as Scotland's most romantic glen and where we are proud to have a number of scenically placed hives by Glencoe wood. The Jacobite steam train will take you both lochside and coast side, past white sandy beaches of Morar and Arrisaig to the fishing village of Mallaig – the gateway from which you can sail to the islands.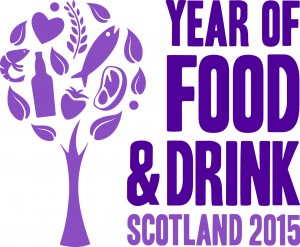 Islands
Just half an hour away is Inner Hebridean island of Skye, aka the 'Misty Isle'- an island of craggy volcanic peaks and white foamed waterfalls, ruined castles, legends and myth. Whether you believe in the local stories of faeries and kelpies or not, visitors often find the island has a spellbinding atmosphere. From Skye you can take a boat to the further reaches of the outer Hebrides, where lovers can really get away from it all on the pristine and secluded beaches of Harris such as Hushinish, where white sand is met by the azure lap and salty breeze of the Atlantic ocean. The fantastic thing about Scotland is that it's not a big country, so many of these scenic and special experiences can be had on a short trip, even in a whirlwind four days courtesy of Visit Scotland. Lots then, to be enjoyed on honeymoon – just remember the mead…
Buzz, February 19, 2015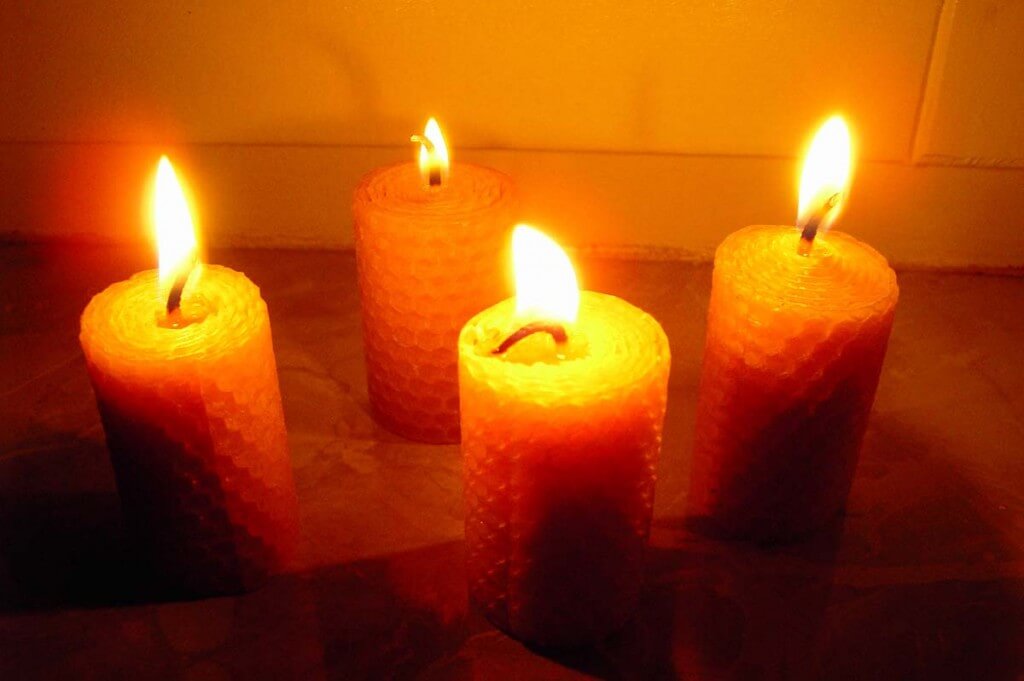 We last wrote about candles and their association with the festive season here and of course, they are also synonymous with birthday celebrations. But candles also have a long association with romance – they can instantly transform an environment and create an intimate mood and atmosphere through their soft glow and warm, calming scent.
Cosy & Intimate
Imagine taking your partner out for a romantic dinner and finding your table lit by harsh strip lighting – it just isn't conducive to a cosy, intimate atmosphere that flickering candles at the table, augmented by some soft lighting, can create. And while it might seem clichéd, a candle lit dinner at home is probably something that doesn't happen often, so, you could make a real occasion out of it for your partner by lighting tapered dinner candles on a candelabra to go with a suitably loving menu to match. You may even go one further and run them a bath, thick with bubbles and surrounded by lit candles – possibly for the both of you if there's room in there.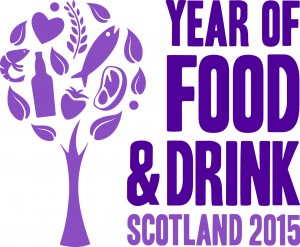 The Pollution of Paraffin
But really, imagine those candles sputtering, giving off sooty, greasy marks and a smell more akin to a petrol station than a natural therapies shop – kind of spoils the scene. That's why when looking to create a romantic and intimate mood, paraffin candles should really be avoided. Not only are they guilty of the above, but these oil-based, highly refined petroleum by-products from a non-sustainable source contain up to 11 toxic compounds, carcinogens and chemicals such as toluene, alkenes and benzene that pollute your home, cause allergies and environmental damage – hardly a loving gesture!
The Beauty of Beeswax
 Instead, imagine a candle that emits the same naturally bright light as the spectrum of the sun, burns slowly and evenly with no dirty black discharge and comes from a renewable and natural source – beeswax. 100% beeswax candles are environmentally friendly and carbon neutral, undergoing no chemical processing. Not only do they not contain any toxins – they are the only candle that emit negative ions that help purify air quality while invigorating the body, all the while giving off a naturally formed scent of honey and floral quality of honeycomb. Did we also mention that honey was an aphrodisiac?! If you're going to set the scene for a romantic night ahead, you're better to love the planet as well as your partner, and that's not cheating! xxx
Buzz, February 17, 2015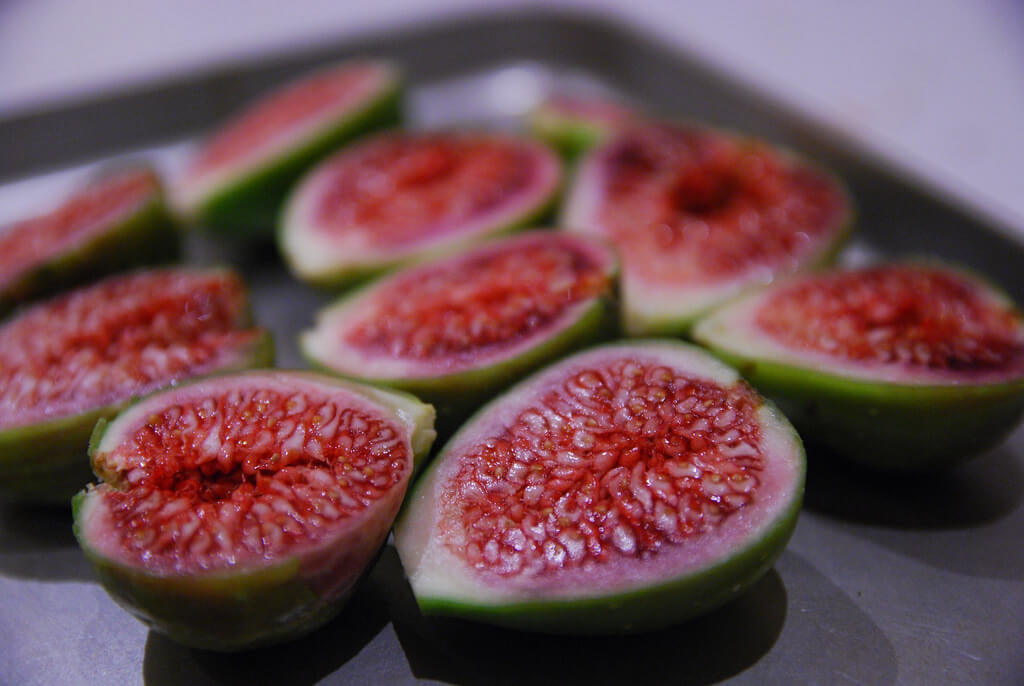 After looking at many articles and the evidence for foods with a romping reputation, we came to the conclusion that honey was a true aphrodisiac in this previous article, but then, we might be a little bias! That aside, what we meant by 'true' is what's actually contained in the food – enzymes, proteins, minerals and phyto-chemicals that have a proven effect on our bodies, not just the way it looks. Honey is an ingredient quite often used for cooking and preparing food, so we thought – why not double the fun by pairing it with other aphrodisiac foods…
Bananas
Obvious shape aside, bananas are full to the hilt with potassium, magnesium and B Vitamins and enzymes said to enhance male libido. Add a drizzle of honey's hormone boosting boron and natural nitric oxide said to enhance arousal and your banana split starts to get a little sexier rather than just being simply indulgent…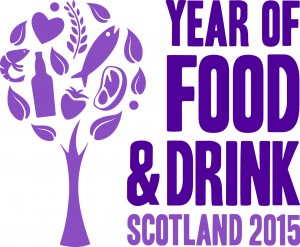 Figs
If bananas are phallic, then the erotic appearance of an open fig is something of the opposite. Figs have been associated with love, sexuality and fertility in many cultures long before their leaves were referred to in the Bible as Adam & Eve's only garments (a strange paradox – their many seeds represent fertility and the leaves modesty) But they are more than just a symbol of sensuality – they are ripe with potassium, fibre, flavonoids and antioxidants that help promote sexual well being and energy. In many countries where figs are found they are paired with honey in many permutations – roasted, baked, caramelised, served with toasted almonds, vanilla cream, spiced with ginger and cinnamon. Delicious and libido level uppers no matter what way these two are prepared.
Ginger
Making for quite the fruity threesome when added to figs and honey, ginger root has been regarded as an aphrodisiac for centuries not only because its positive effects on the circulatory system (gets the blood pumping..) and metabolism but also for its aroma, which is said to aid arousal. Honey and ginger are often paired in Middle Eastern and Asian cooking and make a fantastic marinade for chicken and vegetables.
Sexy Scottish Breakfast
We don't have to get so far flung however, to find such amorous dishes – and we're not talking bacon, sausage egg and a tattie scone either. Because guess what? it might not look that sexy, but porridge oats have been shown to be one of the best foods to increase testosterone levels in the blood, and really, is there anything better to go onto our morning bowl of porridge than…honey – back to bed anyone?
Buzz, February 15, 2015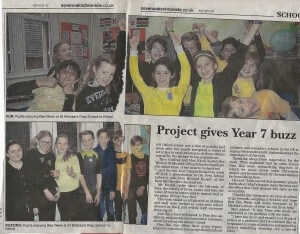 We'd like to introduce you to Theo Godfrey, a Year 7 pupil at St Michaels Prep School in Otford, Kent. Theo saved his Christmas money and invested in shares through his mum in our Crowdcube campaign last year. Not only does he care enough about the plight of declining bee populations to put his money into helping the cause via Plan Bee Ltd, he and his friend, Max Nicholl, hosted Bee Week at the school to highlight awareness of the problem and its impact on the planet.
Bee Week
Theo and Max instigated a week-long series of activities at the school, beginning with a presentation from Richard Knight of the Kent Bee Keepers Association and culminating with the children coming into school that Friday, dressed in black and yellow and donating £2 – raising a total of £460.Theo explains what he would like to do with the money raised "I would like the money we raise at school to go towards adopting a beehive and hope that Bee Week will make everyone at St Michaels aware of what we can do to help"
Inspiring
Theo found out about Plan Bee Ltd when he was researching charities to which he could invest his Christmas money – "I discovered that not many people know about what's happening to the bees and the effect that their decline will have on the ecosystem"
Plan Bee Ltd  said of Theo and Max "We're absolutely delighted that we are able to inspire young people in this way and that they care enough to do something positive about it" All at Team Plan Bee would like to say a thank you to Theo, Max and the pupils and the staff at St Michaels who have done splendidly to raise not just money, but awareness of an issue that affects us all.
Buzz, February 14, 2015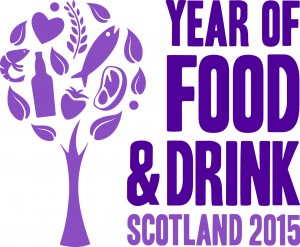 Happy Valentines Day! Perhaps you and your loved one may sip some champagne or enjoy a bottle of wine with a meal to mark the occasion,but did you know that the original, romantic imbibe of choice is mead – so much so that the term honeymoon was inspired by this ancient and long loved drink.
Ancient Origins
The origins of mead stretch as far back as 10,000 years, making it possibly the oldest known fermented alcoholic beverage, enjoyed long before wine and beer and common among many cultures. Traditional mead is fermented honey and water and there is a rich history associated with the drink; from early attributes that the intoxicated state it produces being that of communicating with the spirit of a god, to its current renaissance – thanks to the popularity of the fantasy series, Game of Thrones and an increased interest in Medieval history.
Honeymoon
And it was in the Middle Ages, that the drink spawned the term honeymoon. Before then, in pagan marriage celebration, mead was drunk by the couple in the month that followed their union as it was believed that it would help the couple conceive a son or at least promote fertility and virility. The time the couple would spend together, away from their respective families in order to conceive was a month (a moon) and the mead they drank together was of course, made from honey. This tradition survived into Europe of the Middle Ages where the term first appears, but by then it was also appropriated by wedding guests to toast the bride and groom at the close of festivities, before a month's supply being provided to the married couple as a gift.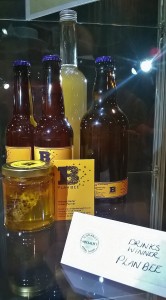 Elderflower & Rose Mead
Because of drinks widespread use across cultures and the globe, there are other reported early traditions elsewhere of mead being drunk by the couple for the month before the wedding – again, to help increase fertility for conception after the vows. Pre or post marriage, these claims are not to be disregarded given honey's qualities as a true aphrodisiac. Certainly, here at Plan Bee Ltd we have been loving our time conceiving and developing (tasting, perfecting, tasting again) our award winning Elderflower & Rose Mead and we hope that you will share a bottle with your loved ones when it becomes available later in the year (a month's long supply will also be available) xxxx
Admin, February 12, 2015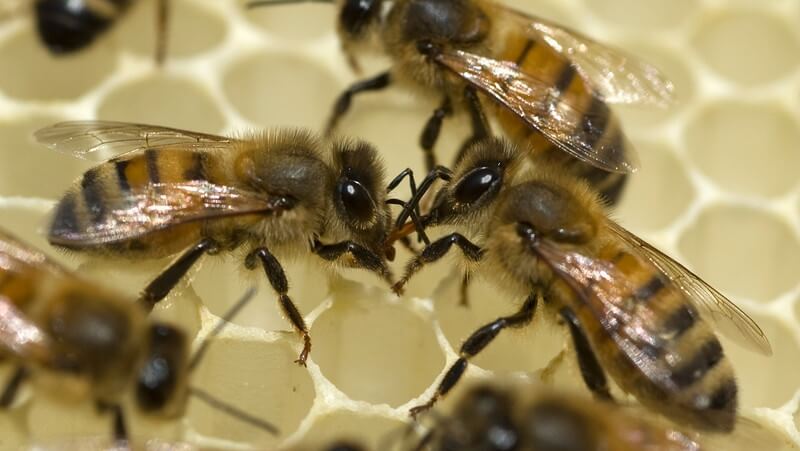 In a previous article for Food of Love February, we looked at how honey has a reputation as an aphrodisiac through reasons of folkloric reputation and the effects it actually has on our bodies. One of the many reasons for the former could have been the sight of honeybees kissing, but is it kissing as we know it..?
Nectar
Honeybees collect nectar from flowering plants, visiting around 1500 on average to gather enough of it to fill their honey sac stomachs. This is separate from their digestive stomach, holding up to around 70mg of nectar – almost as much as their total body weight. They carry this back to the hive and there, another bee will directly suck the nectar via its mouth from the returning bees honey sac stomach – which looks like they are kissing.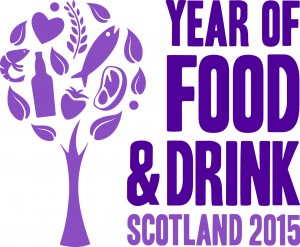 Not Quite a Kiss…
This isn't quite a kiss; it's a process known as 'trophallaxis' which is the direct transfer of food or other fluids from one insect to another – common amongst social insects such as ants and bees. Fluids such as nectar, water and royal jelly are transferred via the bee's proboscis – a long tube which acts like a straw for sucking up liquid and a tongue for tasting. It actually consists of two tubes, one inside the other – the outer for larger quantities of liquid such as water and honey and the inner one is used for collecting smaller amounts of liquid such as that contained in flowers.
 No Trophallaxing Please!
So far, so romantic! Unlike humans, there is no emotional purpose to the 'kiss' but it is more than just a purely physical function – important information is also being transferred as well, such as information about new nectar sources or feeding conditions in the brood nest. Hierarchical reinforcement or a message from the 'boss' is also being passed on as well; worker bees who have licked the queen, exchange information to the colony that she's alive and well – sending out a chemical message suppressing ovary development in worker bees. So, it's not quite an affectionate embrace between amorous bees but is a little more than a way of passing on the nectar. However, we don't think that human couples should be seen 'trophallaxing' their gifts of chocolate or champagne on Valentine's Day either…
Admin, February 10, 2015
We've been highlighting some of the foods associated with love and romance because of their perceived or partly proven status as an aphrodisiac. It's perhaps symptomatic of the deep rooted association between what we eat and our desires then, for our predilection for calling our loved ones a variety of affectionate nicknames after certain foods.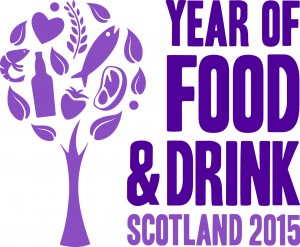 Sweet Things & Baked Goods
Most popular, are those based on sweet things or variation thereof; sugar, sweetheart, sweetie, treacle and of course, honey. Loving terms associated with baked items are also popular – muffin, cupcake, cutie, and the pies – sweetie, sugar and honey pie. Such pet names for each other aren't an English speaking phenomenon either; in eastern India women are sometimes referred to as 'mishti' meaning sweet, in Spain 'terron de acuzar' (sugarlump), in China 'xiao bao' is Mandarin for little bun and in Finland lovers can often be heard referring to each other as 'muru' meaning breadcrumb. But the term 'honey' is probably the most often and widely used term of endearment becoming become a common and socially accepted habit that most of us have uttered at some point in a relationship – even if we're just knowingly riffing on the classic refrain 'Honey, I'm Home!'
Honey – A Symbol of Fertility & Procreation
So when did people start doing this and why? In the previous article we wrote about honey being a known aphrodisiac from 500 BC and we will look in further detail at how it has been revered as a symbol of fertility and procreation amongst cultures across the globe at a later date. It's certainly not a recent practice – references of honey as a term of affection go back 800 years. While the exact reasons of reference cannot be exactly pinpointed, given its historically perceived connections with love and sex, it's no stretch that its use became personified regarding our loved ones. Honey, sweetie, sugar – they might make our partners wince with their now cloying familiarity, but they're probably better received than an ill-advised 'crumpet' 'tart' or 'dumpling'…
Photograph: Jessica Enig/Getty Images/Flickr RF
Admin, February 7, 2015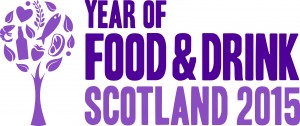 In part one of our article on 'The Food of Love' we highlighted a number of aphrodisiacs that have gained their libido boosting reputation over the centuries through a number of factors. With some, it was merely bestowed from their suggestive shape or aroma, whilst others were believed to boost the amorous feelings or sexual energy of those who ate it because of the effects they seemingly had on the body and mind. Once serious scientific study commenced in identifying the internal chemical make-up of foods, there was often a connection found between the vitamins, nutrients and enzymes contained within and their effects on our biology upon consumption. Some aphrodisiacs were revealed to have no scientific basis for their status as such, whilst others proved that the old wives tales, legends and traditions had something in them and probably most deserving of its romantic reputation was honey.
Honey's Horny History
The sweet stuff has been considered an aphrodisiac food for centuries, from as far back as 500BC. Indeed the word 'honeymoon' stems from the taking of honey on the union of marriage, sometimes in the form of mead, which we will look at in more detail in a later article. An old French wives tale also proposed that a sting from a honeybee was like being given a shot of pure aphrodisiac. But early medical proponents of honey can be traced back to Greek physician Hippocrates, who prescribed a mixture of milk and honey to patients to enhance their sexual performance by inducing vigour and ecstacy. Another noted, early medical practitioner, Avicenna, also advocated the taking of honey, describing it as "the food of foods, the drink of drinks and the drug of drugs" and ordered another potent mixture of honey paired with ginger and pepper as a sexual stimulant.
Sexual Health
Those fathers of modern medicine might not have known exactly what the chemical reasons were for honey's effects but we have now identified a number of proponents contained within it that directly affect our health and vitality. Honey is a great source of the boron mineral and B vitamins, and studies have shown that these combine to boost and regulate the female sex hormone, estrogen in women and its counterpart, testosterone in men. That effect promotes sex drive and orgasm in both men and women and in addition, the natural nitric oxide found in honey is the same chemical released in our blood during sexual arousal. Sexual health aside, in more general benefits, consumption of honey has been shown to aid overall stamina, circulation and energy levels all of which help to put us in the mood for love, thanks to the undisputed 'food of love'
Admin, February 5, 2015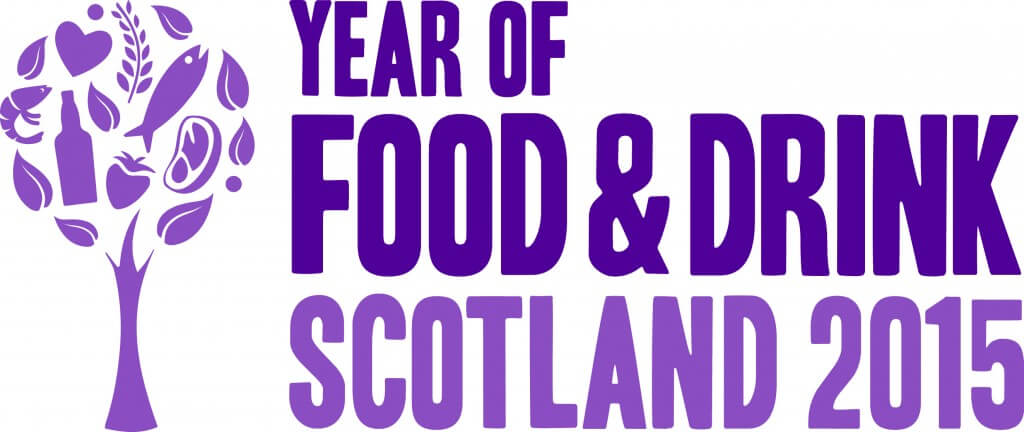 We all have predilections for one type of food over the other, often saying that we 'love' chocolate or steak for example. These are foods that we consciously enjoy eating and thus doing so is pleasurable to us. But there is a deeper connection between pleasure and the primal need associated with eating. Over time and across cultures, some foods connected this way have been associated with arousal through various folklore, superstition and mythology  – leading them to becoming known as aphrodisiacs. Some merely because of their aroma, shape or colour, but there are also foods that contain a chemical basis for their aphrodisiac reputation – containing properties that can stimulate pleasure zones of the brain. Whether they enhance amorous feelings and can actually cause arousal has oft been debated, but we'd like to present some of the more commonly touted 'Foods of Love'
Avocado
A good example of aphrodisiac value through shape association is the avocado, which hangs in pairs from the tree and takes its name from the Aztec word for testicle 'ahucatl'. Such was the belief, that they forbade virgin women to leave the house whilst they were being harvested!
Asparagus
 Aside from its obviously phallic appearance, asparagus is full of vitamin E, calcium and potassium which cleanse the urinary tract and kidneys whilst providing a shot of extra energy. Aspartic acid in the vegetable also helps neutralise excess ammonia in our bodies, which is said to lead to loss of libido and fatigue. Certainly, both shape and properties have made asparagus an aphrodisiac to many cultures; beholden by the Greeks in poetry, used as part of Kama Sutra ritual and eaten three times a day by the French before their wedding night.
Beetroot
 The Greeks also venerated the beetroot, believing Aphrodite to have eaten them in order to enhance her sex appeal. This led to ancient Romans believing that it's juice made one feel amorous – they wre even depicted in frescoes of certain brothels. There may be a reason for such folklore; beetroot contains high amounts of boron, a mineral which increases the level of sex hormones in the human body, as well as betaine and tryptophan which promote a feeling of well-being.
 Bananas
 Similar to beetroot in chemical effects on the body is the banana, which is rich in potassium and B vitamins which aid sex-hormone production. The shape of the banana is obviously a reason for its reputation as an aphrodisiac but the banana flower itself also has a phallic appearance.
 Chocolate
 An oft gave gift to loved ones on Valentines Day, chocolate has long been associated with romance from the time of the Mayans who worshipped the Cacao tree as they believed it to produce the food of the gods. They, and the Aztecs used the beans found within cocoa pods as actual currency to be used when visiting brothels and Aztec Emporer, Montezuma would drink around 50 cups of chocolate a day to satisfy his many wives. Added to the erotic symbology of chocolate as an aphrodisiac is the scientific research that shows that chocolate contains phenethylamine, tryptophan, 'feel good' chemicals' naturally produced by our bodies in certain states. The former is a stimulant shown to be released in the brain when we have feelings of euphoria when falling in love and the latter helps produce the brain chemical serotonin, which is associated with sexual arousal and an elevated mood. It may not be the gateway to a passionate encounter for two people though, as many surveys have shown a sometime preference for women for chocolate over sex! So gents, have a think about that when you are looking at the chocolate gift boxes for Saturday!
As part of celebrating 2015  Year of Food & Drink Scotland, Plan Bee Ltd are producing a month long series of articles of the Food of Love and romantic facts about honey. 
Admin, February 2, 2015
2014 saw Scotland's Homecoming and the stage was also set for world renowned sporting events the Commonwealth Games and the Ryder Cup (which we were very proud to be official suppliers to) A record number of visitors came to Scotland and found out that we have an abundance of fantastic natural resources that can be drawn upon to provide a truly world class larder.
With that in mind, in 2015 we celebrate Scotland's Year of Food and Drink, an initiative created by national organisation, Scotland Of Food & Drink, in partnership with the Scottish Government,VisitScotland and EventScotland.
The aim of the year is to mark, highlight and promote Scotland's produce and it's makers to our people and visitors; demonstrating that we are a destination for delicious food and drink while highlighting the sectors key role in our economic growth and cultural development.
Throughout the year, a series of monthly themes central to the outstanding food we provide and where it came from has been developed. We are very pleased to tell you that Scotland Food & Drink thought we were suitably charming and romantic enough to be associated with 'Food of Love' February! (well…it was probably more because honey is a known aphrodisiac) We also want to take part because we're engaged with the passion of James Withers and his dedicated team who champion Scotland's bounteous larder at every turn; supporting food and drink producers, small and large in this country by showcasing what we have to the world whilst encouraging Scots to think, eat and buy local.
So, this month's blogs, news and our social media channels will be bursting with passionate and enchanting articles about the Food of Love and other amorous notions. We're also going to be presenting you with a romantic gift of one of our Red Heart Gift Boxes complete with mood candles & sweet honey – honeys. Each week in February we'll pose a question on our twitter feed related to one of the articles, so turn up to all our dates and keep fluttering your eyes for a chance to win. You can find out more about the Year of Food & Drink here
http://www.visitscotland.com/about/food-drink/
Admin, January 19, 2015
A honey and butter flavoured crisp has become a phenomenon in South Korea. Since its launch by Korean firm Haitai Confectionary in August 2014, the savoury sweet snack has been snapped up off shelves leading to chronic shortages in shops across the country.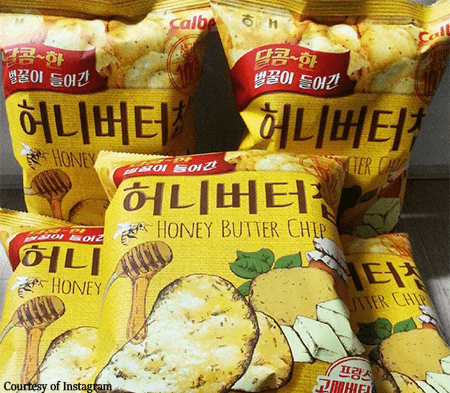 Spokespeople from the firm say it is producing the crisps around the clock to meet demand but have no immediate plans to increase production capacity in case the craze dies out. This has led to claims from some commentators that shortages are a deliberate ploy to stoke demand – allegations strongly denied by the manufacturers.
Some of those lucky enough to get a 60 gram packet have been selling them for inflated prices online for up to £40, over 40 times their original retail value! That's nothing in comparison however, to what Haitai have made – sales of the product were worth over £8m by the end of November. Haitai spokesman So Sung-su attributed the success to an "optimal combination of salty, sweet and buttery tastes that suit the palate of many Koreans."
The crisp craze reached a new level last month when a 'Honey Butter Chip-hunting' smartphone app was launched so users could monitor and track real time availability of the snack in shops within five km's of their location – over 1000 savvy snack fans have downloaded it so far.
Admin, January 16, 2015
In the winter, California receives many visitors travelling there to escape cold temperatures – over 54 billion or so. Alongside regular tourists that escape to the warm, sunny state for winter, around 1.5 million hives carrying billions of honey bees from all over the United States travel there by the truckload.
An earlier article detailed what bees do to keep out the cold but the honey bees here are coming to California from states such as those in the Midwest, where harsh winter storms and below freezing temperatures would destroy many of the colonies. Their owners need to move them somewhere warmer and California's central coast is the ideal, but also for other reasons.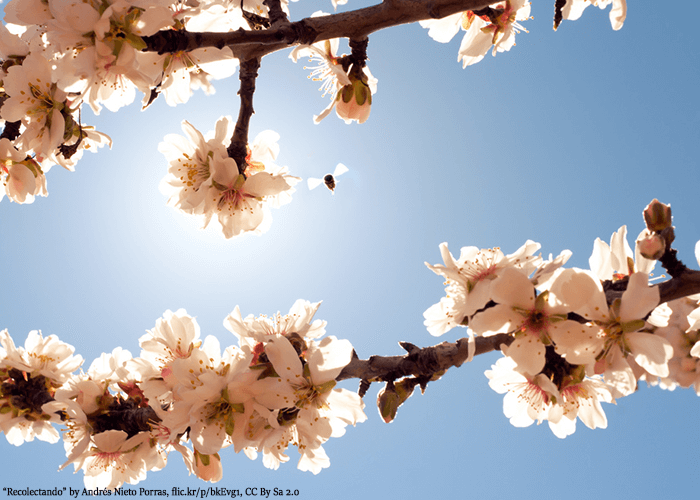 In addition to the temperature, apiarists now mainly choose California for this purpose over other warm states such as Florida due to the greater rate of pest infestation in the latter state, which has led to the increased use of pesticides – bad news for bees. California is also a main producer of almonds and the bees arrive in winter before almond pollination season begins. During the last ten years the honey bee relocation has occurred, almond acreage has doubled in California, so the bees aren't the only ones who benefit.
Admin, January 14, 2015
Motherwell's Braidhurst High School, a participant in our Green Legacy Project, marked the centenary year of WW1 on a number of occasions throughout last year. In addition to choosing the theme of the centenary for the design of their hives, the school held a moving Remembrance Day service and organised a recreation of one of the most iconic moments of the Great War – the 'Christmas Truce'
The Truce was the moment Allied and German forces on the Western front shared an impromptu and unofficial ceasefire on Christmas Day, 1914. Accounts from the time report opposing soldiers putting their weapons down and crossing 'no-man's land' instead to share gifts and even play football with one another. Pupils studying history at Braidhurst, including some members of the school's Beekeeping Team, were keen to pay tribute to this moment by re-enacting a match between Allied and German forces.
Pupils were divided into Allied and German sides, having the opportunity to dress in the appropriate uniforms and even play with a replica of the type of ball used at that time. Players traded gifts with each other and exchanged festive greetings in a poignant reminder of a most human moment in an inhumane war. Braidhurst will be revealing their WW1 themed design of their hive once it has been voted on this month. Our own video tribute to the fallen soldiers of WW1 can be seen here.
Admin, January 12, 2015
Propolis has long been used to treat various human conditions but researchers in Japan have recently discovered a previously unknown benefit of this natural remedy – they found that it can stimulate hair regrowth.
Propolis is a resinous compound derived from tree and plant sources and used by honeybees as a sealant to repair and coat their hives. Pictured is some propolis that Plan Bee Ltd took from our hives and you can see it is a rather tarry, waxy substance. Its antiseptic properties are harnessed by bees to inhibit fungal growth and bacterial growth in the hive and latterly by humans as a natural medicine for wounds, tumours and inflammation.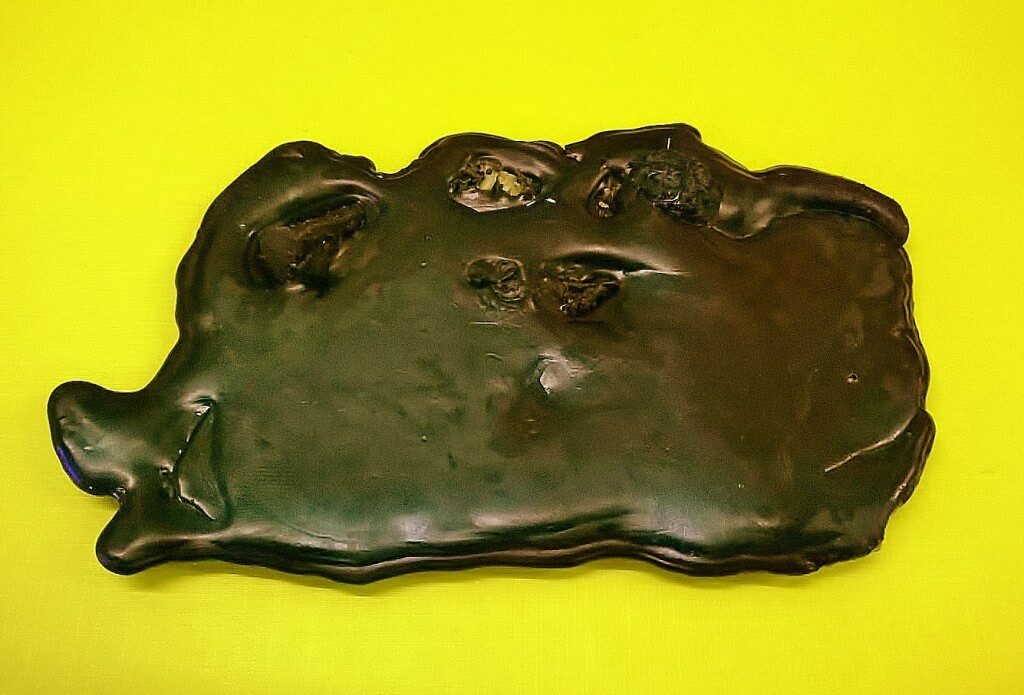 While more testing will be necessary, propolis was found to promote the growth of cells responsible for the production of hair follicles. Studies were conducted on mice, showing that those that had received a propolis treatment grew their fur back faster than those that were untreated. Inflammation is one of the main reasons for hair loss in humans and the scientists behind the research hope that what works for mice can work for us too. Expensive and painful hair transplants like Wayne Rooney's and fooling nobody comb-overs may be a thing of the past thanks to this natural remedy that the bees knew about first!
Admin, January 9, 2015
Today is #MicroBizMattersDay an initiative aimed at highlighting the hugely important role that micro and small businesses play in the UK economy. Micro Businesses and small and medium size enterprises (SME's) make up the vast majority of all businesses in the UK today – the latest House of Commons Library research paper, of the 5.2 million businesses in the UK, Micro's & SME's make up over 99% of them.
Micro businesses like Plan Bee Ltd are those with 1-9 employees and there are currently 5 million of them in the UK. Alongside SME's, they employ 15.2 million people – contributing a total of £45.4 billion in PAYE. In their Performance Review of 2013, The European Commission estimate that the gross value added by SME's accounts for 49.8% of the UK economy. It concludes that the UK has "a very competitive environment for SMEs compared to other EU Member States"
One reason such businesses are currently thriving in Scotland, are the support and programs and potential funding available here from both local and national governments and entrepreneurial support agencies. The help, advice and support from agencies such as Scotland's Business Gateway, Scottish Enterprise and Entrepreneurial Spark and the Edge Fund, help turn innovative or fresh ideas into businesses and this is what makes the difference. Without that, companies like Plan Bee Ltd would not be given the opportunity and platform in which to grow. The public can help micro businesses too, head over to http://microbizmattersday.rocks/ and see examples of what you can do to help micro businesses like ourselves.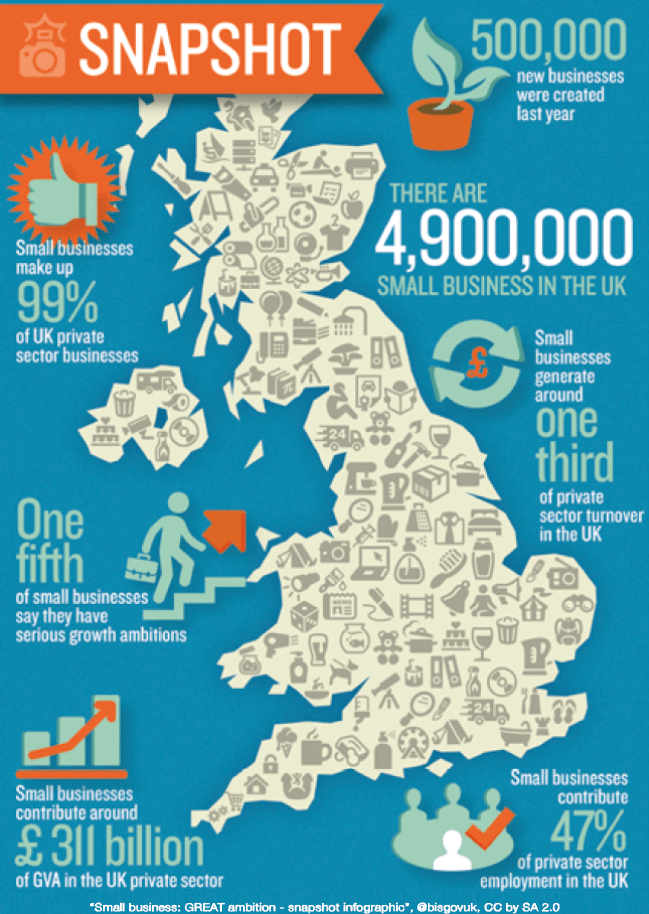 Admin, January 7, 2015
We previously talked about valuable feedback that local producers get from their customers. Sometimes, customers tell us how they used one of our products in a way that we hadn't thought of or that we'd tried ourselves.
Such as this one from Mazika Li, who ordered some of our blossom honey, bespoke branded by us with the name of her fantastic food blog – 'My Drool Factory'. Mazika used our blossom honey in a chicken based recipe (a meat and honey pairing that goes very well together) in her 'Honey Soy Sticky Drumsticks' Try the recipe here.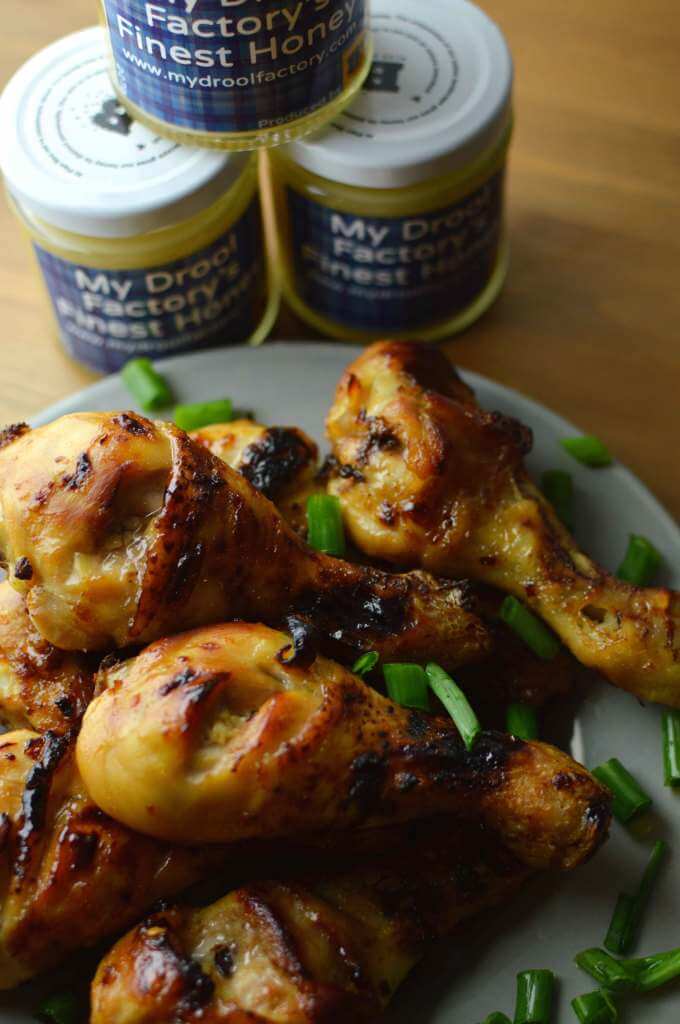 Mazika finds our honey works very well with her cooking as its free from additives, minimally filtered and cold pressed – keeping the honey's natural goodness and flavour in. She finds it preferable to many supermarket honey's which she finds taste 'artificial' We thank you for truly appreciating our honey Mazika and providing us with a tasty new recipe. We invite anyone else to send us a honey based recipe that we will publish here on the website, just send to buzz@planbeeltd.com for our chief tasters!
Admin, January 5, 2015
Honey and honey derived products are so popular in the Kingdom of Saudi Arabia that the inaugural Jazan Honey Festival held recently in the city, will be running for ten days. Some 50 beekeepers brought 25,000 kilos of honey products and rare honeys for display and also gave demonstrations on bee keeping and how honey is extracted from honeycombs.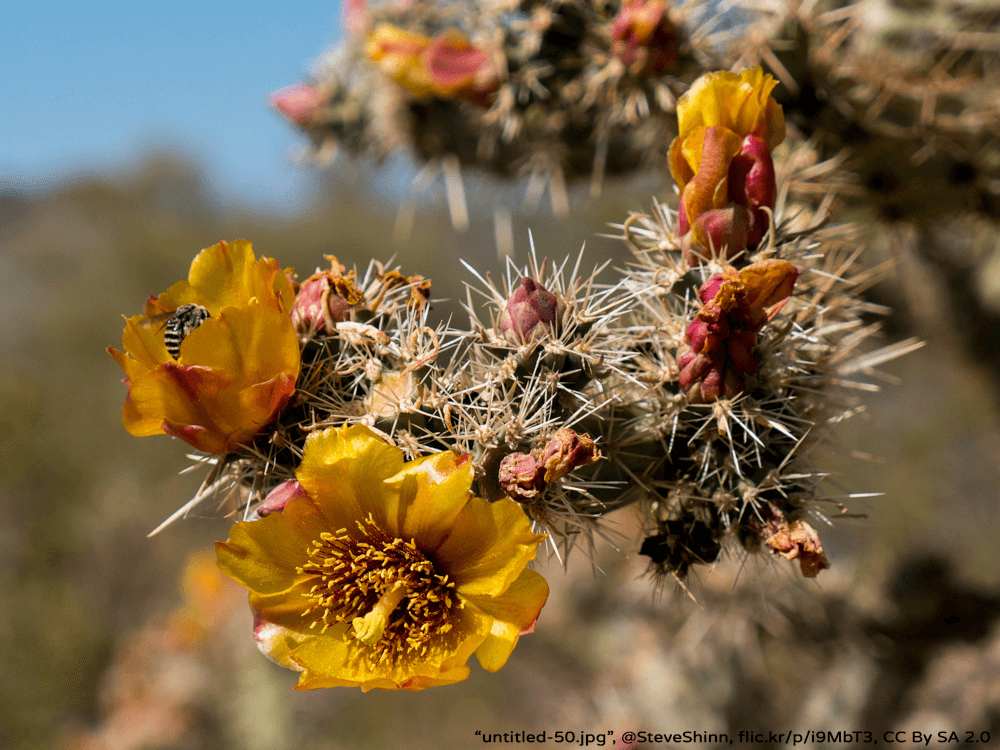 Saudi Arabia's honey market exceeds 23,000 tons per annum of which, 9000 is produced locally and 14,000 is imported. The country's Ministry of Agriculture aims to increase the amount of locally produced honey by transforming Jazan city into a 'honey reserve' – through initiatives such as a purpose built facility to raise queen bees and the widespread planting of lotus trees on side streets for their blossom.