Buzz, February 28, 2015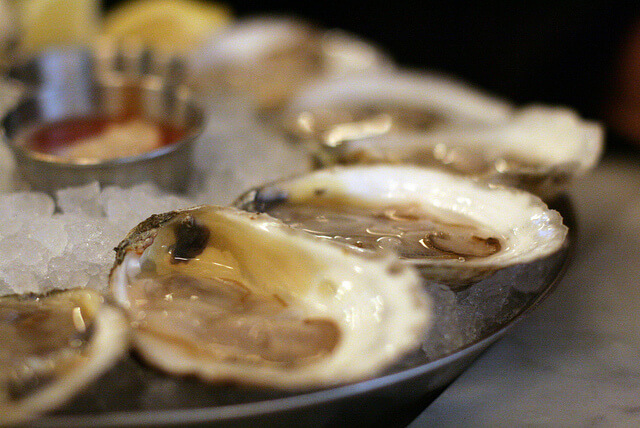 Oysters by Jules Morgan
We all have predilections for one type of food over the other, often saying that we 'love' chocolate or steak for example. These are foods that we consciously enjoy eating and thus doing so is pleasurable to us. But there is a deeper connection between pleasure and the primal need associated with eating; over time and across cultures, some foods have been associated with the sensual via folklore, superstition and mythology – leading them to becoming known as aphrodisiacs. Some merely because of their aroma, shape or colour, but there are also foods that contain a chemical basis for their aphrodisiac reputation – containing properties that can stimulate pleasure zones of the brain. Whether they enhance amorous feelings and can actually cause arousal has oft been debated, but we'd like to present some more of the more commonly touted 'Foods of Love' following on from part one of this article.
Basil
This aromatic herb has a centuries old reputation for boosting fertility and sex drive. The scent reportedly drove Roman men wild, so women would dust their breasts with a dried and powdered mixture! Basil leaves do contain a variety of libido boosting nutrients however as it is a source of beta carotene, vitamins A and C, potassium and magnesium which help to promote circulation and enhance general well-being.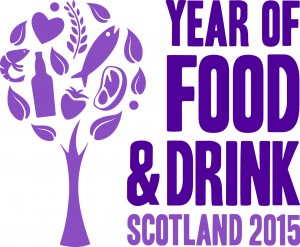 Cardamom
A distinct, aromatic spice deemed an effective aphrodisiac by many eastern cultures who would also use it to treat impotence. It is actually high in the essential oil cineole, which when applied, can increase blood flow to certain areas of the body…
Liquorice
Really does have a 'love it or loath it' Marmite appeal – taken to the extreme in ancient China where they used it to enhance lust and virility. There is something to it though; the Smell & Taste Treatment & Research Foundation in Chicago conducted a recent study where they looked at how different odours stimulated sexual arousal and found that black liquorice increased blood flow to the penis by 13%!
Oysters
Another divisive dish are oysters and again it was the Romans that made the connection in the second century AD to their aphrodisiac qualities, noting that they improved male sexual potency. They do contain high levels of zinc, D-aspartic acid and NMDA (N-methyl-D-aspartate) compounds that can effect sex hormone production in both men and women
Truffles
That brings us to truffles – also found to be high in testosterone and zinc and very beneficial to the male reproductive system. No, not the chocolate kind, but the subterranean funghi type that grow underground in certain areas of the world. Pigs were traditionally used to sniff them out but dogs have almost replaced them as canines don't like the taste of truffles while a pig will quite happily scoff them (in one expensive gulp) The pigs are better natural 'trufflers' however, due to interpreting the distinctive scent that they give off to another pigs pheromones!
Farewell to Food of Love February
We've really discovered a whole lotta' loving on this sensual journey exploring amorous foods, locations and romantic links to honey. All at Team Plan Bee would like to thank Scotland of Food & Drink for a month long date with us for February in 2015 – The Year of Food & Drink.
Buzz, February 21, 2015
In our food of love journey so far, we've dined on some dreamy dishes lit by the atmospheric glow of candles and looked at how honey and mead got their risqué reputation. But setting is also conducive to intimacy and we have our hives in some renowned locations for romance in Scotland – a country with a passionate and romantic reputation across the world.
Cities
We've urban apiaries in both these fantastic cities of contrast and character. Medieval Edinburgh is steeped in history and boasts dramatic architecture and stunning vistas, reached by cobbled streets and winding gables. Featuring a number of fine hotels and highly rated restaurants, it's not hard to see why the city can boast one of the highest all year round room occupancy rates in Europe. Head west to Glasgow to experience a city thrumming with vibrancy and culture, where our hives on the rooftop of the city's grandiose chambers look over the noble buildings of the Merchant City, built in boom times by trade barons of the empire. Follow the architecture and art trail to the leafy Victorian environs of the West End and indulge in the trendy eating & drinking establishments of regenerated Finnieston. For a truly special experience – take the sea plane from the Clyde to land at Cameron House – a refined country house hotel with a renowned restaurant.
Highlands
Cameron House sits on the banks of Loch Lomond, a large stretch of water, jewelled with islands and surrounded by verdant hills – the proverbial 'bonnie banks'. Loch Katrine and the Trossachs, then the tree covered hills of Perthshire lie just beyond, boasting a romantic and rich history in song and tale and many hideaway hotels and cosy cabins. While a car journey round these winding country roads will provide many beautiful views, taking a loved one on a train on the West Highland Line will be an unforgettable way to travel. Renowned as one of the world's most magical train journeys; the route will carry you over Glenfinnan viaduct and through the dramatic peaks and windswept moor of Glencoe, voted as Scotland's most romantic glen and where we are proud to have a number of scenically placed hives by Glencoe wood. The Jacobite steam train will take you both lochside and coast side, past white sandy beaches of Morar and Arrisaig to the fishing village of Mallaig – the gateway from which you can sail to the islands.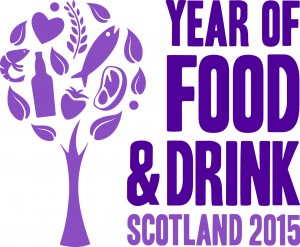 Islands
Just half an hour away is Inner Hebridean island of Skye, aka the 'Misty Isle'- an island of craggy volcanic peaks and white foamed waterfalls, ruined castles, legends and myth. Whether you believe in the local stories of faeries and kelpies or not, visitors often find the island has a spellbinding atmosphere. From Skye you can take a boat to the further reaches of the outer Hebrides, where lovers can really get away from it all on the pristine and secluded beaches of Harris such as Hushinish, where white sand is met by the azure lap and salty breeze of the Atlantic ocean. The fantastic thing about Scotland is that it's not a big country, so many of these scenic and special experiences can be had on a short trip, even in a whirlwind four days courtesy of Visit Scotland. Lots then, to be enjoyed on honeymoon – just remember the mead…
Buzz, February 19, 2015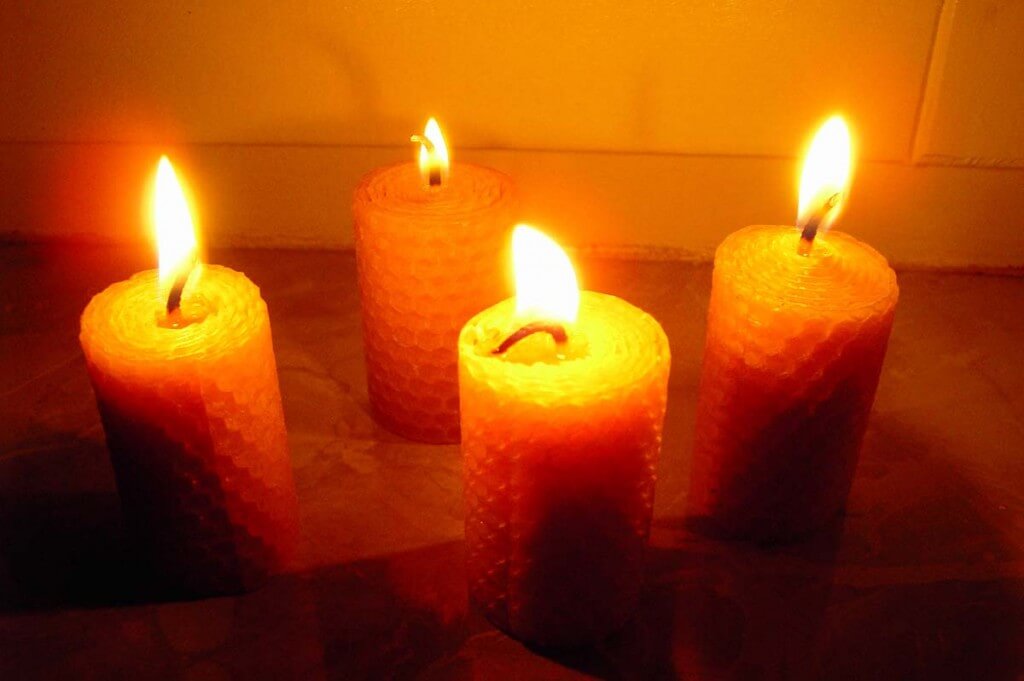 We last wrote about candles and their association with the festive season here and of course, they are also synonymous with birthday celebrations. But candles also have a long association with romance – they can instantly transform an environment and create an intimate mood and atmosphere through their soft glow and warm, calming scent.
Cosy & Intimate
Imagine taking your partner out for a romantic dinner and finding your table lit by harsh strip lighting – it just isn't conducive to a cosy, intimate atmosphere that flickering candles at the table, augmented by some soft lighting, can create. And while it might seem clichéd, a candle lit dinner at home is probably something that doesn't happen often, so, you could make a real occasion out of it for your partner by lighting tapered dinner candles on a candelabra to go with a suitably loving menu to match. You may even go one further and run them a bath, thick with bubbles and surrounded by lit candles – possibly for the both of you if there's room in there.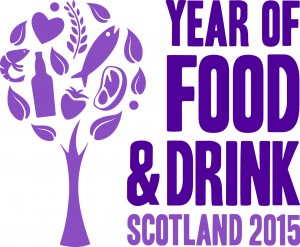 The Pollution of Paraffin
But really, imagine those candles sputtering, giving off sooty, greasy marks and a smell more akin to a petrol station than a natural therapies shop – kind of spoils the scene. That's why when looking to create a romantic and intimate mood, paraffin candles should really be avoided. Not only are they guilty of the above, but these oil-based, highly refined petroleum by-products from a non-sustainable source contain up to 11 toxic compounds, carcinogens and chemicals such as toluene, alkenes and benzene that pollute your home, cause allergies and environmental damage – hardly a loving gesture!
The Beauty of Beeswax
 Instead, imagine a candle that emits the same naturally bright light as the spectrum of the sun, burns slowly and evenly with no dirty black discharge and comes from a renewable and natural source – beeswax. 100% beeswax candles are environmentally friendly and carbon neutral, undergoing no chemical processing. Not only do they not contain any toxins – they are the only candle that emit negative ions that help purify air quality while invigorating the body, all the while giving off a naturally formed scent of honey and floral quality of honeycomb. Did we also mention that honey was an aphrodisiac?! If you're going to set the scene for a romantic night ahead, you're better to love the planet as well as your partner, and that's not cheating! xxx
Buzz, February 17, 2015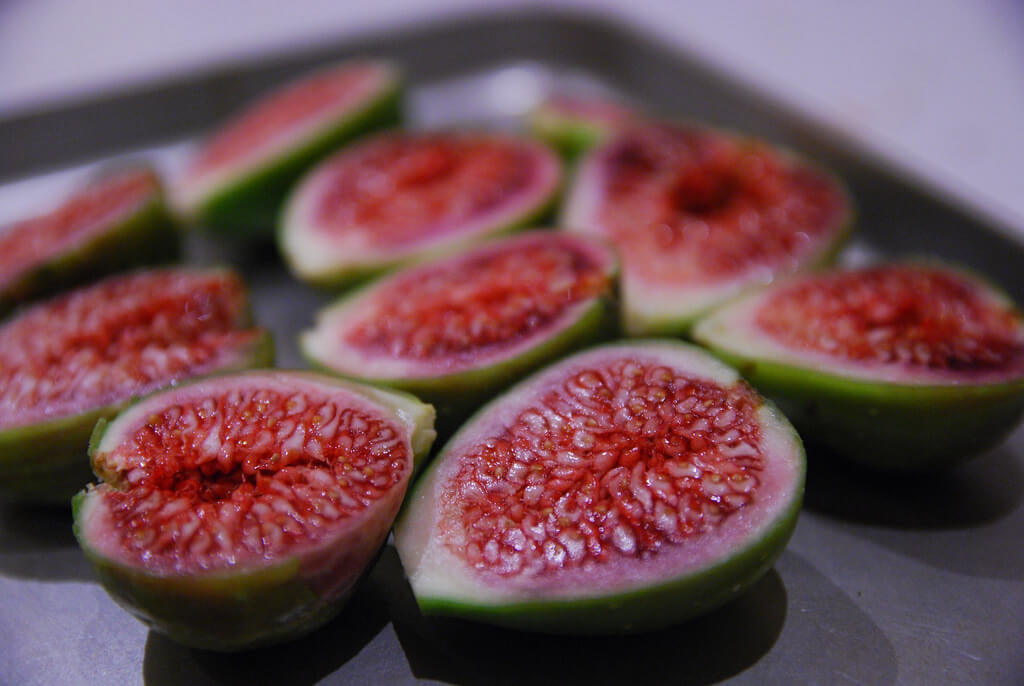 After looking at many articles and the evidence for foods with a romping reputation, we came to the conclusion that honey was a true aphrodisiac in this previous article, but then, we might be a little bias! That aside, what we meant by 'true' is what's actually contained in the food – enzymes, proteins, minerals and phyto-chemicals that have a proven effect on our bodies, not just the way it looks. Honey is an ingredient quite often used for cooking and preparing food, so we thought – why not double the fun by pairing it with other aphrodisiac foods…
Bananas
Obvious shape aside, bananas are full to the hilt with potassium, magnesium and B Vitamins and enzymes said to enhance male libido. Add a drizzle of honey's hormone boosting boron and natural nitric oxide said to enhance arousal and your banana split starts to get a little sexier rather than just being simply indulgent…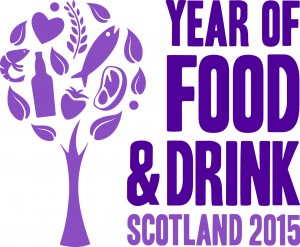 Figs
If bananas are phallic, then the erotic appearance of an open fig is something of the opposite. Figs have been associated with love, sexuality and fertility in many cultures long before their leaves were referred to in the Bible as Adam & Eve's only garments (a strange paradox – their many seeds represent fertility and the leaves modesty) But they are more than just a symbol of sensuality – they are ripe with potassium, fibre, flavonoids and antioxidants that help promote sexual well being and energy. In many countries where figs are found they are paired with honey in many permutations – roasted, baked, caramelised, served with toasted almonds, vanilla cream, spiced with ginger and cinnamon. Delicious and libido level uppers no matter what way these two are prepared.
Ginger
Making for quite the fruity threesome when added to figs and honey, ginger root has been regarded as an aphrodisiac for centuries not only because its positive effects on the circulatory system (gets the blood pumping..) and metabolism but also for its aroma, which is said to aid arousal. Honey and ginger are often paired in Middle Eastern and Asian cooking and make a fantastic marinade for chicken and vegetables.
Sexy Scottish Breakfast
We don't have to get so far flung however, to find such amorous dishes – and we're not talking bacon, sausage egg and a tattie scone either. Because guess what? it might not look that sexy, but porridge oats have been shown to be one of the best foods to increase testosterone levels in the blood, and really, is there anything better to go onto our morning bowl of porridge than…honey – back to bed anyone?
Buzz, February 15, 2015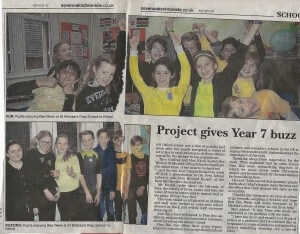 We'd like to introduce you to Theo Godfrey, a Year 7 pupil at St Michaels Prep School in Otford, Kent. Theo saved his Christmas money and invested in shares through his mum in our Crowdcube campaign last year. Not only does he care enough about the plight of declining bee populations to put his money into helping the cause via Plan Bee Ltd, he and his friend, Max Nicholl, hosted Bee Week at the school to highlight awareness of the problem and its impact on the planet.
Bee Week
Theo and Max instigated a week-long series of activities at the school, beginning with a presentation from Richard Knight of the Kent Bee Keepers Association and culminating with the children coming into school that Friday, dressed in black and yellow and donating £2 – raising a total of £460.Theo explains what he would like to do with the money raised "I would like the money we raise at school to go towards adopting a beehive and hope that Bee Week will make everyone at St Michaels aware of what we can do to help"
Inspiring
Theo found out about Plan Bee Ltd when he was researching charities to which he could invest his Christmas money – "I discovered that not many people know about what's happening to the bees and the effect that their decline will have on the ecosystem"
Plan Bee Ltd  said of Theo and Max "We're absolutely delighted that we are able to inspire young people in this way and that they care enough to do something positive about it" All at Team Plan Bee would like to say a thank you to Theo, Max and the pupils and the staff at St Michaels who have done splendidly to raise not just money, but awareness of an issue that affects us all.
Buzz, February 14, 2015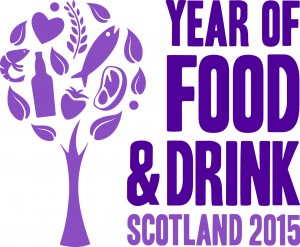 Happy Valentines Day! Perhaps you and your loved one may sip some champagne or enjoy a bottle of wine with a meal to mark the occasion,but did you know that the original, romantic imbibe of choice is mead – so much so that the term honeymoon was inspired by this ancient and long loved drink.
Ancient Origins
The origins of mead stretch as far back as 10,000 years, making it possibly the oldest known fermented alcoholic beverage, enjoyed long before wine and beer and common among many cultures. Traditional mead is fermented honey and water and there is a rich history associated with the drink; from early attributes that the intoxicated state it produces being that of communicating with the spirit of a god, to its current renaissance – thanks to the popularity of the fantasy series, Game of Thrones and an increased interest in Medieval history.
Honeymoon
And it was in the Middle Ages, that the drink spawned the term honeymoon. Before then, in pagan marriage celebration, mead was drunk by the couple in the month that followed their union as it was believed that it would help the couple conceive a son or at least promote fertility and virility. The time the couple would spend together, away from their respective families in order to conceive was a month (a moon) and the mead they drank together was of course, made from honey. This tradition survived into Europe of the Middle Ages where the term first appears, but by then it was also appropriated by wedding guests to toast the bride and groom at the close of festivities, before a month's supply being provided to the married couple as a gift.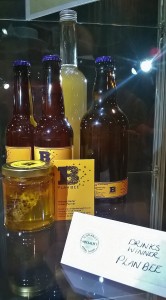 Elderflower & Rose Mead
Because of drinks widespread use across cultures and the globe, there are other reported early traditions elsewhere of mead being drunk by the couple for the month before the wedding – again, to help increase fertility for conception after the vows. Pre or post marriage, these claims are not to be disregarded given honey's qualities as a true aphrodisiac. Certainly, here at Plan Bee Ltd we have been loving our time conceiving and developing (tasting, perfecting, tasting again) our award winning Elderflower & Rose Mead and we hope that you will share a bottle with your loved ones when it becomes available later in the year (a month's long supply will also be available) xxxx
Admin, February 12, 2015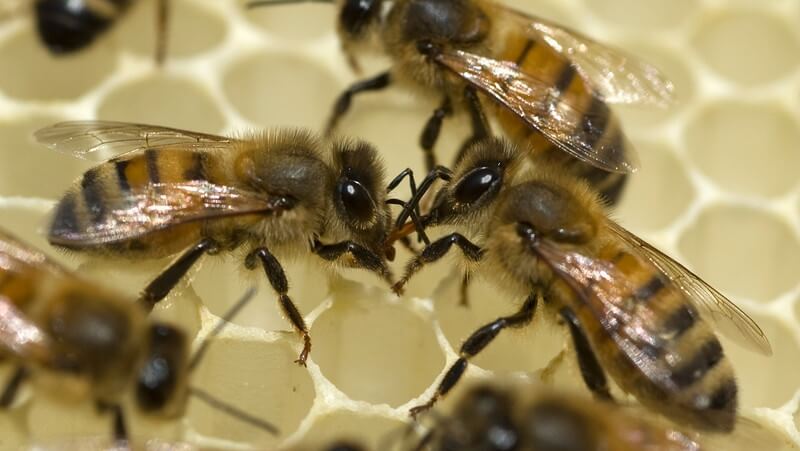 In a previous article for Food of Love February, we looked at how honey has a reputation as an aphrodisiac through reasons of folkloric reputation and the effects it actually has on our bodies. One of the many reasons for the former could have been the sight of honeybees kissing, but is it kissing as we know it..?
Nectar
Honeybees collect nectar from flowering plants, visiting around 1500 on average to gather enough of it to fill their honey sac stomachs. This is separate from their digestive stomach, holding up to around 70mg of nectar – almost as much as their total body weight. They carry this back to the hive and there, another bee will directly suck the nectar via its mouth from the returning bees honey sac stomach – which looks like they are kissing.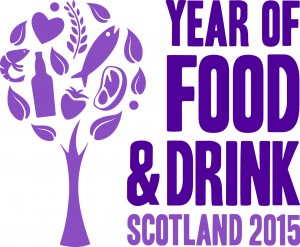 Not Quite a Kiss…
This isn't quite a kiss; it's a process known as 'trophallaxis' which is the direct transfer of food or other fluids from one insect to another – common amongst social insects such as ants and bees. Fluids such as nectar, water and royal jelly are transferred via the bee's proboscis – a long tube which acts like a straw for sucking up liquid and a tongue for tasting. It actually consists of two tubes, one inside the other – the outer for larger quantities of liquid such as water and honey and the inner one is used for collecting smaller amounts of liquid such as that contained in flowers.
 No Trophallaxing Please!
So far, so romantic! Unlike humans, there is no emotional purpose to the 'kiss' but it is more than just a purely physical function – important information is also being transferred as well, such as information about new nectar sources or feeding conditions in the brood nest. Hierarchical reinforcement or a message from the 'boss' is also being passed on as well; worker bees who have licked the queen, exchange information to the colony that she's alive and well – sending out a chemical message suppressing ovary development in worker bees. So, it's not quite an affectionate embrace between amorous bees but is a little more than a way of passing on the nectar. However, we don't think that human couples should be seen 'trophallaxing' their gifts of chocolate or champagne on Valentine's Day either…
Admin, February 10, 2015
We've been highlighting some of the foods associated with love and romance because of their perceived or partly proven status as an aphrodisiac. It's perhaps symptomatic of the deep rooted association between what we eat and our desires then, for our predilection for calling our loved ones a variety of affectionate nicknames after certain foods.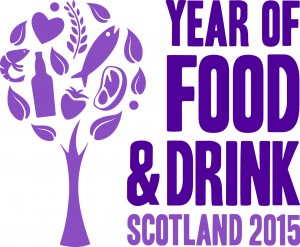 Sweet Things & Baked Goods
Most popular, are those based on sweet things or variation thereof; sugar, sweetheart, sweetie, treacle and of course, honey. Loving terms associated with baked items are also popular – muffin, cupcake, cutie, and the pies – sweetie, sugar and honey pie. Such pet names for each other aren't an English speaking phenomenon either; in eastern India women are sometimes referred to as 'mishti' meaning sweet, in Spain 'terron de acuzar' (sugarlump), in China 'xiao bao' is Mandarin for little bun and in Finland lovers can often be heard referring to each other as 'muru' meaning breadcrumb. But the term 'honey' is probably the most often and widely used term of endearment becoming become a common and socially accepted habit that most of us have uttered at some point in a relationship – even if we're just knowingly riffing on the classic refrain 'Honey, I'm Home!'
Honey – A Symbol of Fertility & Procreation
So when did people start doing this and why? In the previous article we wrote about honey being a known aphrodisiac from 500 BC and we will look in further detail at how it has been revered as a symbol of fertility and procreation amongst cultures across the globe at a later date. It's certainly not a recent practice – references of honey as a term of affection go back 800 years. While the exact reasons of reference cannot be exactly pinpointed, given its historically perceived connections with love and sex, it's no stretch that its use became personified regarding our loved ones. Honey, sweetie, sugar – they might make our partners wince with their now cloying familiarity, but they're probably better received than an ill-advised 'crumpet' 'tart' or 'dumpling'…
Photograph: Jessica Enig/Getty Images/Flickr RF
Admin, February 7, 2015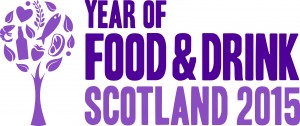 In part one of our article on 'The Food of Love' we highlighted a number of aphrodisiacs that have gained their libido boosting reputation over the centuries through a number of factors. With some, it was merely bestowed from their suggestive shape or aroma, whilst others were believed to boost the amorous feelings or sexual energy of those who ate it because of the effects they seemingly had on the body and mind. Once serious scientific study commenced in identifying the internal chemical make-up of foods, there was often a connection found between the vitamins, nutrients and enzymes contained within and their effects on our biology upon consumption. Some aphrodisiacs were revealed to have no scientific basis for their status as such, whilst others proved that the old wives tales, legends and traditions had something in them and probably most deserving of its romantic reputation was honey.
Honey's Horny History
The sweet stuff has been considered an aphrodisiac food for centuries, from as far back as 500BC. Indeed the word 'honeymoon' stems from the taking of honey on the union of marriage, sometimes in the form of mead, which we will look at in more detail in a later article. An old French wives tale also proposed that a sting from a honeybee was like being given a shot of pure aphrodisiac. But early medical proponents of honey can be traced back to Greek physician Hippocrates, who prescribed a mixture of milk and honey to patients to enhance their sexual performance by inducing vigour and ecstacy. Another noted, early medical practitioner, Avicenna, also advocated the taking of honey, describing it as "the food of foods, the drink of drinks and the drug of drugs" and ordered another potent mixture of honey paired with ginger and pepper as a sexual stimulant.
Sexual Health
Those fathers of modern medicine might not have known exactly what the chemical reasons were for honey's effects but we have now identified a number of proponents contained within it that directly affect our health and vitality. Honey is a great source of the boron mineral and B vitamins, and studies have shown that these combine to boost and regulate the female sex hormone, estrogen in women and its counterpart, testosterone in men. That effect promotes sex drive and orgasm in both men and women and in addition, the natural nitric oxide found in honey is the same chemical released in our blood during sexual arousal. Sexual health aside, in more general benefits, consumption of honey has been shown to aid overall stamina, circulation and energy levels all of which help to put us in the mood for love, thanks to the undisputed 'food of love'
Admin, February 5, 2015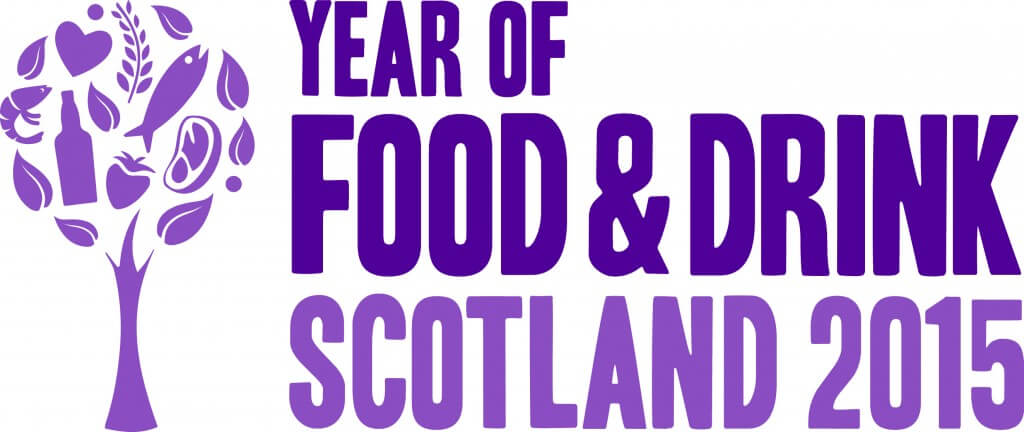 We all have predilections for one type of food over the other, often saying that we 'love' chocolate or steak for example. These are foods that we consciously enjoy eating and thus doing so is pleasurable to us. But there is a deeper connection between pleasure and the primal need associated with eating. Over time and across cultures, some foods connected this way have been associated with arousal through various folklore, superstition and mythology  – leading them to becoming known as aphrodisiacs. Some merely because of their aroma, shape or colour, but there are also foods that contain a chemical basis for their aphrodisiac reputation – containing properties that can stimulate pleasure zones of the brain. Whether they enhance amorous feelings and can actually cause arousal has oft been debated, but we'd like to present some of the more commonly touted 'Foods of Love'
Avocado
A good example of aphrodisiac value through shape association is the avocado, which hangs in pairs from the tree and takes its name from the Aztec word for testicle 'ahucatl'. Such was the belief, that they forbade virgin women to leave the house whilst they were being harvested!
Asparagus
 Aside from its obviously phallic appearance, asparagus is full of vitamin E, calcium and potassium which cleanse the urinary tract and kidneys whilst providing a shot of extra energy. Aspartic acid in the vegetable also helps neutralise excess ammonia in our bodies, which is said to lead to loss of libido and fatigue. Certainly, both shape and properties have made asparagus an aphrodisiac to many cultures; beholden by the Greeks in poetry, used as part of Kama Sutra ritual and eaten three times a day by the French before their wedding night.
Beetroot
 The Greeks also venerated the beetroot, believing Aphrodite to have eaten them in order to enhance her sex appeal. This led to ancient Romans believing that it's juice made one feel amorous – they wre even depicted in frescoes of certain brothels. There may be a reason for such folklore; beetroot contains high amounts of boron, a mineral which increases the level of sex hormones in the human body, as well as betaine and tryptophan which promote a feeling of well-being.
 Bananas
 Similar to beetroot in chemical effects on the body is the banana, which is rich in potassium and B vitamins which aid sex-hormone production. The shape of the banana is obviously a reason for its reputation as an aphrodisiac but the banana flower itself also has a phallic appearance.
 Chocolate
 An oft gave gift to loved ones on Valentines Day, chocolate has long been associated with romance from the time of the Mayans who worshipped the Cacao tree as they believed it to produce the food of the gods. They, and the Aztecs used the beans found within cocoa pods as actual currency to be used when visiting brothels and Aztec Emporer, Montezuma would drink around 50 cups of chocolate a day to satisfy his many wives. Added to the erotic symbology of chocolate as an aphrodisiac is the scientific research that shows that chocolate contains phenethylamine, tryptophan, 'feel good' chemicals' naturally produced by our bodies in certain states. The former is a stimulant shown to be released in the brain when we have feelings of euphoria when falling in love and the latter helps produce the brain chemical serotonin, which is associated with sexual arousal and an elevated mood. It may not be the gateway to a passionate encounter for two people though, as many surveys have shown a sometime preference for women for chocolate over sex! So gents, have a think about that when you are looking at the chocolate gift boxes for Saturday!
As part of celebrating 2015  Year of Food & Drink Scotland, Plan Bee Ltd are producing a month long series of articles of the Food of Love and romantic facts about honey. 
Admin, February 2, 2015
2014 saw Scotland's Homecoming and the stage was also set for world renowned sporting events the Commonwealth Games and the Ryder Cup (which we were very proud to be official suppliers to) A record number of visitors came to Scotland and found out that we have an abundance of fantastic natural resources that can be drawn upon to provide a truly world class larder.
With that in mind, in 2015 we celebrate Scotland's Year of Food and Drink, an initiative created by national organisation, Scotland Of Food & Drink, in partnership with the Scottish Government,VisitScotland and EventScotland.
The aim of the year is to mark, highlight and promote Scotland's produce and it's makers to our people and visitors; demonstrating that we are a destination for delicious food and drink while highlighting the sectors key role in our economic growth and cultural development.
Throughout the year, a series of monthly themes central to the outstanding food we provide and where it came from has been developed. We are very pleased to tell you that Scotland Food & Drink thought we were suitably charming and romantic enough to be associated with 'Food of Love' February! (well…it was probably more because honey is a known aphrodisiac) We also want to take part because we're engaged with the passion of James Withers and his dedicated team who champion Scotland's bounteous larder at every turn; supporting food and drink producers, small and large in this country by showcasing what we have to the world whilst encouraging Scots to think, eat and buy local.
So, this month's blogs, news and our social media channels will be bursting with passionate and enchanting articles about the Food of Love and other amorous notions. We're also going to be presenting you with a romantic gift of one of our Red Heart Gift Boxes complete with mood candles & sweet honey – honeys. Each week in February we'll pose a question on our twitter feed related to one of the articles, so turn up to all our dates and keep fluttering your eyes for a chance to win. You can find out more about the Year of Food & Drink here
http://www.visitscotland.com/about/food-drink/