Warren Bader, March 25, 2015
Propelled by a real passion for beekeeping, we are actively involved in safeguarding the bees and turning the spotlight on the great work they accomplish. We explore the four corners of the Earth, eager to discover new flavours, mindful of making significant gestures in the fight for the bees' survival and relentlessly acquiring new ways to improve.
Indifference
Despite all the energy expended, each one of us is aware that we cannot make a difference alone. Protecting the bees is a vision of society! As long as important changes in our agricultural models are not implemented, bees will continue to die. Indifference to the plight of the bees is explainable in part, by the fact that not enough is known about this amazing insect by most of us – even though it is responsible for bringing colour to our food plate and feeding us by pollinating more than a third of the food we eat!
Greater Collaboration
The other part comes from a lack of will in changing our eating habits towards eco-responsible choices which, in turn, will put pressure on governments and the agrochemical industry. Political authorities must absolutely get involved to set in motion a movement for the protection of bees, pollinators, and ecosystems. The urgency of reconfiguring agricultural models is required to harmonize the way things are done, to reassert the importance of crop diversity, to rehumanize agricultural work, to reduce the area dedicated to monoculture and to invest in a sustainable development benefitting pollinators. This approach must take form in a greater collaboration between farmers and beekeepers to make sure that realistic solutions are conceivable and applicable. We must urgently intervene and rethink the certification process and the use of pesticides by favouring, in particular, an agricultural approach less dependent on chemical inputs. Beekeepers have the potential of becoming important players, first line informants about how diverse pollution sources, direct and indirect, are affecting the bees.
Bees as Bio-Indicator
The bee is an incredible bio-indicator, a true barometer measuring the quality of our environment. While shuttling back and forth between the beehive and its natural surroundings, the bee takes stock of the health status of ecosystems by performing a biopsy of all it gathers. Plants, water, soil, air particles; everything that surrounds us is, in part, taken as a sample by the bees, which provides us with an imprint of the environment. The last twenty years have seen a decline in bee populations. This imprint is disturbing, symptomatic of the environment's sick state, a diagnosis that reveals the repercussions and consequences this decline will have on human life and biodiversity on a planetary scale.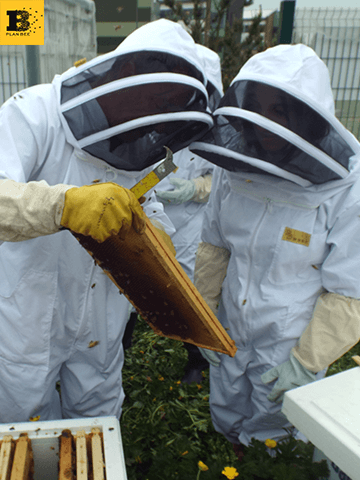 Wisdom
We hope to see the creation of a community that, as a bee colony, will get the job done together. The time has come to breathe life again around us, to make eco-responsible choices about what goes on our food plates, about the plant diversity that colours our fields and on the responsible development of our countryside. It is imperative that the choices we make protect and preserve our planet because we do not inherit the Earth from our ancestors, we borrow it from our children and future generations. All of us should honour and respect this aboriginal wisdom.
Warren Bader, March 20, 2015
Our View of Beekeeping: 
Beekeeping is a working partnership between man and insect carried out with the utmost respect. A respect for community that, through individual labour, creates collective magic. This vision guides our daily actions which translates into eco-responsible beekeeping.
Involvement, Community, Knowledge:
During the last 25 years, the work of the beekeeper has changed a lot. Excessive merchandizing of honey, often imported and packaged by people who have no contact with the bees, endangers the craft and traditions of beekeeping but above all it even endangers the survival of the bee as a species. The market rationale distorts the role played by the beekeeper, making him/her look like a broker of honey. We do not subscribe to this logic. We make respect and survival of the bees our top priority.

The Role of the Beekeeper
The beekeeper plays an important role in feeding the planet. About 40% of the food we eat is dependent on insect pollination and the bee is nature's foremost pollinator. The importance of the role played by the bee in our nutrition largely exceeds honey production. We share this prognosis made by Albert Einstein – "If the bee disappears from the surface of the earth, man would have no more than four years to live."
Honey Culture
The bees' well-being will never be comprom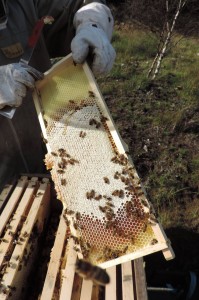 ised; from winterizing colonies to harvesting honey, to pest management – the health of our bee colonies is paramount. We are also involved in developing a "honey culture" in Scotland and every day we fight against the cliché that honey is a homogenous, blend product which main qualities are being yellow, sweet, and sold in bear jars. That is why, in every step of the conditioning process, we make sure that consumers get the purest, the healthiest, the tastiest honey possible while leaving behind the lightest footprint on the environment.
A Collective Approach
Emphasizing the strength of the collective approach. Producing locally, participating in the safeguard of our region, offering quality work are synonymous of community for us. This also means sharing with every beekeeper and looking out for the general well-being of beekeeping. That is why a portion of our profits are dedicated to the bees' survival. Through voluntary work done on the local and international stage, we share our knowledge on a daily basis by working together with other beekeepers worldwide to develop practices dedicated to the sustainability of bee populations.
Ancient Craft & Modern Science
Always learning. Beekeeping is at once an ancient craft and a modern science. We keep studying, improving our know-how and listening to the wisdom of others while sharing the fruits of our own research with the beekeeping community. We will keep on exchanging ideas with our clients, broadcasting the importance of the role bees play and underlining the urgent need that honey maintains its purest, most natural state.
Buzz, March 18, 2015
Green Legacy project participants, Kilsyth Academy are taking on the responsibility of a hive, having participated in a series of talks and beekeeping lessons given by Plan Bee Ltd. All schools that take part in this eco-initiative receive a blank beehive that they are encouraged to create a design for and then paint – we wrote earlier about North Lanarkshire schools Kilsyth Academy and Braidhurst High, choosing and developing their themes in earlier articles.
Fitting the Design Brief
In Part One of this article we highlighted the beginning of the design process that Kilsyth Academy pupils from S1 to S3 embarked upon when selecting their theme and using it as an inspiration for their chosen beehive design. S1 classes then selected the designs they thought fit the design brief best and the chose the following: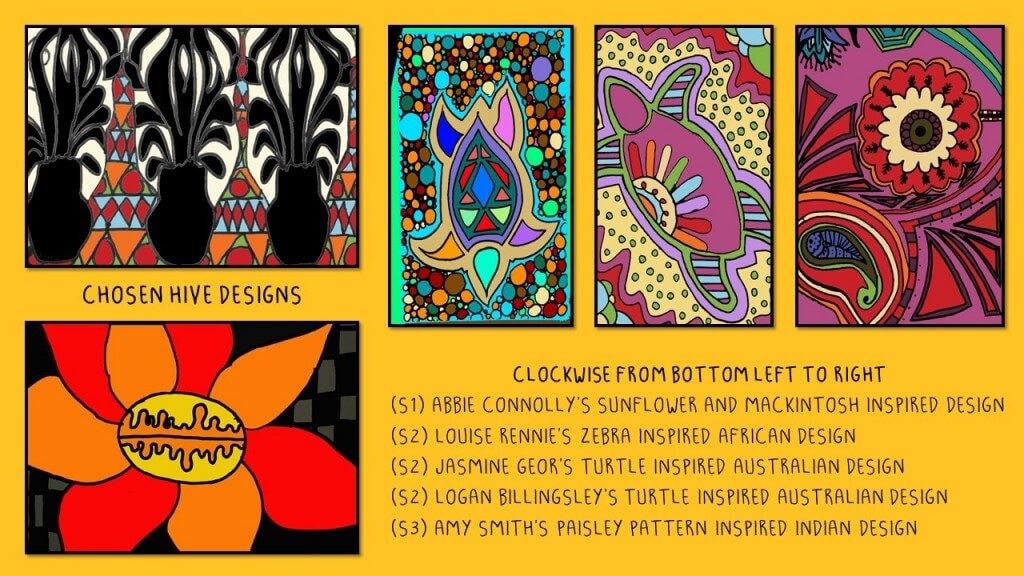 Painting the Hive
Now these fantastic hive designs have been approved – let the painting commence. You can see the whole process illustrated below. We'd like to say thanks to all staff and pupils at Kilsyth Academy involved in this worthwhile project who have taken to it with great enthusiasm to produce some stunning designs!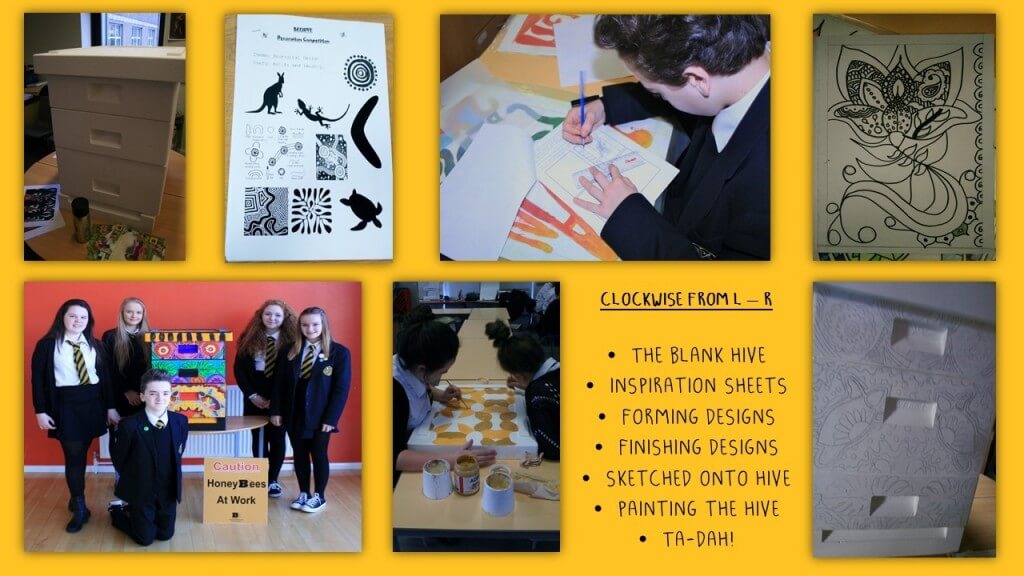 Buzz, March 13, 2015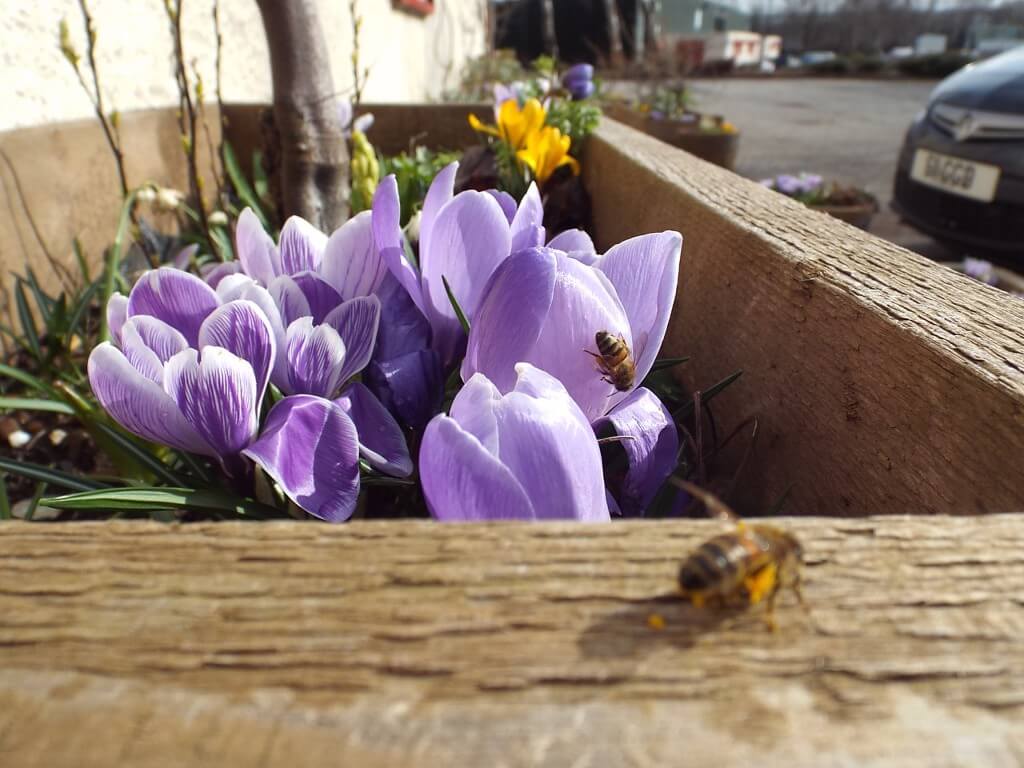 The other day here at Hive HQ marked a momentous occasion in which a window was left open in the office for the first time in months – we're attached to a warehouse so chilly that we would put the milk in the fridge to warm it up! We felt spring was coming and enjoyed a warm blast of sun on the building earlier this morning. It was when we came back from lunch however, that we truly realised that sping had sprung; the bees were out and back to work on the blossom…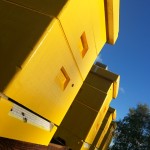 We have four colourful yellow hives on the rooftop here, that over winter, have housed our bees as they cosy-ed up against the cold – a survival technique that we wrote about here. Underneath the hives, we have some boxes containing heritage fruit trees, some vegetables such as artichokes and various other plants. Well, the crocus have bloomed in the last few days and the scent of their blossom has reached into the hive to tempt the worker bees out and the front of the building has now resumed a happy hum…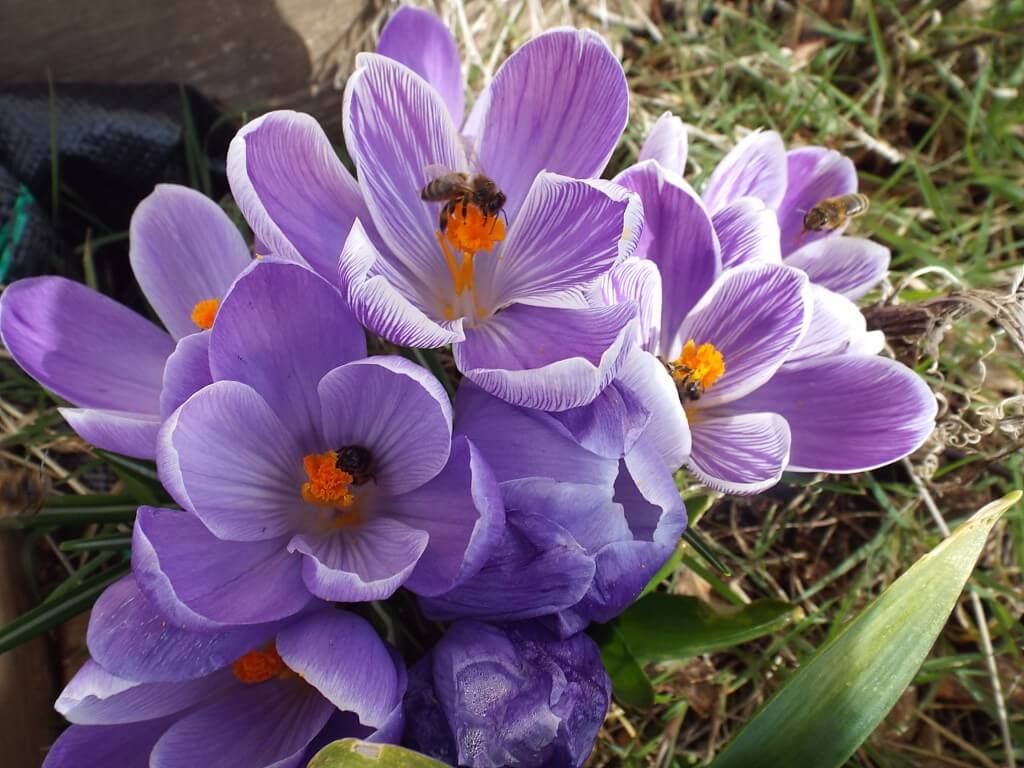 Buzz, March 11, 2015
As an accredited partner of the Green Legacy 2014 Commonwealth Games, we manage a project which aims to encourage children from primary and secondary schools in Scotland to engage with biodiversity and understand the importance of the bees in a creative and engaging manner. Schools participating in this project get an empty beehive to paint according to different themes relevant to the year the project was launched: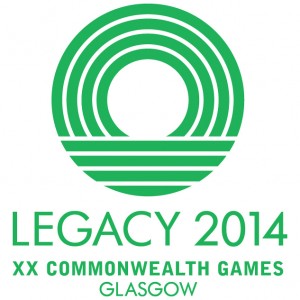 – 700th anniversary of Bannockburn
– 100th anniversary of WW1
– Commonwealth Games sport/country
– Scottish book/author
Kilsyth Academy
Kilsyth Academy is a high school in North Lanarkshire and who have become part of our Green Legacy movement by participating in our educational talks on the subject and taking on the responsibility of their own beehive after some practical beekeeping lessons. But first, the beehives need to be transformed from their blank state into something far more colourful and interesting and the staff and pupils of Kilsyth Academy have truly achieved exactly that…
 Colourful Commonwealth
The school selected 'Commonwealth countries' as the theme they would like to focus on and chose countries rich in culture and distinct in design, taking inspiration from:
• The vibrant aboriginal art and designs of Australia – circles, wavy lines, dots/circles instead of lines, iconic Australian imagery- wildlife and plants
• Colourful Indian art – paisley pattern, flowers and leaves, bright and rich 'jewel' colours, mandalas
• The tribal patterns of Africa common to a number of the continents Commonwealth nations – leaves, geometric shapes such as diamonds, circles, zig-zag lines, triangles, African safari animal shapes- think about safari animals…lions, giraffes, bright and earthy colours
• The iconic and world renowned textile designs of Scotland's very own Charles Rennie Mackintosh.
Patterns, Colours & Designs
Pupils from S1 to S3 researched the artwork and imagery unique to each country to inspire their own exciting designs that were then developed in a variety of colour ways and repeat patterns. In the next part of this article we will show you the pupils final designs and beginning the hive painting process. But for now, feast your eyes on the vibrant, colours patterns and designs that inspired them…
Buzz, March 7, 2015
As an accredited partner of the Green Legacy 2014 Commonwealth Games, we manage a project which aims to encourage children from primary and secondary schools in Scotland to engage with biodiversity and understand the importance of the bees in a creative and engaging manner. Schools participating in this project get an empty beehive to paint according to different themes relevant to the year the project was launched: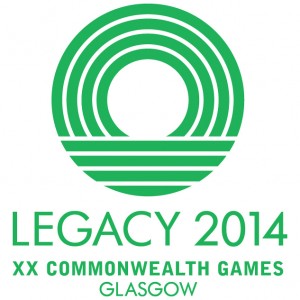 – 700th anniversary of Bannockburn
– 100th anniversary of WW1
– Commonwealth Games sport/country
– Scottish book/author
Braidhurst High Scool
Braidhurst High School in Motherwell are a Green Legacy participant who have really embraced both aspects of the environmental cause we support and their chosen theme. The school ran several events to commemorate the WW1 Centenary theme, including holding the Christmas Truce Memorial Match which we previously covered here 
Designing their Hive
This year, the school will actively run a hive with its own colony of honeybees, but first, students learn the role of pollinating insects in our food chain and why it's important to establish the hive – which will be done once it is painted. Teachers from the Social Subjects and Art and Design departments have been working with the students to encourage and develop designs for the school beehive. Art teachers Duncan Chisholm and Paul Clifford undertook a design unit with S2 and S3 students drawing inspiration from battlefield images from during and after the conflict. The completed artwork went on display and school staff voted for the images they would like to see painted onto the hive.
Five Winners
Five talented winners were chosen to transfer their designs on to the hive: Denisa Bednarova and Zafar Khan of S2 and Nicole Collumb, Emma Ewart and Zoe Oliphant of S3.  Each pupil received an art kit including paints, pencils and a sketch book as an additional reward for their efforts along with a jar of delicious honey, courtesy of Plan Bee Ltd. We'd like to say a big thank you to project co-ordinator Kirsty Logan for driving the project forward, a well done to the winners and also our appreciation for Braidhurst pupils that might not have won, but are really getting involved and understanding the importance of bees and their chosen theme.