Admin, October 22, 2015
Following up on our autumn gardening advice from earlier this week, there's more work to be done in the garden than helping out the nation's honeybees. As well as doing your bit for bees, we believes that there is a great deal that can be done to help other pollinators and insects during the season of mists and mellow fruitfulness too:
"When lopping back trees and large shrubs try to keep some of the logs. A lot is made about expensive, ready-made insect hotels these days. Logs with holes of varying sizes drilled into them can be the equivalent of four star accommodation at budget hotel price. Leaving a bit of your garden like this can also provide a safe haven for hedgehogs, who again are among a gardeners best buddies, as they eat slugs and snails. But, please make sure that any such piles of wood you might be building bonfires with are hedgehog free before Guy Fawkes night.
"As these logs and waste branches and twigs break down, they release vital nutrients back into your soil. It can pay dividends to have a wild area set aside, where such decaying matter can help to regenerate the fresh shoots in the spring and summer. It really helps to be planning next year's activity now, so that you're one step ahead come the spring, and that your garden is buzzing from the start."
To get the latest news, advice and tips follow us on Twitter at @planbeeltd.
Admin, October 17, 2015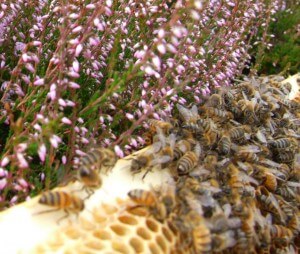 As an experienced gardener and urban beekeeper, has a good idea of what it takes to make a garden truly bee-friendly. But he reckons it's not so much about what to do at this time of year:
"Firstly it's about what not to do at this time of year, don't cut back ivy just yet as this is about to flower and provide the last flow of pollen and nectar into the hive, to sustain the bees over winter.
"There's also a bit that everyone can do, and especially good to get children interested in gardening and that's planting bulbs. Crocus and snowdrop are particularly good for the first bees out of the hive in spring, it's the equivalent of an orchestra prelude ahead of a concerto. Also, Michaelmas Daisies are good for that early store of pollen and nectar in the spring.
"The bees will start to venture out again in March or early April, depending on the weather. They tend not to like temperatures under 12°C. A more traditional indication is when the pussy willow, gorse and broom start to come out again.
"Heritage fruit trees is my passion and I would always advise UK gardeners to buy British. That way you know what you're getting and there's less chance of disease. It's the best time to plant trees and particularly apple, pear and plum are always nice, but don't expect instant results. It will take about three to four years before they are mature enough to truly produce.
"It's good to think about crab apples too. While they may be considered the poor cousin to many fruit trees, you can harvest the fruit to make a truly delicious crab apple jelly that is delicious with roast lamb and pork, or even try it with smoked salmon. The fruit also provide stunning colour and range from purple to yellow. The fruit can be left for nature and is good food for a number of small creatures and birds that might be visiting your garden at this time of year."
Stay tuned for more handy autumn gardening tips. For a more regular update follow @planbeeltd on Twitter.