Admin, June 29, 2016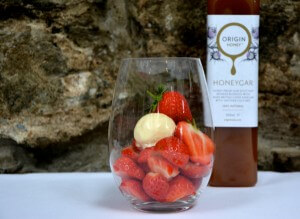 Wimbledon's found a new love match this year, with the traditional Strawberries and Cream taking a back seat.
One of Scotland's leading restaurant teams is adding a fresh twist to Britain's traditional dessert, using Origin Honeygar by Plan Bee Ltd to spice up the summer. The blend of Aged Cider Vinegar and award-winning honey has been blended into a savoury ice-cream in
the Monachyle Mhor kitchen.
Head Chef, Marysia Paszkowska has taken Origin's innovative salad-dressing-come-health-tonic and transformed it into a fresh fusion of sweet and savoury temptation for the balmy summer months.
Marysia said:
"This is an exciting new product which offers a range of possibilities. We're constantly experimenting with it, beyond the expected salad dressing. Not only do we use it in our sour doughs, but it brings an extra dimension to tomato dishes and adds an edge to beetroot relishes, and a twist to salsas. I like to create the unexpected in my kitchen and Origin Honeygar certainly allows me to push new boundaries."
Admin, June 20, 2016
Abel & Cole is extending its ethical food adventure by joining us in an exciting new beehive management partnership.
The company will house three beehives at their headquarters in Wimbledon, supporting urban beekeeping and helping to protect dwindling honeybee numbers.
Claudia Ruane, Abel & Cole's Dr Good Vibes said:
"Organic farming plays such a phenomenally crucial role in protecting biodiversity and, whilst we may not be farmers ourselves, we can still play a positive part in sustainable food systems. By offering a home to honeybees in our little bit of south west London, we can help educate each other and everyone in the Abel & Cole community of the important role they, and other pollinators play.
"Bees are crucial for biodiversity; they are responsible for pollinating a third of the food that we eat. Since 2010 we've run a few projects to raise awareness with customers about the decline in pollinator populations, and having bees move in here is the next really exciting step. We're also looking to create pollinator palaces at each of our eight depots to make sure all Abel & Colers have the chance to do their bit to help solitary bees, bumblebees and other bugs thrive."
The organic home delivery service was founded 28 years ago with the intent of doing good by supporting ethical food producers, whilst having fun. Like Abel & Cole, Plan Bee shares that ethos, working with businesses that not only care about good food, but also truly care about the environment.
Admin, June 17, 2016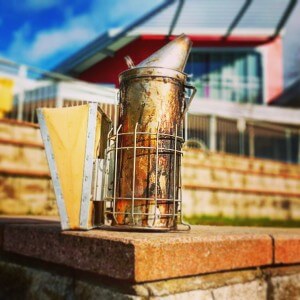 The Plan Bee team's cooking with gas this weekend as they play a part in bringing the buzz to the SGN family day.
The companies already work together on a successful Legacy project at Alloa's Lornshill Academy, where a 5-year sustainability programme kicked-off earlier this year.
The weekend event will see Plan Bee deliver their unique brand of environmental entertainment with face-painting, seedbomb making, beehive painting and fun-filled
presentations.
As one of the UK's leading sustainability companies, Plan Bee has developed a successful community engagement service which is highly sought after by businesses, large and small across the UK.
Admin, June 16, 2016
Plan Bee will buzz into Kenmore this weekend for the Rob Roy Challenge.
The fund raising event is now entering its 11th year, and has enabled over 5,500 hardy souls to battle the Scottish wilderness and raise almost £3million for a number of worthy charities, making it one of
the most successful fundraising events
in Scotland.
As part of the KenMhor Festival, organised by our friends at Monachyle Mhor, we'll provide revitalising honey to restore energy reserves and for the thirsty, our ice cold Beehive Brae honey beer.
The event provides four challenging routes, from 16 miles to 72 miles following in the footsteps of mythical Scottish outlaw and folk hero, Rob Roy MacGregor.
Friends and family are encouraged to come along and support challengers at Kenmore and to enjoy the Rob Roy Challenge Festival weekend.
For more information on the event, please visit: www.robroychallenge.com
Admin,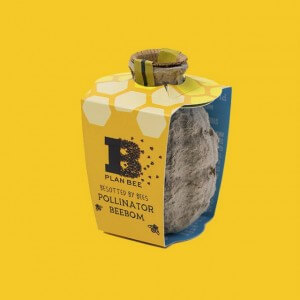 The beehive management company's latest product, the Pollinator BeeBom encourages flower-powered rebels to engage in 'guerilla gardening'; transforming remote corners of backyards and derelict sites into bountiful pollinator paradises.
The Plan Bee general said:
"We want people to get the buzz about bees, and help to transform drab, boring derelict sites into wildflower meadows providing rich food sources for honeybees and other pollinators. Honeybee populations have dropped dramatically in recent decades, and while we're playing a part to urbanise beekeeping, there's much more that needs to be done.
"It's simple, all you have to do is pop it, soak it, chuck it and you can watch as waste ground is turned into a lush meadow of British wildflowers. It not only provides a rich source of nectar for bees, but is also fun for the whole family, encouraging rebels young and old to get involved. It even helps to brighten up our communities and make that walk to work or school an altogether more enjoyable experience."
The BeeBom will debut at the forthcoming Royal Horticultural Society show at Hampton Court in July. The event is the world's largest annual flower show. Plan Bee will transform a chalet-style shed into a bespoke pop-up shop for the duration of the event, which is expected to attract more than 130,000 visitors over the course of the week (4th – 10th July).
Admin, June 13, 2016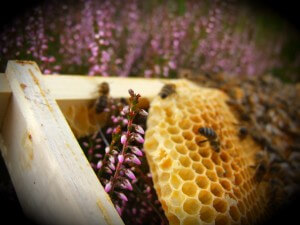 We're busy bees here at the Plan Bee hive as we gear up for our biggest event yet, the Royal Highland Show.
As a cornerstone of the Eat Lanarkshire feature within the Scotland's Larder Live tent, the team will be on hand to not only promote Plan Bee to around 200,000 visitors, but also to sell the company's award-winning Origin Honey and Beehive Brae brands.
"This is the largest domestic event that we've ever taken part in, and we're hugely appreciative to the team at North Lanarkshire Council for inviting us to take part. We've worked closely with the local authority over the last five years and the team and I are really looking forward to getting out there and meeting the thousands of visitors who attend the show annually.
"This is one of the milestone events in not only Scotland's agricultural calendar, but on the country's social calendar annually. Families from all across the UK, and from all kinds backgrounds, from the country and from towns and cities flock to Ingliston for this four-day showcase of some of the best produce that Scotland has to offer."
The Highland Show runs between Thursday 23rd June and Sunday 26th June 2016. For further information please visit: www.royalhighlandshow.org/
Admin,
Plan Bee has lifted the prestigious Corporate Vision Most Sustainable Eco-Innovation Company 2016 at the Technology Innovator Awards.
Corporate Vision magazine is written by a highly experienced team of business experts, and provides a wealth of news,
on the corporate issues of the day.
The magazine provides senior managers with information on how to improve the way they manage their operations, staff, technology, business partnerships, and supply chains with a view to creating a more profitable and successful business.
Admin, June 10, 2016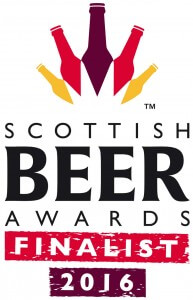 We're on cloud 9 here at Plan Bee HQ
We've just learned that we are FINALISTS in the prestigious Scottish Beer Awards!
The awards are a new national celebration for the beer business. Breweries both large and small have been given an opportunity to compete in a range of categories, assessing taste and business performance.
Our Beehive Brae Blonde Honey Beer is among only a handful of brewers in the Innovation of the Year category, recognising the development of innovative practice in any aspect of beer production, distribution, sales and marketing by a Scottish brewing company.
Admin,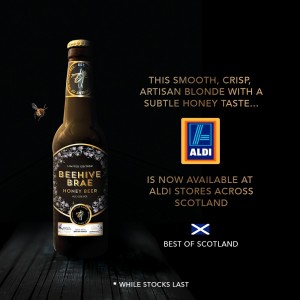 Business leaders are welcoming the success of Plan Bee's crowdfunded honey beer, Beehive Brae.
The full-bodied, blonde craft beer will appear across Aldi's 67 stores throughout Scotland, bringing this full-bodied, artisan blonde to the attention of craft beer lovers North of the Border.
The promotion is the culmination of a two-year journey for Plan Bee, which established its craft brewery following a successful crowdfunding project in 2014. The honey beer and its stablemate Beehive Brae Mead
were created thanks to the digital
investment venture with the leading
Crowdcube site.
Plan Bee has been widely recognised as a leading example of the impact that crowdfunding can have on your business.
Stuart Patrick, chief executive of Glasgow Chamber of Commerce, said:
"Plan Bee is a fine example of how a company can utilise crowdfunding to enable success. Craft beer is hugely popular, and having Plan Bee's own label honey beer stocked in 67 Aldi stores across the country is good news.
"The company is highly innovative and has helped organisations, including a number of our members, improve green credentials and commitment to the environment, while emphasising the importance of supporting a honeybee population that has been in worrying decline."
Aldi is the first major outlet to seize upon Beehive Brae, after Plan Bee came to the company's attention through their Next Top Product competition, in which the sustainability businesses Origin Honey was also a finalist.
Beehive Brae Honey Beer will be available at Aldi stores across Scotland from June 9th. Alternatively, if you want to find out what all the buzz is about, and get ahead of the pack, then please visit www.beehivebrae.uk
Admin, June 9, 2016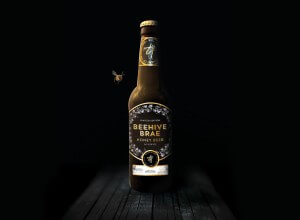 One of the UK's fastest growing, sustainable craft beers has been snapped up by leading supermarket chain Aldi as part of a major summer promotional drive.
Beehive Brae Honey Beer will appear across the major multiple's 67 stores throughout Scotland, bringing this full-bodied, artisan blonde to the attention of craft beer lovers North of the Border.
As the label suggests, every bottle of Beehive Brae Honey Beer is brewed for the 'betterment of bees', with parent company Plan Bee driving the growing movement to protect and preserve Britain's dwindling honeybee populations.
Richard Holloway, Managing Director of Aldi in Scotland, said:
"Scotland produces some of the best craft beer on the market and the Aldi Beer Festival allows our customers the opportunity to try a wide array of beers that are not all readily available. We are sure this Beer Festival will be a great success for Aldi and the brewers involved."
Admin, June 7, 2016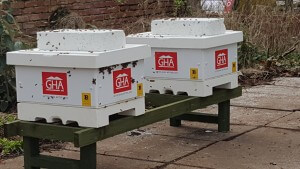 Tenants at a Queen's Park sheltered housing complex are enjoying the buzz created by a brand new wildlife project.
Thanks to funding from GHA's Better Lives fund, two beehives – containing around 40,000 bees – have been built at Crosshill Avenue sheltered complex.
An unused piece of land at the complex has also been upgraded.
Staff from Scotland's largest social housing landlord teamed up with Plan Bee, to set up the hives.
The project is set to help with pollination of flowers at the complex, as well as providing residents with a treat – their own bespoke-branded jars of honey.
And tenants of the complex are welcoming the sweet deal, as the money raised from selling the honey will go to the tenants' gardening fund.
Frances Boyle, who lives at the complex, said:
"I feel it's absolutely brilliant, especially at a time when we're talking about flowers and bees and how important they are."
Fellow resident, Mary Wood, added:
"I think it's very good for the environment and to increase the bee population. Also, I'm looking forward to some honey."
GHA Chair Gordon Sloan added:
"We have worked with Plan Bee on a few projects, to the benefit of the surrounding environment and our tenants – and these new beehives will be no exception.
"Our sheltered housing tenants enjoy spending time in their gardens, and Crosshill Avenue will flourish thanks to the activity of the bees themselves, as well as the money raised for their gardening fund from selling the honey produced."
Admin,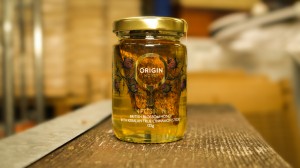 The UK's deli of the year just got a whole lot sweeter, and a whole lot 'greener'.
Petworth-based, The Hungry Guest has signed up to stock the premium Infusions range of honeys by the award-winning Origin Honey brand.
The deli will also stock the brand's
sister label, Beehive Brae honey beer.
Both brands are produced by Plan Bee Ltd, one of the UK's leading sustainability businesses which produces award winning honeys, mead and honey beers from their share of honey produced under their beehive management partnerships. With more than 200 beehives from Cornwall to Aberdeen, the company is working hard to protect and preserve dwindling honeybee populations, and has returned more than 10-million bees back to the natural environment, making their honey one of the most environmentally-friendly products around.
The Hungry Guest's Retail Manager, Brett Coleman said:
"I am absolutely thrilled to be working with Plan Bee in supporting the rejuvenation of the honeybee population within the UK. Our customers know good food and it's up to me to ensure the best is delivered to our shelves. The Infusions range is exceptional and being received well in the shop alongside the unique Beehive Brae honey beers…. something I'll definitely be drinking this summer!"
Admin,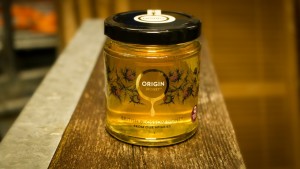 Plan Bee's new Origin Honey labels are receiving wide acclaim across the food and drink industry.
Last year the Origin brand picked up a total of three Great Taste Award gold stars; two for its Scottish Heather Honey and one for its British Blossom Honey. This led organisers the Guild of Fine Food
to call Plan Bee an 'elite UK producer'.
Tortie Farrand, Marketing Director for the Guild said:
"It is wonderful to see Great Taste award-winning producer Plan Bee launching their beautiful new labels, a design which matches the quality of what is inside their jars. The honey is bound to fly off the shelves this summer!'
The Origin Honey brand carries a wide variety of honeys from Scottish Heather Honey to British Blossom Honey, Glengoyne Single Malt Whisky Honey and an exciting Infusions range which features Madagascan Bourbon Vanilla, Keralan Cinnamon and Italian Truffle Honey.
Mark McDavid, Plan Bee chairman, an FMCG big-hitter with some thirty years' experience across the industry. He concluded:
"Already our honey is being enjoyed around the world, from Europe to Asia. We want to not only promote our own brand internationally, but also the quality of Scottish produce. We believe that the key elements of what makes Scottish food, and in particular what makes Scottish honey great is encapsulated into our new label. It is clear, and allows the product to speak for itself, which all good produce should. I'm delighted with the outcome and know that buyers, distributors and customers around the world will also be delighted with this eye-catching product."
Admin, June 6, 2016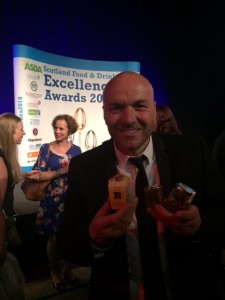 We were delighted to attend the 2016 Scotland Food and Drink Awards in Edinburgh this week.
Television chef and presenter, Simon Rimmer from Channel 4's Sunday Brunch did a sterling job as presenter on the evening.
While Plan Bee wasn't nominated, a number of our foodie friends picked up the much coveted awards on the night. And, there was great representation from a number of local Lanarkshire businesses too.
The fast growing sector also showed its generous side, with a number of product gifts presented to Simon. Of course, Plan Bee was shy
at tapping the him on the shoulder and making a few
presentations of our own.
Simon we hope you enjoy, and let us know what recipes you invent for our Honeygar and Italian Truffle Honey!
Admin,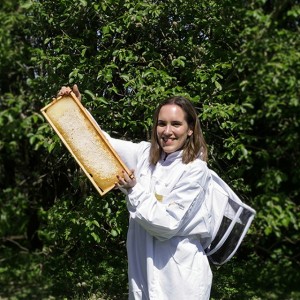 The Plan Bee team are being joined by a new Queen Bee to help in the efforts to support dwindling honeybee populations across the UK.
Strathclyde University Masters student Madeline Briscoe is taking up the role of Business Management Intern for the summer, working across the team to develop a Marketing Events portfolio.
Admin,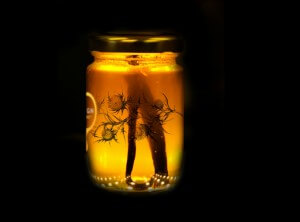 Leading honey producer, Plan Bee is creating a buzz with its stunning new Origin Honey labels.
The sustainability business rebranded its honey range last year following a hugely successful crowdfunding project. The online investment project also allowed the company to develop the Beehive Brae mead and craft beer brand, which has also received acclaim for its stand out labels.
The label design is the conclusion of a long journey.
That young designer was Robert Doyle, a product of Edinburgh Napier University's Design and Digital Arts course. Robert is proof of Plan Bee's triple bottom line philosophy of planet, people and profit, which has helped him to develop his enviable design skills for international product development.
Programme Leader for Napier's Design and Digital Arts department, Andrew O'Dowd added:
"We work with designers to develop their ability in both design tools but also in design thinking. Robert's work has always demonstrated intelligence and playfulness that has the ability to connect with communities not just the individual. It is no surprise that his approach and the ethos of Plan Bee are working so well together."
Admin, June 2, 2016
The nation's gardeners are out in force as the mercury continues to rise.
But the burning question is what to plant, how to bring all-year-round colour and for the more sustainable gardener, how to attract insect pollinators and particularly how best to protect and preserve dwindling honeybee numbers by providing them with a rich source of nectar in our gardens.
As a leading sustainability business we provide beehive management services for companies large and small, from rooftop hives on family-run restaurants to International household names the likes of Kellogg's, L'Oreal and Highland Spring.
Those early spring honeybees have already foraged on Rhododendron, Berberis, Broom and Willow which provide early sources of nectar, helping to strengthen the colony for the summer ahead. Buddleia, otherwise known as the Butterfly Bush are an important summer food source for honeybees and other pollinators, along with Clematis, Honeysuckle and Hebe. While Hydrangea and Fuschia provide nectar in late summer, and Ivy is the final food source for our bees as summer turns to autumn.
Let's not forget our great British trees. The season of planting trees has essentially passed, but there's always next year to plan for. Plan Bee surprisingly recommended crab apples which not only are great for honeybees, but amazing crab apple jelly can be made from the fruit, and once fallen the apples provide a sustainable food source for birds, hedgehogs and other small garden animals.
British Wildflower Seedbombs can help you transform waste ground, or even a corner of your garden into a pollinator paradise, while providing all generations with a bright and colourful gardening experience.
You can check out our special Plan Bee Pollinator Beebom by clicking here