Admin, June 26, 2015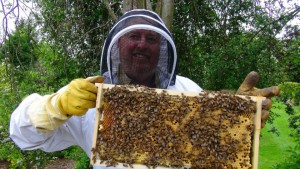 Award winning Wishaw butchers James Chapman are hoping to put the bee in beef and the honey in honey roast ham, by adopting four beehives from Plan Bee Ltd.
While modern retailers are only now jumping on the traceability bandwagon, it has been a central focus of Chapmans for more than
120 years.
Director, Jamie Chapman says that is what attracted the company to working with Plan Bee:
"While it wasn't called sustainability back in 1893 when we first started, being able to trace our products from farm to table has always been our fundamental philosophy. Working with local companies, employing local people and sourcing local produce is central to that.
"Collaborating with Plan Bee, based just a mile down the road, allows us to take our environmental credentials to the next level. With four hives located next to the shop, we will be able to sell more than a hundred jars of the highest quality Wishaw honey directly to our customers. And, the only air miles are those put in by our bees."
Plan Bee works with some of the largest food producers in the country, from Highland Spring to Kelloggs and Glengoyne Distillery to meet their sustainability needs and help them to manufacture their own high quality honey for use in their produce, to sell directly to customers, present to clients or sell in gift shops.
The sustainability business located on the border between Wishaw and Motherwell, leases and manages around 200 hives for clients from Aberdeenshire to Cornwall. Hives are located in idyllic country gardens, iconic Scottish Glens and on busy city centre rooftops. Plan Bee has lifted numerous awards in the last few years, making it one of the most successful start-up businesses in Scotland.
"James Chapman Butchers has been about sustainability, traceability and above all else quality for over 120 years. If we can help to take them forward by adding our own brand of proactive, sustainable thinking then we're delighted. Quality and locality of produce are what Plan Bee is all about and that's why working with Jamie and his team to enhance their offering is the perfect marriage. To continually meet the needs of a community for more than a century and to deliver a quality product through such a changing historical climate is something most businesses would hope for, and Chapman's has managed that while continuing to deliver local produce to the highest quality."