Buzz, December 4, 2015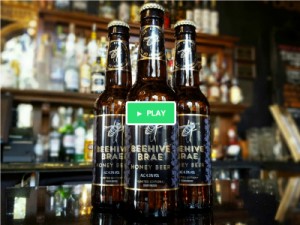 Beehive Brae is a brand new British honey beer produced for the Betterment of Bees.
We use only the finest British honey from our sustainably managed, ethical beehives, in fact, we have already helped to protect and preserve 10 million honeybees.
That's why we've launched a Kickstarter campaign to not only promote the issues around dwindling honeybee numbers, but also to raise vital funding to protect and restore millions more valuable bees to the environment.
Beehive Brae is urging everyone with even an inkling of interest in the environment to support the spirit of Christmas future:
"Can you imagine what Christmas might look like without the valuable little honeybee? They're responsible for pollinating a third of the food that we eat. Around the Christmas dinner table that would mean no cranberry sauce for your turkey, no sage for the stuffing and certainly no parsnips, carrots or Brussel sprouts.
"We're doing everything we can to restore millions of honeybees back into the British environment and ensure that we continue to enjoy all the foods we've become accustomed to, not only at this time but all year round. We know that this is a concern for millions of people and we're urging them to give just a little bit of their time and money to support our Kickstarter campaign."
The campaign has a dual purpose. Not only will supporters help to protect honeybees, but they will also support a great new British beer and mead. The growing craft beer movement is now worth more than £225million annually to the UK economy and Beehive Brae is finding its own, independent niche within that. The Great Taste award-winning Elderflower and Rose mead also helps to support honeybee populations. Popularity of the honey wine has increased markedly over the last few years through shows like Game of Thrones.
Beehive Brae Chair, Mark McDavid who is a veteran of the fast moving consumer goods market and has led companies the likes of Hallmark Cards and Aunt Bessies, added:
"Beehive Brae is truly a pint with purpose. I was delighted to join this ambitious sustainability company earlier this year, and to give them some of my 30 years' experience. This is about not only supporting bees, but small British businesses, British beer and British workers. The team have a real social conscious, as well as a great tasting honey beer. Beehive Brae's smooth taste is matched only by its refreshing environmental credentials and I would encourage anyone who thinks similarly to back them."
If you like your beer fresh, like your beer British, like your beer with strong notes of independence, but most importantly if you like your beer with a full-bodied flavour of doing what is right for the planet, then please donate what you can and join #GenerationBee: