Admin, June 6, 2016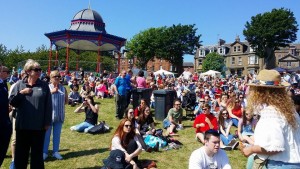 It was a busy weekend for the Plan Bee team, again scattered to the corners of the UK.
While elder statesmen, Warren and Brett were taking in the beautiful blooms and tranquillity of the Floral Fringe Fair at Knepp Castle near Horsham; Plan Bee's youngest worker bee, Danny was rocking in the
city of Discovery at WestFest.
With temperatures soaring over the weekend, both stands enjoyed a busy time with revellers particularly enjoying our ice cold Beehive Brae honey beer.
In Dundee, it's thought more than 10,000 people enjoyed the WestFest activities on Magdalen Green, with music going on well into the evening. With both events extremely busy and very well organised a return in 2017 could very well be on the cards.