Admin, August 26, 2014
Over the weekend we delivered some brand new bee hives to the Highland Titles Nature Reserve in Glencoe Wood and wow what a treat!
The ten bee colonies will have plenty of foraging ground and a wide variety of different flowers and heather to snack on. We are incredibly excited to share their progress with three of the reserves neighbouring schools to help the pupils understand the importance of the honey bee within our environment.
Not only were Stewart and the rest of the staff incredibly enthusiastic about their new additions but the scenery was absolutely breath taking, made all the better by the lovely, albeit rare Scottish sunshine.
We are honoured to partner up with the reserve through this project, working incredibly hard to protect Scottish wildlife- which you can watch via the reserves infra-red motion sensitive cameras- Glencoe Wood makes an incredible contribution to Scotland's biodiversity.
Highland Titles is a novel way of managing a conservation project, originally conceived by Dr Peter and Laura Bevis, a biologist and accountant, who realised that to really make a difference, they needed to buy land which had the potential to be restored and conserved.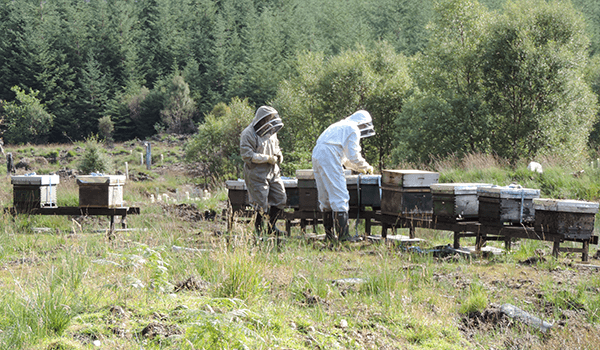 The organisation has grown from there and now has thousands of supporters turned land owners around the world. Highland Titles are completely committed to Scottish conservation and in this respect they are not alone, here at Plan Bee we love when any company wants to make a positive contribution to the environment but when we work with companies who are committed to Scotland's biodiversity as Highland Titles it is always a pleasure.
We cannot wait to see the hives thrive and pay another visit to this wonderful Scottish setting!