Admin, January 19, 2015
A honey and butter flavoured crisp has become a phenomenon in South Korea. Since its launch by Korean firm Haitai Confectionary in August 2014, the savoury sweet snack has been snapped up off shelves leading to chronic shortages in shops across the country.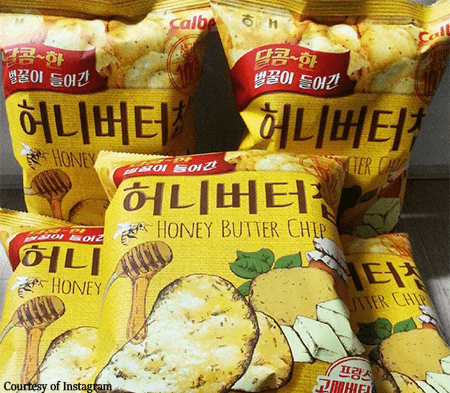 Spokespeople from the firm say it is producing the crisps around the clock to meet demand but have no immediate plans to increase production capacity in case the craze dies out. This has led to claims from some commentators that shortages are a deliberate ploy to stoke demand – allegations strongly denied by the manufacturers.
Some of those lucky enough to get a 60 gram packet have been selling them for inflated prices online for up to £40, over 40 times their original retail value! That's nothing in comparison however, to what Haitai have made – sales of the product were worth over £8m by the end of November. Haitai spokesman So Sung-su attributed the success to an "optimal combination of salty, sweet and buttery tastes that suit the palate of many Koreans."
The crisp craze reached a new level last month when a 'Honey Butter Chip-hunting' smartphone app was launched so users could monitor and track real time availability of the snack in shops within five km's of their location – over 1000 savvy snack fans have downloaded it so far.