Admin, May 19, 2016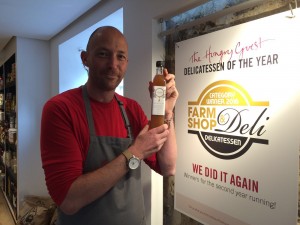 Brett's back at double Deli of the Year winner, the Hungry Guest this weekend with another popular sampling session.
The Petworth fine food store's latest Origin Honey and Beehive Brae craft beer range went down so well with customers last week that they've invited Plan Bee back for a further showcase this Saturday morning (21st May) between 11 and 12.
Our West Sussex beekeeper will be on hand to answer any questions on beekeeping and the plight of the honeybee, but will also be providing honey samples and tastes of our full-bodied blonde, artisan Honey Beer and its chocolatey, red beer stable mate.
For more information follow @planbeeltd on twitter or like us on Facebook.