Buzz, February 15, 2015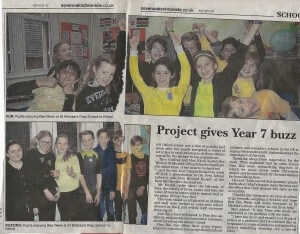 We'd like to introduce you to Theo Godfrey, a Year 7 pupil at St Michaels Prep School in Otford, Kent. Theo saved his Christmas money and invested in shares through his mum in our Crowdcube campaign last year. Not only does he care enough about the plight of declining bee populations to put his money into helping the cause via Plan Bee Ltd, he and his friend, Max Nicholl, hosted Bee Week at the school to highlight awareness of the problem and its impact on the planet.
Bee Week
Theo and Max instigated a week-long series of activities at the school, beginning with a presentation from Richard Knight of the Kent Bee Keepers Association and culminating with the children coming into school that Friday, dressed in black and yellow and donating £2 – raising a total of £460.Theo explains what he would like to do with the money raised "I would like the money we raise at school to go towards adopting a beehive and hope that Bee Week will make everyone at St Michaels aware of what we can do to help"
Inspiring
Theo found out about Plan Bee Ltd when he was researching charities to which he could invest his Christmas money – "I discovered that not many people know about what's happening to the bees and the effect that their decline will have on the ecosystem"
Plan Bee Ltd  said of Theo and Max "We're absolutely delighted that we are able to inspire young people in this way and that they care enough to do something positive about it" All at Team Plan Bee would like to say a thank you to Theo, Max and the pupils and the staff at St Michaels who have done splendidly to raise not just money, but awareness of an issue that affects us all.