Admin, June 29, 2015
Plan Bee illustrator Erin Cole is buzzing, having been nominated for the highly prestigious World Illustration of the Year.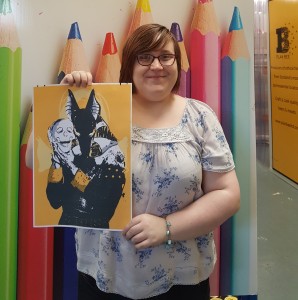 The 20-year old Wishaw artist is on the shortlist of globally renowned designers as put forward by the Association of Illustrators, with her work, Mythical Mayhem having been selected from a field of 2,100 outstanding entrants.
Erin is overjoyed at being nominated, and said:
"It's very humbling to be shortlisted for such a prestigious accolade, and to be recognised among some truly outstanding artists. I was born and raised in Wishaw and it's amazing to think that I'm rubbing shoulders with some of the world's leading illustrators. It's not only a pat on the back for me but a boost for City of Glasgow College, where I recently completed my HND Illustration course, and in particular for the amazing lecturers, who encouraged me to enter the competition."
Erin has recently started work at multi-award winning sustainability business Plan Bee Ltd, based on the Motherwell/Wishaw border. She has been taken on as part of the company's recent expansion, to provide bespoke illustrations, infographics and designs.
"We're all so proud of Erin and what she has achieved. She has only been with Plan Bee for a short time, but this is further evidence of her talent and why we introduced her into our award-winning team. We're a hive of activity down here and Erin is fitting in nicely. Her skills are being put to good use and she's a busy bee. We're all rooting for her here and we would ask all of Scotland to keep their fingers crossed."
The winners announcement isn't expected until the autumn, prior to an exhibition of the works at Somerset House in London, where Erin's Mythical Mayhem will potentially be displayed among her international peers.