Admin, August 21, 2015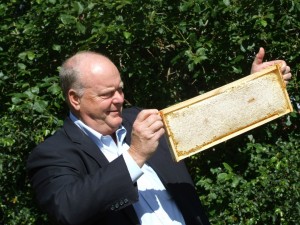 Multi-award winning sustainability and eco-innovation business Plan Bee Ltd is buzzing as a new chairman flies in to their hive of activity.
Mark McDavid, has more than 30 years experience in the consumer goods industry, having been Managing Director at Aunt Bessie's Ltd, Hallmark Greeting Cards PLC, Marine Harvest Salmon and Northern Foods. He is also currently Chairman of Yorkshire based top tier food producer HECK! and a non-Executive Director of National Services Scotland.
In taking up the role, Mr McDavid said:
"Plan Bee Ltd is a truly modern business that is environmentally, socially and economically sustainable. I defy anyone not to be impressed by the passion of the team; and their positivity for planet, people and profit is infectious. I am delighted to be joining the team at Plan Bee and to be involved in a business which does good for the environment and positively enriches peoples' lives."
Mr McDavid replaces outgoing Chairman, Mike Lees. The former Tennents Caledonian Breweries chief is standing down due to personal reasons. Mr Lees successfully ushered in a new phase of industry for the fledgling business and initiated the development of Plan Bee's Origin Honey and Beehive Brae brands.
Plan Bee provides beehive management services for a number of leading household brands including Kelloggs, Highland Spring, Balfour Beatty and Low Carbon. They also work with local authorities such as Glasgow City Council, Inverclyde Council and North Lanarkshire Council, for whom they also deliver Curriculum of Excellence sustainability education packages. The company has recently started exporting its Origin Honey brand overseas and is preparing its largest crowdfunding project to date.