Admin, September 14, 2015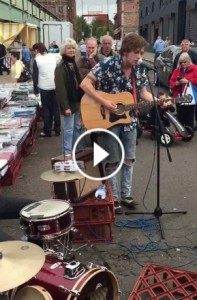 Plan Bee Warehouse Operative, Jamie Keenan is used to life in the local spotlight as a member of leading Wishaw band, The LaFontaines.
But even Jamie couldn't predict the events of the last 24 hours following an impromptu busking session to promote the bands forthcoming gig at the Barrowlands.
Jamie is more used to sitting behind a drum kit, but popped up as frontman with his guitar and a mic to sing a version of 'Granny Aff The Drugs' at the Barras Market yesterday afternoon (2pm, Sun 13th Sept, 2015).
The video has since gone viral, with more than 600,000 views… and rising.
Interest has already been shown from a number of national newspapers and TV stations, but Jamie modestly admits he's been a little surprised by all the attention:
"We only did the busking to help promote the bands autumn gigs. We're playing the Barrowland on the 7th of November and we were hoping to promote that. The reaction has been amazing and I'm hoping that the video will attract a lot more people to our music. And, if they also want to buy some honey then even better."