Shop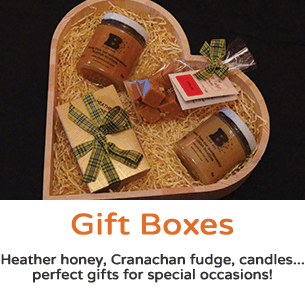 Welcome to Plan Bee's Online Shop
Plan Bee is an award winning environmental organisation that believes in sustainability and cares about the origin of its products. Our honey is extracted from our beehives based across quintessential Scottish locations, the honey is minimally-filtered and unpasteurized in order to maintain its health benefits and give a unique flavour that reflects our local flora. Our honey is completely natural as it is free from additives and additional processing unlike honey that is sold by most supermarkets which can be a blend of EU and NON EU honey. The quality of our honey has been nationally recognised by receiving the 'BBC Good Food Show' Scotland Producers Bursary Award as well as making it to the final 10 of the BBC Radio 4 'Food and Farming ' Awards 2014.
The Scottish beeswax extracted from our beehives is used to create handmade natural beeswax candles. As they are chemical free they deliver a strong, natural and sweet fragrance and are exceptionally slow burning.
We are passionate about our little honeybee friends and we care about their positive impact in our environment. For this reason we are helping the planet by re-introducing bee colonies as without them we would face a crisis in our food industry.
By purchasing our bee products from our online shop, you are going to please your very own honey monsters with locally sourced honey, relax with our 100 % pure beeswax candles as well as helping to sustain our natural environment.
There is no cause more important than the planet we all share.
Most Popular Products!
Scottish Heather
Set Honey
227g
£4.50
Scottish Blossom
Runny Honey
227g
£4.00
Natural Scottish Beeswax
Honeycomb Candle
216g
£10.80

(inc. VAT)
–
UK Mainland
Delivery
Any order delivered to your door from £4.50 (UK Mainland only: England, Scotland and Wales and excludes the Highands).
We aim to dispatch all orders within 48-72 hours and where possible we use a tracked courier service for all UK orders
Outside UK Mainland & International Orders
For outside UK mainland (The Channel Islands, the Isle of Wight, the Isle of Man, the Scilly Islands, the Scottish Highlands & Islands and Northern Ireland) and international order, please contact buzz@planbeeltd.com. We will then send you an order confirmation and process the delivery once payment has been made.
We aim to dispatch all orders within 48-72 hours and where possible we use a tracked courier service for all International orders.