Admin, September 24, 2015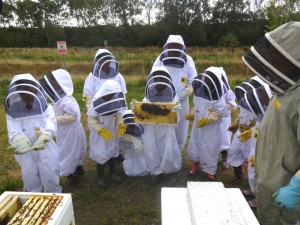 Children from Stepps Primary School have helped one of the UK's 'greenest' buildings to get greener.
The youngsters joined eco-innovation business, Plan Bee to help increase Scottish Water's sustainability credentials. The utility giant is working alongside Plan Bee to introduce an education element to the partnership, with local primary school children involved in the creation of a wildflower meadow around the hives, helping to provide a rich source of available pollen for the honeybees and a colourful view for employees and visitors to the site.
Stepps Primary School's Head Teacher, Paul McKeever added:
"Both our students and teachers were delighted to get this opportunity from Scottish Water and Plan Bee. The lessons were specifically tailored to meet the needs of the curriculum and to get practical, hands-on opportunity to put the lesson into practice was unique. It will certainly leave a lasting legacy. As these honeybees buzz about our gardens, I'm sure the children and their families will take a renewed interest in their efforts and may even recreate their own wildflower areas to support dwindling honeybee numbers."
Plan Bee has worked with small family-run businesses and global household names to promote sustainability and the importance of bees within our delicate ecosystem to community groups across the UK. In some instances, children have been involved in designing and painting beehives. Plan Bee is a Legacy 2014 business, and worked with a dozen schools to promote lessons around the environment, literature, history and art in the run up to the Commonwealth Games.
"Scottish Water is a great company to work with, and this is a prestigious site. Already we are collaborating with a number of organisations to help them up the ante on their environmental credentials, whether that be large utilities or even renewable energy companies. Scottish Water realises the importance of leaving a lasting sustainability legacy, and what better way to do so than investing in the future of bees, whose existence is threatened by climate change and poor pesticide management, two of the factors also facing our vital water resources. They are to be applauded in taking this long-term sustainability step and we look forward to work with them in the years to come."