Admin, December 22, 2014
Still room for more…
We previously treated our guests at the Christmas table by adding some honey to seasonal staples such as turkey and ham. After a well-deserved break, those lucky enough to have enjoyed the mains are in for some more treats – honey inspired Christmas cake and biscuits.
Christmas Cake with a Difference Christmas cake is a rich, sticky, treacly treat but it can become a little stilted served the same way year after year. In addition to the usual peel, nuts, spices, dried fruits and brandy, add some chopped dried figs and two tablespoons of runny blossom or heather honey to the cake mix for even more decadence. Alternatively, replace the figs with some saffron to add a little colour and spice that perfectly complements the floral notes of the honey.
Christmas Cookies
You didn't think you wanted any more, but the warm and festive smells of ginger, honey, cinnamon and vanilla are filling the room as a plate of Christmas cookies are brought from the kitchen. Germans celebrate the season with a number of different cookies and biscuits made with honey, including Honig Lebkuchen – Honey Gingerbread or the crispier Leckerle which both date back to the middle ages when honey was the common sweetener.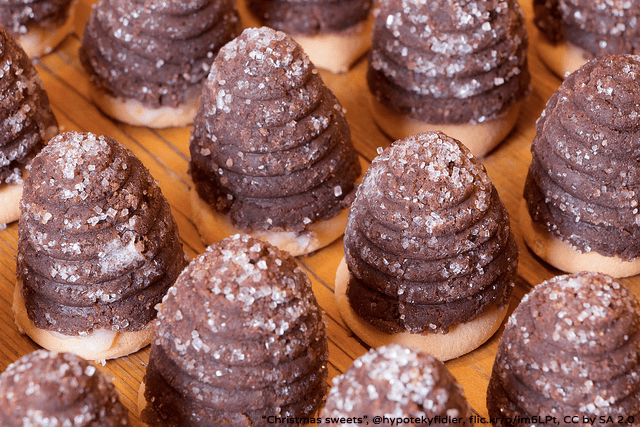 Afters…
Still got a sweet tooth? How about some heavenly heather honey fudge served as a petits fours with some freshly brewed coffee to revive drowsy diners. A popular 'medicinal' drink in Scotland in the wintertime is the 'Hot Toddy'. Mix two tablespoons of runny blossom or heather honey with Scotch whisky, a tablespoon of lemon juice, cloves, cinnamon and a small piece of ginger and stir with boiling water – it's for treating the common cold, honest!