Admin, September 24, 2015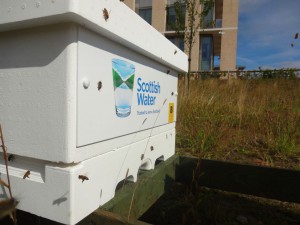 One of the UK's 'greenest' buildings is about to get even greener with Scottish Water adopting two beehives at their Glasgow offices, 'The Bridge' in partnership with multi-award-winning sustainability business, Plan Bee Ltd.
The eco-innovation business has supported numerous utilities, renewable energy companies and global household brands to increase and promote their sustainability credentials. Scottish Water is working alongside Plan Bee to introduce an education element to the partnership, with local primary school children involved in the creation of a wildflower meadow around the hives, helping to provide a rich source of available pollen for the honeybees and a colourful view for employees and visitors to the site.
Alan Thomson, Scottish Water's Head of Corporate Relations said:
"The Bridge is one of the most sustainable buildings in the country; it was carefully planned to have minimal environmental impact and is of the utmost energy efficiency. We want to increase that sustainability portfolio even further and working with local Lanarkshire business, Plan Bee Ltd will allow us to adopt a proactive sustainability approach. It's about us playing a part in the future of the environment and supporting these endangered pollinators to ensure our plants and trees, and the food we eat are all protected as the children we see here today grow to become adults."